Guild Esports have signed David "Deevo" Morrow to replace the departing Kyle "Scrub Killa" Robertson, who is all but certain to be moving to Team Singularity.
We're super excited to announce our new Rocket League signing! He's a former world champion and a veteran with a world of experience.

A big welcome to @Deevo! We can't wait to get started in the Winter Split ☃️👊 pic.twitter.com/2aLV7GuPSs

— Guild (@guildesports) November 8, 2020
Deevo arrives after having been released from F.C Barcelona after the end of the RLCS Season X Fall Split, with the Spanish side picking up Ronald "Tahz" Oosting and Fredi "Blurry" Lazarus from Nameseekers, and Riccardo "Rizex45"  Mazzotta from Libertas.
Guild Esports will be hoping that the vastly experienced Deevo will provide a stable base for the technically gifted Joseph "Noly" Kidd and Thomas "Tho." Binkhorst to shine after failing to fufil their undoubted potential last Split.
Performances were average at best with Scrub Killa, a former world champion, never quite finding his groove with Noly and Tho. who already had an established working relationship having played together the season before with Team Singularity.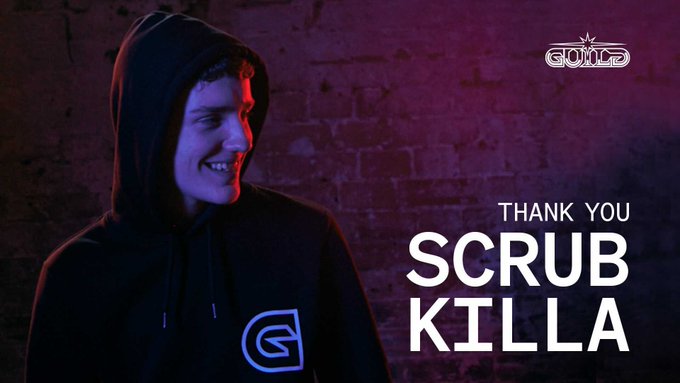 Guild Esports said goodbye to Scub after just a few short months. (Picture: Guild Esports)
Scrub Killa's departure comes as no real surprise with the writing on the wall when he infamously turned up in caster Adam "Lawler" Thornton's voice chat during a game after the team had grown "frustrated with comms" and collectively decided it would be better to play in silence.
It was a moment in a career of such moments and is why so many love the Scotsmen but such a public peek into a dysfunctional team is probably the last thing the less experienced Noly and Tho. needed. Scrub's eargerness to talk would earn him a warning from Psyonix.
It's the sort of thing Deevo is never likely to do, with a career going back to RLCS Season 2 he is Rocket League esports elderstatesmen having been there and done it all including a world championship win with Northern Gaming back in Season 3.
The Englishmen will make his Guild Esports in the Season X Winter Split which is scheduled to start on the 12th of November.