The RLCS Season X is coming to a close sooner rather than later, so it's with much joy that we watch, study and learn every result in the league.
From The Grid and Regional events to the Major tournament right around the corner, there's still some professional Rocket League to be played.
And with the second of three regional events over in the third and last split, the Spring Split, the longest RLCS season ever is having a dramatic last stretch with many teams having to come in clutch in crunch time.
From World Championship clinching performances to career-defining showings across the tournament, here's everything we learned from the second Spring regional in North America.
1. G2 Dreaz is cracked
We can't be the only ones who were surprised when 15-year-old Andres "Dreaz" Jordan ran the table in The Grid.
With that said, we still had to wait for his Spring regional performance with higher stakes, bigger prize pools and tougher opponents to make a call --  and the kid did nothing but shine over the weekend.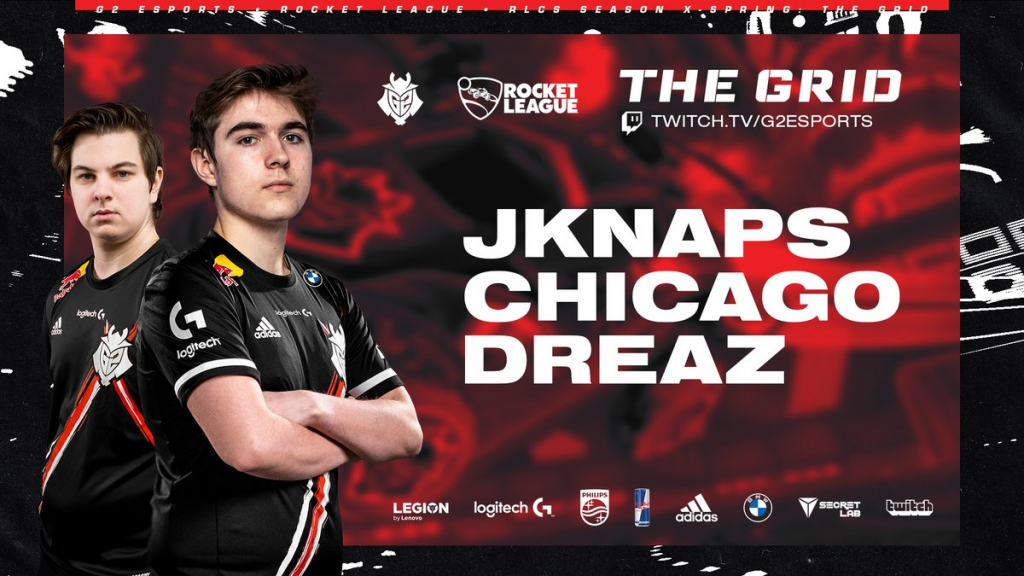 (Picture: Psyonix)
Replacing Dillon "Rizzo" Rizzo must be tough enough, just thinking about the pressure as Rizzo was and is one of the most beloved personalities in the Rocket League community, but to go out there and help your team finish top four in your regional event debut? Sheesh.
And credit where credit is due, as Jacob "JKnaps" Knapman and Reed "Chicago" Wilen have done their deeds to transition as smoothly as possible from their long-time friend and teammate to an unproven prodigy who is on his way to stardom -- you go, Dreaz.
2. Triple threat for the last two WC spots
Whilst on the topic, G2's performance and placement secured their lead over the sixth and seventh seeds, FaZe Clan and Kansas City Pioneers respectively.
Both FaZe and KC finished top eight, meaning they both walked out of the regional event with the same amount of prize pool money and RLCS points. G2's top four placement gave them a 70 point RLCS point advantage in the leaderboards, creating a little breathing room between the teams.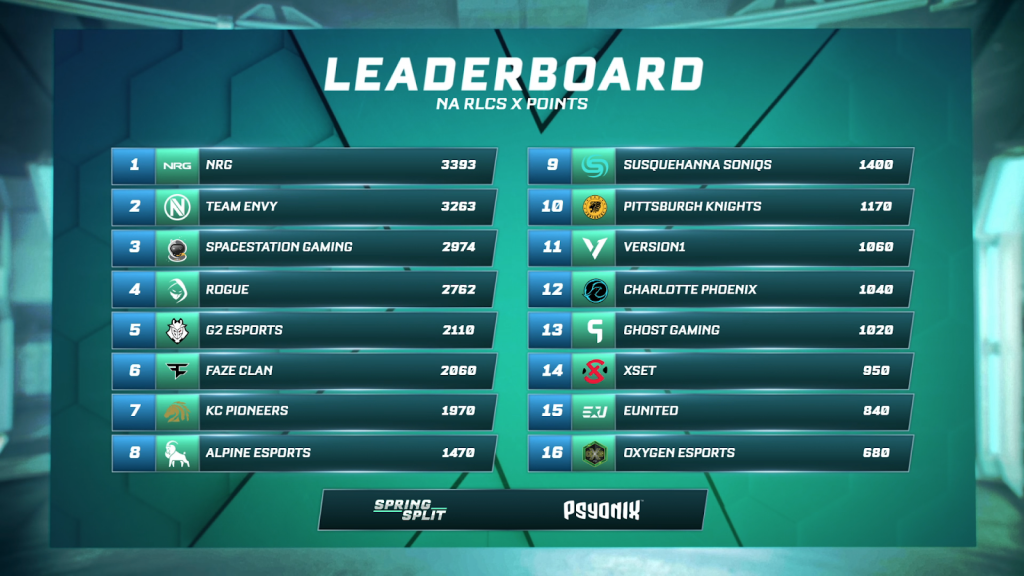 (Picture: Psyonix)
All squads from 5th to 7th place are at each other's throats trying to clinch a World Championship spot as North America is the most locked-down region so far, with four teams already mathematically qualified in NRG, Envy, Spacestation and Rogue.
With one more regional event and the Spring Major to finish the last split in RLCS X, the last two North American World Championship contenders will be decided in the home stretch of the season amongst these three world-class teams.
3. Spacestation is back in orbit
Spacestation Gaming finally won another RLCS X Grand Finals and they did it in dominant fashion.
Their drought lasted four regionals and one major tournament with their last win coming against NRG in the Fall Split Major back in October 2020. Yikes.
This regional event, however, really came in handy not only to clinch their World Championship spot but to overtake Rogue for their third spot in North America while also defeating them in the Quarterfinals 4-1 on their way to another championship.
SSG also took down North America's number one seed NRG in the Semis 4-2 and avoided a tragedy in Game 7 against Team Envy in the Grand Finals.
All of this is just to say that Spacestation ended their championship drought while topping the other top four teams in North American in the process.
Clutch, to say the least -- Spacestation is back.
4. Rogue clinches Worlds, no three-peat though
On the other hand, Rogue dropped to Spacesation Gaming in the QFs and this meant that the North American organisation's dreams of three-peating regional events were crushed early on Championship Sunday.
Finishing top eight isn't a bad result whatsoever, even more so when you consider that they are qualified to the World Championship regardless of further results, but when you have the LAN in the bag, seeding is your second biggest worry and concern.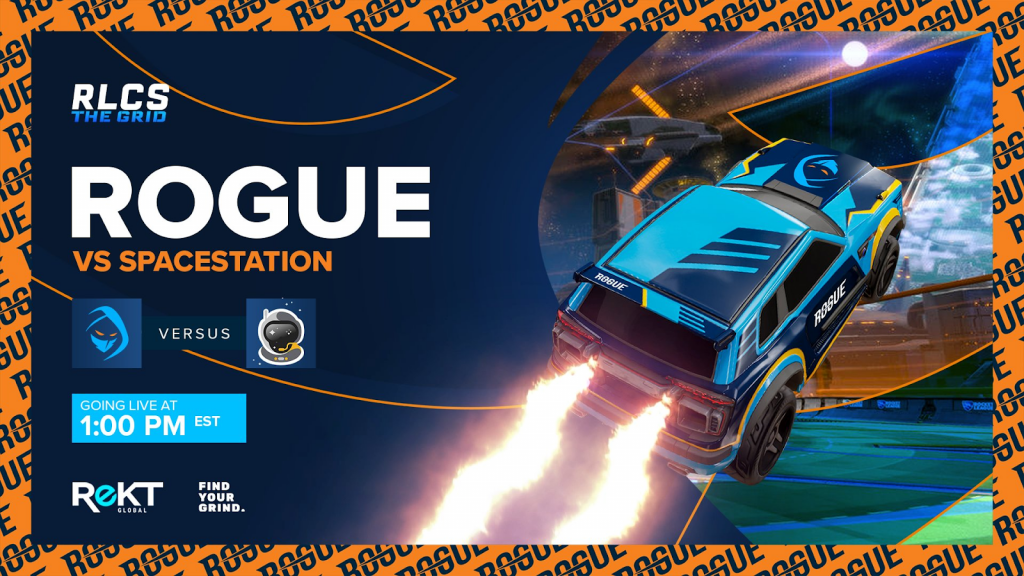 (Picture: Psyonix)
Their loss against SSG took them out of the third spot in the NA leaderboards and while only 212 RLCS points behind in the race to get back to the top three, if Spacestation continues to be on a roll come regional #3 and the Spring Major, Rogue could be stuck in fourth for the RLCS X LAN.
Truth be told, if Rogue's top eight finish is foreshadowing poor performances during the last two tournaments and young Dreaz keeps popping off, we could realistically see G2 climbing to fourth place and Rogue dropping in the top six NA teams.
5. NRG gets it done in NRG-fashion
Last, but not least is our North American top seed, NRG.
NRG is holding down the region by a thread, barely being in the top 10 winningest teams in the RLCS X Spring Split, the defending champions can feel the lead slip away by the day.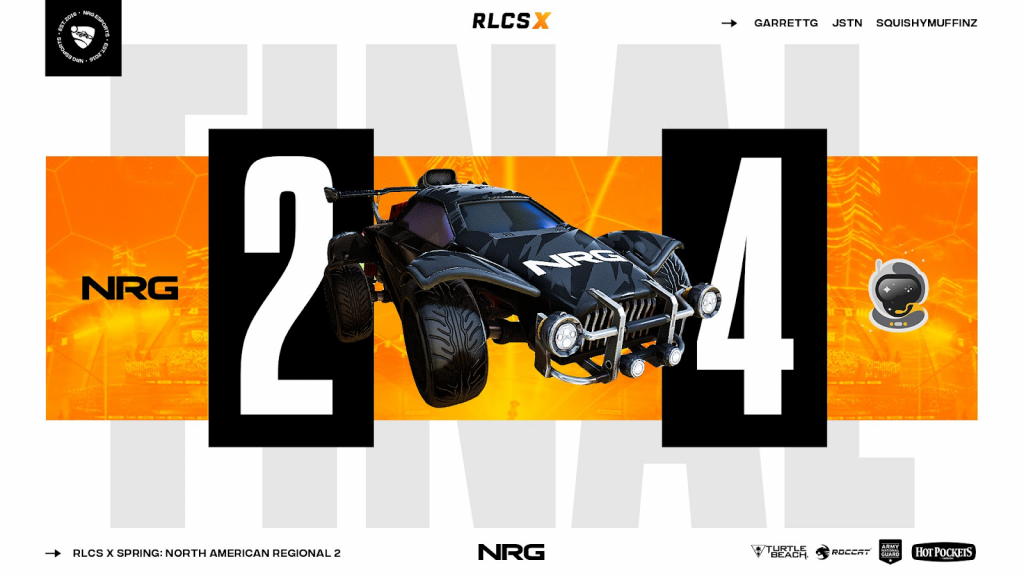 (Picture: Psyonix)
The defending World Champions survived after being knocked down by Kansas City Pioneers in the Upper Bracket and reverse-swept XSET to make it to Championship Sunday, guaranteeing a higher RLCS points share and avoiding tragedies that would've taken the org out of the first spot and provided it to runner-ups Team Envy.
Envy is waiting, oh, so patiently for a slip up by NRG, especially Pierre "Turbopolsa" Silfver who would love to walk into RLCS X LAN as the top dogs in North America and become the five-time World Champion in Turbopolsa-fashion.
With very little RLCS X to witness before the historic LAN event, here's to many more clinches, reverse-sweeps and redemption stories as the North American region approaches its third and final regional event from 22nd to 25th April.
For more Rocket League content, make sure to follow our GINXTV portal @fastkickoff on Twitter!