Ever got clipped by a toxic opponent but you had to stop and recognize their swag? Yeah, me neither. But if that ever happened, it's because of the game's nature.
Rocket League is like the sandbox of sports games. Read that again. The concept is pretty basic, but the skill ceiling is yet to be reached and the customization options are vast -- from what your engine sounds like to little antenna decorations.
Even with as many as 8,573 options of items tradeable amongst players in the PC version of the game, nothing quite says "rare" like "no-longer-obtainable" or "really-hard-to-obtain", am I right?
Whether it's because they were offered during a limited time DLC event or because they will actually set you back real money in microtransactions -- you know, like the ones we hate, these goal explosions have one thing in common: if you come across them, save the replay.
Without further ado, here are the 10 rarest Rocket League explosions to keep an eye out next time you get manhandled on the pitch.
Rocket League's rarest goal explosions
10. Grand Slam
We are baby-stepping our way into economic oblivion with this Grand Slam goal explosion. While it's only of Import rarity and costing a fair price of 500 credits, this explosion has only hit the Item Shop once: on the 20th October 2020.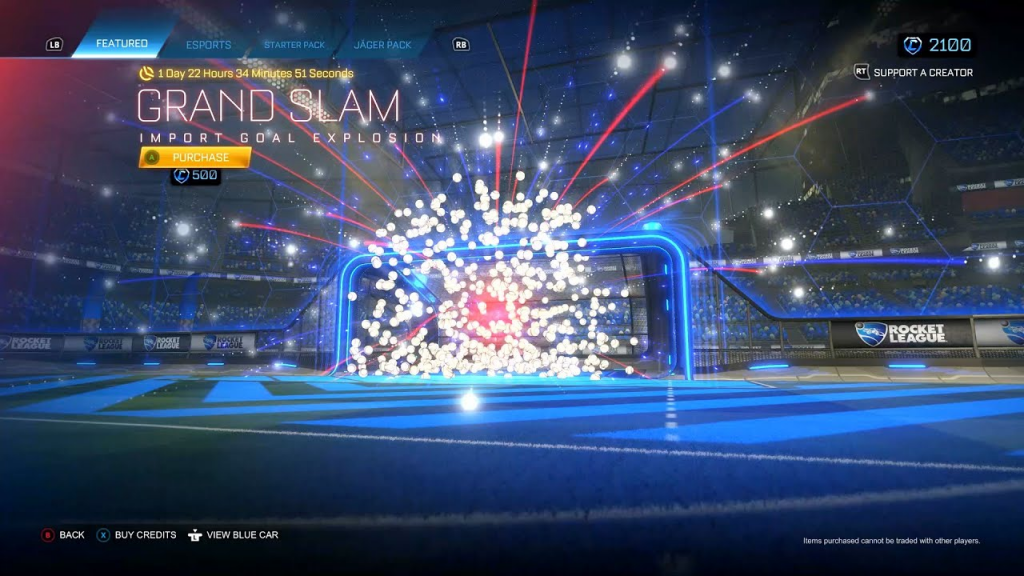 (Image: Psyonix)
Earlier this week, the long-awaited Mic Drop Black Market goal explosion was added to the Item Shop, but it is expected to hit the market with its own Season 2 series anytime soon.
Grand Slam, on the other hand, makes the cut because of how long it's taken Psyonix to incorporate the item into an actual series of blueprints and items injecting baseball into the trading community. 
With the start of the MLB expected at the end of February and the NFL x Rocket League deal signed not long ago, we might see Rocket League knock it out the park with yet another sports partnership deal.
9. Paper Dragon
(Image: Psyonix)
You might be familiar with two flying-lizard explosions in Rocket League and this is one of them. The Paper Dragon was an explosion added to the Item Shop priced at 2000 as a special drop from the Lucky Lanterns 2020 event.
The Lucky Lanterns event ran from 20th January to 17th February providing players Red Envelope currency to buy Lunar Year-themed antennas, decals and more.
Although this explosion is the second and last addition to our flying-lizard family, and its predecessor is higher in this list, no spoilers, Paper Dragon has a cult-following for what they would've wanted in size, design, sound and animation from the struggling serpents.
8. Tournament Reward Explosions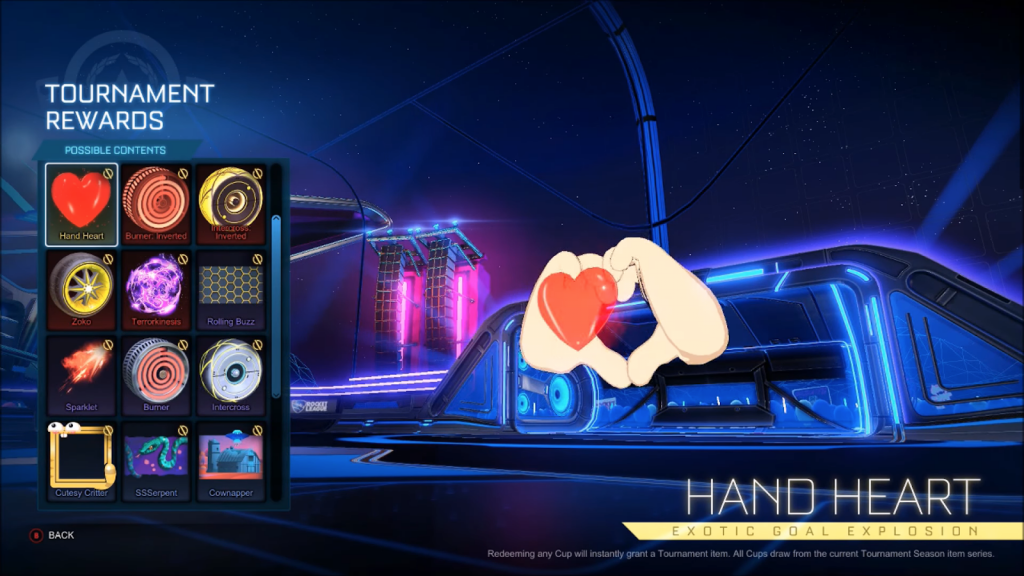 (Image: Psyonix)
Now, you might say I'm cheating here but I just couldn't pick one of the four. As you might already know, since the free-to-play update back in September of last year, Psyonix scheduled tournaments have been a thing every day since then.
These tournaments will reap Tournament Tokens based on your success and final placement (with a little added bonus for your first three weekly placements starting Monday) -- Tokens you can redeem for Cups of different rarities, drop rates, and guarantees. 
The items you get from each Cup can be traded 5:1 meaning five items of the same rarity for one item of the rarity above, but they cannot be traded amongst players.
Explosions from last season like Black Market goal explosion: Digiglobe and Black Market goal explosion: Righteous Gale are long gone, so hurry and get your hands on Exotic goal explosion: Hand Heart and Black Market goal explosion: Hades Bomb while you still can.
7. Poof 
This probably is the explosion that hurts me the most. You know, as a comedy connoisseur.
Poof was introduced during Rocket Pass 3 that ran from 17th April to 27th August 2019 and the explosion is pretty self-explanatory.
I am not much of an investor when it comes to video games but when I discovered that the Trading community was thriving and the only thing I had to invest for profit was my time, it was settled.
Sadly, I hadn't purchased the premium Rocket Pass content sooner and I missed the chance of a lifetime. Poof is, as you might've guessed, not tradeable amongst players. May the stingy side of community's find peace soon.
6. Tactical Nuke
Now this one I'm actually glad it stopped distribution. This is Poof's complete opposite and natural antagonist. 
Tactical Nuke was a part of Twitch Prime Pack 4 where you needed to link your Nintendo, Xbox, PlayStation or Steam account with your Twitch account while subscribed to Twitch Prime and as the days went by with the subscription active, the more packages that unlocked.
You could claim up to four Twitch Price Packs, with the fourth one able to be redeemed after Day 83, containing the dreaded Tactical Nuke.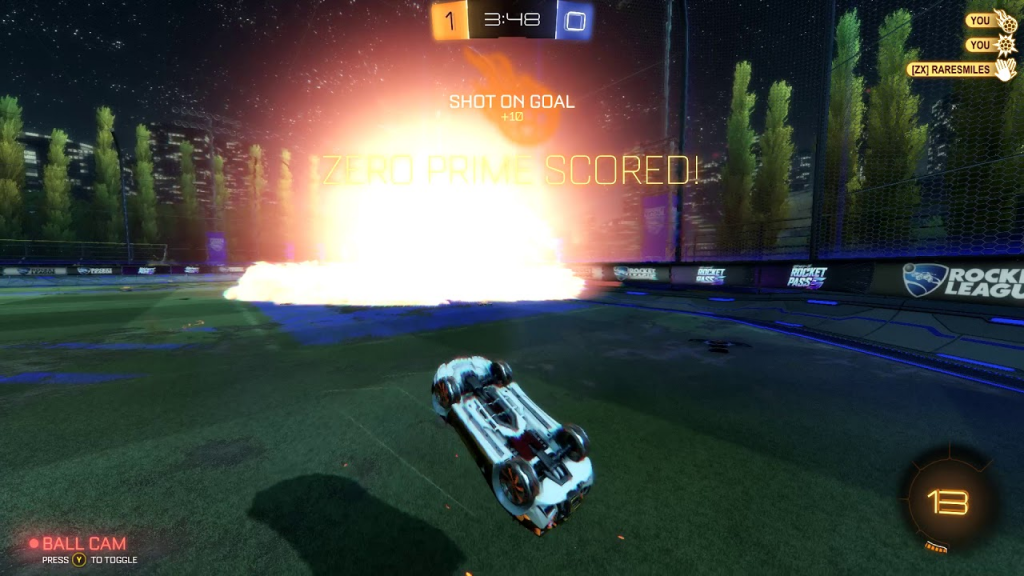 (Image: Psyonix)
I won't even show you it, you'll just have to trust me when I say it's the worst Rocket League explosion ever. it's loud, it's blinding, it's obnoxious and users know it. Hence they equip it. But hey, gotta appreciate the effort to get it.
5. Premium Explosions (Bat and T-Rex)
While they are not my favourites, you can never go wrong with a fire-based goal explosion. Both the Batman and T. Rex explosions were part of custom movie crossover DLCs that are no longer available and of course, non-tradeable amongst players.
(Image: Psyonix)
The Batman explosion comes from the Batman v Superman: Dawn of Justice DLC pack released on 8th March 2016 and the T. Rex explosion from the Jurassic World DLC pack from 18th June 2018.
Round of fun facts: Despite being DLC items, they are pure cosmetics vehicles included as the standardization of hitboxes were implemented with the v1.35 patch that was released on July 5, 2017
While the Batman explosion cannot be equipped to any other body than any version of the Batmobile, the T. Rex can go with any battle-car despite having its own Jurassic Park vehicle -- it wasn't that fun.
4. Season Rewards 7 & 10
We've spoken time and time again of the exclusivity of Season Rewards and why they are literally at the top of the list -- and by top, I mean number four.
They are untradeable. They have no price. They have to be earned on the pitch. You play for these each season and no one else gets them. That, to me, is the epitome of exclusive.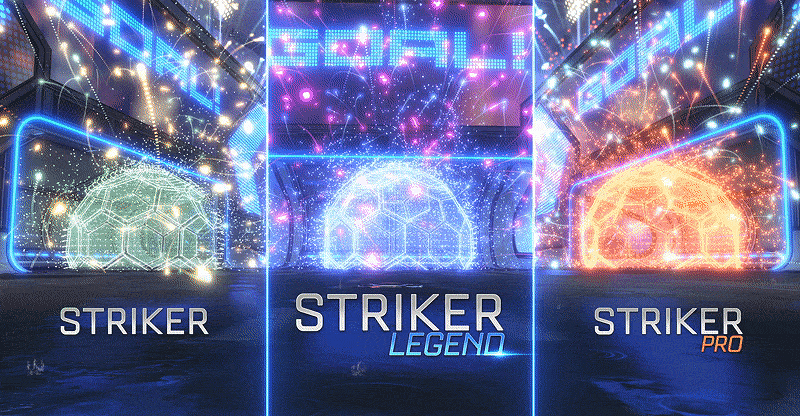 (Image: Psyonix)
Some might argue in style or design that the rewards are not the best looking out there, but the original Season Reward explosions from Season 7 are literally the greatest of all time. Iconic, clean and popular -- these ones hurt to look at and not have.
3. Dueling Dragons
Now we've finally hit "obtainable" ground -- the famous Dueling Dragons. Introduced 4th December of 2017, it currently sits as the most expensive non-painted item in the game.
Acquiring it can set you back 3800 - 5800 credits depending on your platform, though some might say it's a great investment. Probably one of the best-looking explosions in the game, non-tradeable painted variations are roaming around from previous Item Shop buyers.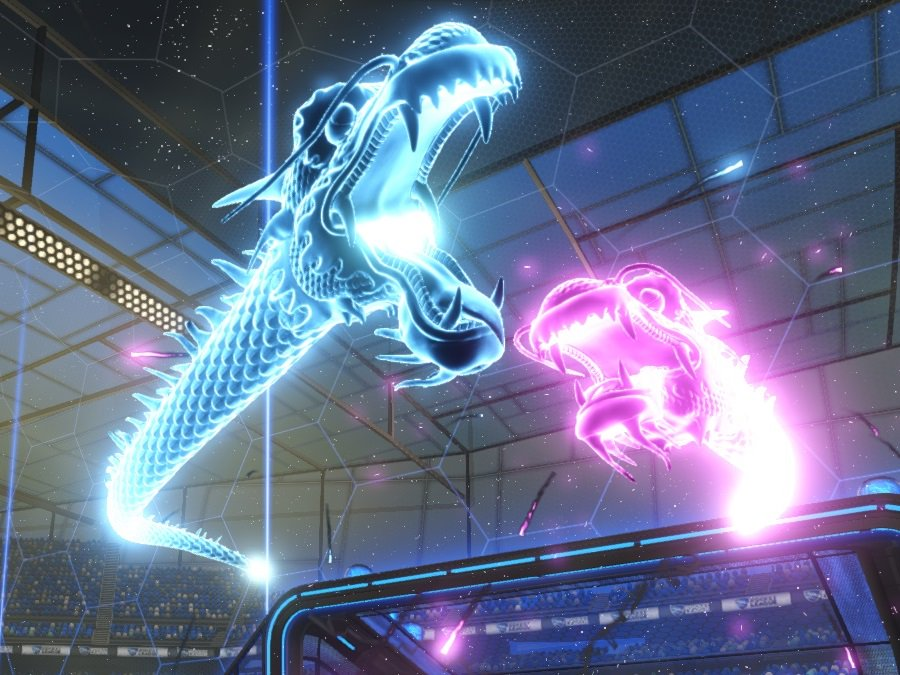 (Image: Psyonix)
One can only imagine what prices will be tagged along with painted versions of the most expensive non-painted item in the history of the game.
2. Painted Reaper
Welp, here we are. We don't know if it was a prank or not, but the Reaper now comes painted. Let's wrap it up and go home, everybody.
The dabbing Reaper made its presence felt when it was added way back October of 2017, but the world trembled when painted versions started rolling out from Golden Pumpkins, blueprints series trade-ups and more.

(Image: Psyonix)
Right now, painted Reapers can go from 3,000 to 15,000 depending on your platform and in the colour of your choosing, so save up and pick your poison! 
1. Hot Wheels RC Rivals Set code
La crème de la crème, and for good reason. First of all, did you even know this one existed? Because I didn't and I am not ashamed to admit it (a little).
The Hot Wheels explosion can only be obtained by purchasing Hot Wheels RC Rivals sets of toys containing codes that redeem the item in-game.
The sets are either non-existent, too pricey or sources state the code is no longer valid after August 2020. Whatever the version you choose to believe or however far you pushed into this one, diehard collectors will have a tough time accepting defeat.
(Image: Psyonix/Hot Wheels)
And there you have it -- the top 10 rarest Rocket League goal explosions.
When it comes to celebrations, they literally are the boom of your skill and the light of your goal. It is normal to want to add icing on the cake, the icing being the explosion and the cake being the play -- but it would be the most ironic and funniest thing to find any of these 10 rare goal explosions after a train wreck of a goal.
Not only would it be ironic, but it would make the highlight even more deserving of a save and share. Getting posterized by a bad player, but a rich one nonetheless.