Team BDS are now 11-0 in The Grid, RLCS X Regional and RLCS X Major Grand Finals after defeating their rivals, Team Vitality, 4-2 to win themselves the first EU Spring event.
Following the Spring Split's brand new format, Team BDS took their Round-Robin #1 Seed, advanced immediately in the Knockout Gauntlet and cruising to the Grand Finals in another Clasico showdown.
Marc "MaRc_By_8" Domingo struck on the closing seconds of Game 6 to finish the obliterating 5-1 score, securing their championship as teammate Evan "M0nkey M00n" Rogez celebrated with a good old Dab of his own.
BDS have earned themselves US,000 and 451 points as 2nd place Team Vitality walks away with ,000 and 350 points.
Both teams are currently number one and number two in the European RLCS X leaderboards, respectively.
This is the fifth time BDS topped Renault Vitality in the Grand Finals since the start of the revamped RLCS X, finishing first against them in The Grid Week 4, Winter Regional Event #1 and both the Fall and Winter Majors.
New European El Clásico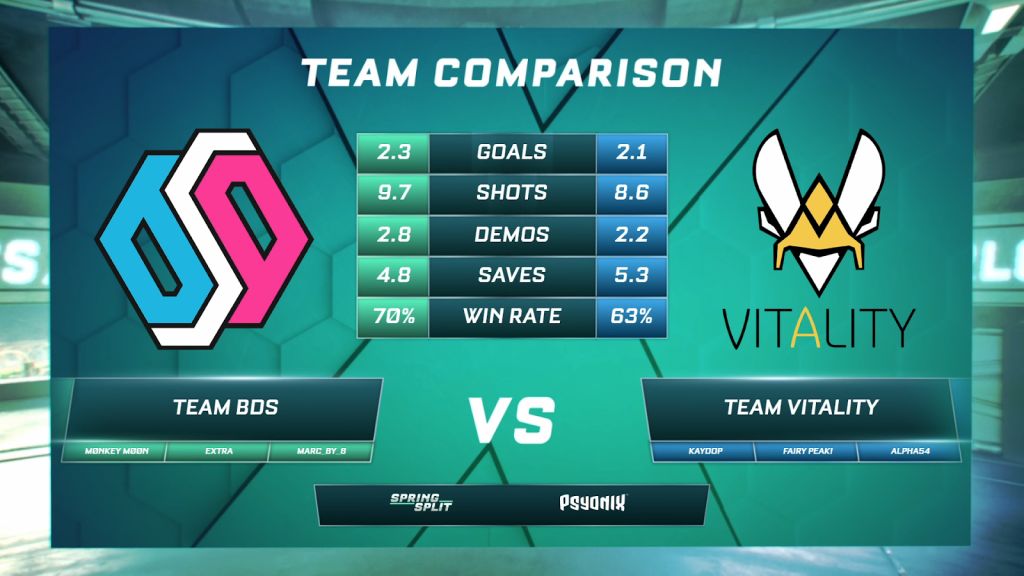 (Image: Psyonix)
After surviving their respective group's Round-Robin with Top 2 finishes, advancing to Championship Sunday playing only one series on the Knockout Gauntlet, Team BDS and Team Vitality had very similar paths to the Grand Finals.
The two finalists many predicted met yet again and Vitality was lurking for their long-awaited revenge. While they quickly fell to a 2-0 series deficit in the Grand Finals, Victor "Fairy Peak!" Locquet and company picked it up and tied up the series without conceding a goal in two consecutive matches.
But we all know BDS, if going down, they will do so swinging as Alex "Extra" Paoli assisted with a monster clear to M0nkey M00n for the Game 5-winner in their Championship run.
Game 6 of the first EU Spring Regional had BDS beating Vitality 5-1 in a demonstration of just how unstoppable and undeniable the Swiss team has become.
New format, same finalists
The Spring Split format now consists of three phases: a Round-Robin group of five teams where, in the end, the last team of each group gets eliminated. 
The top 2 teams in the group are placed in the Winners' Bracket and the remaining two teams are placed in the Losers' Bracket for the Knockout Gauntlet. 
Surviving Top 8 teams will advance to Championship Sunday in a single-elimination bracket for the Regional crown.
For both finalists, the format changes were not a problem. Walking through the Round-Robin stage, both BDS and Vitality ended up going through as Top 2 teams of groups A and B respectively.
BDS went undefeated in their series with a 12-5 game record while Vitality only dropped one series finishing 3-1 with a 10-5 game record.
After being placed in the Upper Bracket for the Knockout Gauntlet, both teams advanced to Championship Sunday playing and winning their only series in the Winners' Bracket Quarterfinals -- BDS taking down Guild Esports and Vitality knocking out Top Blokes.
In the single-elimination bracket, Vitality had a similar run before meeting their terrible fate against BDS, beating both Guild Esports (4-2) and Godsmilla's Team (4-1) with ease.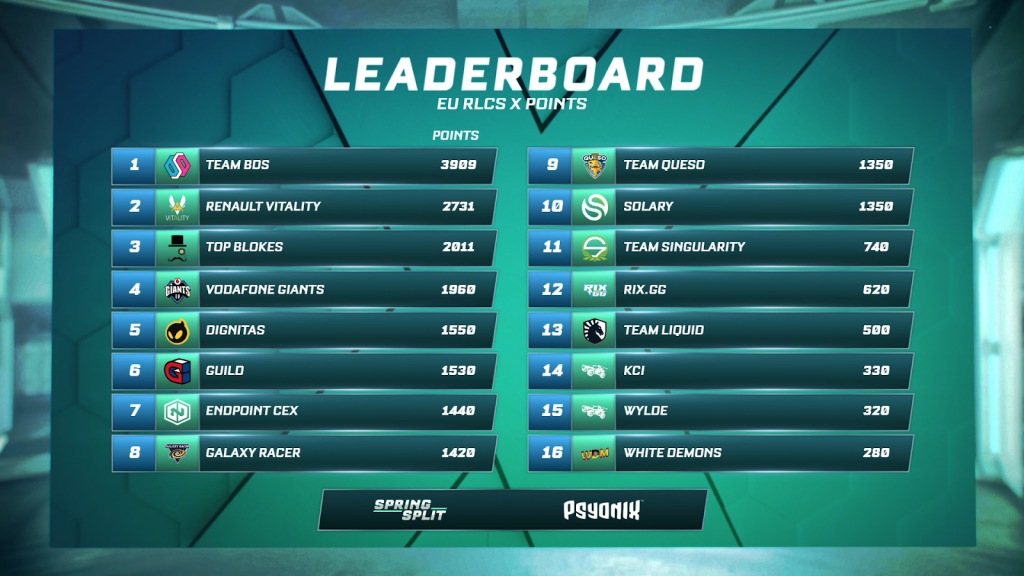 (Image: Psyonix)
BDS took early leads and never trailed in a single Championship Sunday series, clean-sweeping White Demons (4-0), eliminating Giants Gaming (4-2) and taking the crown out of Vitality's hands (4-2) once more.
With 3,909 RLCS points, BDS has the region locked down since the ending of the Winter Split and Renault Vitality is mathematically just 11 points away from qualifying to the World Championship.
One out of three Regional events is over and it seems that the promised land is inching closer and closer each day. Here's to hoping we get to see BDS squaring off against North America's best teams to settle the score once and for all.
You can relive this Spring Regional Grand Finals VOD available on Rocket League Esports' Twitch and YouTube channels.