Team Singularity have been crowned the champions of
The European Invitational
after defeating Middle Eastern side Sandrock Gaming, 5-1, taking home ,000 in the process.
It was a surprising result as Sandrock Gaming had twice beat Team Singularity, once in the Group Stage and again in the Winner's Final - having not lost a single series during the entire tournament.
But the Grand Final was a different story with Sandrock Gaming unable to display the same level of play that had seen them defeat RLCS stalwarts Dignitas and Renault Vitality.
Team Singularity looked a class above in the best of nine, and even though Sandrock Gaming took a one-game advantage on account of entering the final through the Winner's bracket they were unable to capitalise with Singularity winning 5 straight matches to win the tie 5-1. 
It caps a great season for Singularity, who impressed in the debut season in the RLCS. They finished 7th, thus avoiding the Promotion Playoff and booking their place in RLCS Season 10. This tournament win will can only give the young squad greater confidence in their abilities when the RLCS returns. 
The European Invitational can also go down as a major success - a month-long tournament, featuring the best European Rocket League teams and a $20,000 prize pool gave fans the chance to see teams from across the top two divisions play on a more regular basis and it will surely not be the last time we see Jonathan "Johnnyboi_i" MacDonald given the blessing of Psyonix to host such an event again.
The European Invitational Final Standings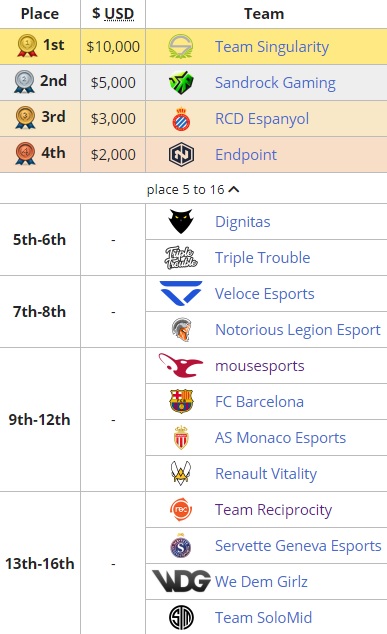 (Credit: Liquipedia)