European league play had a bit of everything - a scintillating new look Renault Vitality, players leaving their teams mid-season and one side who failed to win a single series.
If you missed out catch up with our RLCS Season 9 European round-up before this weekends regionals.
You can also check out our round-up of the North American season - with the Regional Championship scheduled for Saturday 28th March.
RLCS Season 9 European League Play Recap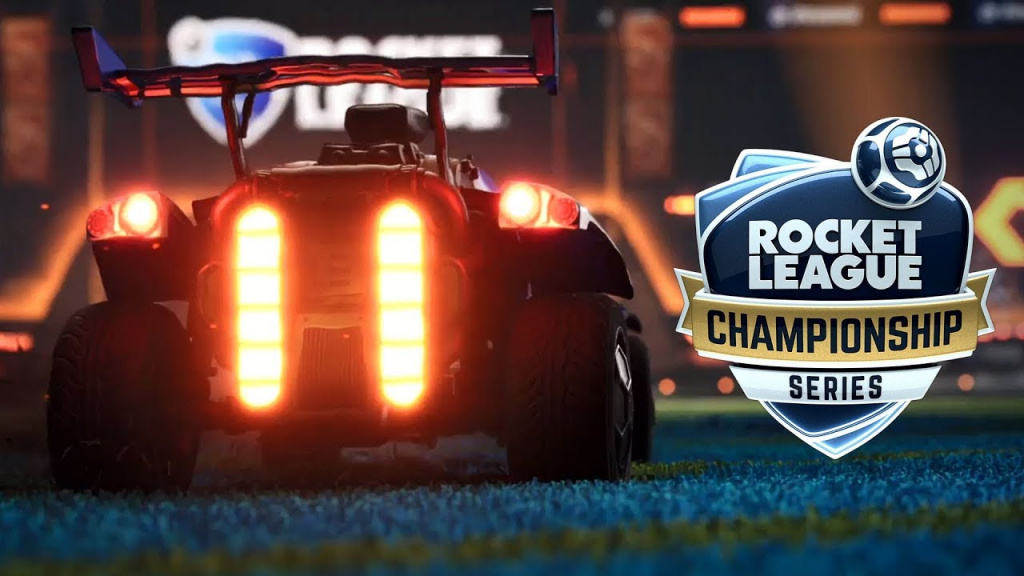 (Credit: Psyonix)
The first week of matches went largely as expected, with Alex "Extra" Paoli's clutch performance nearly getting his AS Monaco side an upset win over mousesports. However, it was in week two that the season's first big surprise happened as an unbelievable flip reset pool shot from Leon "Godsmilla" Mares granted his Singularity side a win over World Championship runners-up Renault Vitality.
As the season went on, it became increasingly apparent that there was a sizeable divide between the league's six best and four worst. Although they were able to end up securing their RLCS Season 10 spot with a 4-5 record, three of Singularity's wins came from a deciding golden goal after some ridiculously close matchups.
Joining them outside of the playoffs were Endpoint and TSM, who showed flashes of brilliance throughout the season but were ultimately unable to dodge the Promotion Tournament, and AS Monaco, who became the first RLCS team to go 0-9 as they won just nine individual games all season.
The battle for the highest Playoff seeds was close, with three teams heading into the final week sharing the same number of games won and lost. In the end, it was never going to be anybody but Vitality and Dignitas in the top two, as Europe's two powerhouses dominated the majority of their matchups all the way through to League Play's conclusion.
The remaining four playoff spots were taken up by Reciprocity and mousesports, who were both able to win 22 games and lose 16 to finish tied, Veloce Esports, who faltered in the final week to fall out of the top four, and FC Barcelona, who were set for a top-four spot before losing to both TSM and a Scrub-less mousesports in the final week.
Undoubtedly the biggest news of the season was the announcement that Kyle "Scrub" Robertson had been released from his contract with mousesports prior to League Play's conclusion.
Such a situation was unprecedented, and substitute Ario "arju" Berdin suddenly found himself thrust under the spotlight as he helped mouz take home both of their final-week matchups, taking home the day's MVP award in the process.
Stats for League Play can be found below.
League Play MVP - Victor "Fairy Peak" Locquet
After a controversial roster move, Renault Vitality found themselves under pressure to perform with their new-look all-French roster. Fairy impressed throughout the season as he put in a shift to ensure his team's strong position in the league table, scoring more goals per game than any other player across both Europe and North America.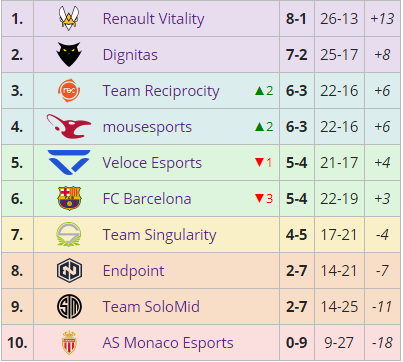 Top six qualify for the Regional Championship, with top two entering as top seeds.
Seventh place Team Singularity keep their place in the RLCS for next season.
AS Monaco Esports are auto-relegated while Team SoloMid and Endpoint find themselves in the Promotion Playoffs against the 2nd and 3rd placed teams in the Rival Series.