It's the start of a new era in SMITE as Season 9 is finally here after a long-awaited arrival. Hi-Rez Studios have made some serious game improvements and added so much fresh content for players new and old.
After the conclusion of the Transformers Battle Pass, a new set of free and premium rewards tracks are available for unlocking. The game devs have also made changes to the conquest map as per the course in any new season, and the early returns are promising.
Follow along below for everything you need to know about SMITE Season 9 as the battleground of the gods continues to evolve.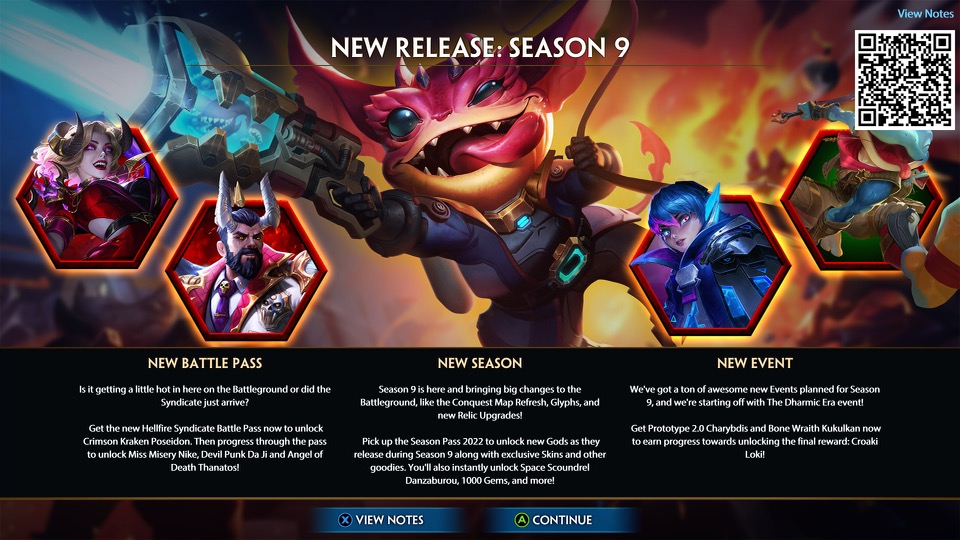 SMITE Season 9 Battle Pass - Hellfire Syndicate
Season 9 of SMITE brings a new Battle Pass with a Hellfire Syndicate theme. There is both a Free and Premium track available to unlock for a price of 600 Gems, with some awesome new skins and other cosmetics available just for gaining battle points.
Each week of the season will feature a new set of challenges to clear levels of the Battle Pass with massive battle points rewards There are 60 levels total in the Battle Pass with new skins for the following gods and goddesses:
Crimson Kraken - Poseidon skin
Miss Misery - Nike skin
Devil Punk - Da Ji skin
Angel of Death - Thanatos skin
Here's a complete view of all the free and exclusive rewards now available as part of the SMITE Hellfire Syndicate Battle Pass.
SMITE Season 9 Conquest Map - The Dharmic Era
The dawn of SMITE Season 9 brings a new conquest map, the first of three new maps set to arrive this year. The first is themed as the Dharmic Era and with it comes new jungle monsters, as well as a new gameplay feature, Obelisks.
Each team will have an Obelisk which can be filled by slaying jungle monsters. Once it's fully charged, that team will receive Indra's Scepter, a powerful reward that will attack enemies or heal allies/structures.
Season 9 also marks the arrival of Glyph items and additional Relic tiers. Glyphs are available in all game modes, and once a player has gathered 10, they will be able to upgrade Tier 3 items and Relics.
There is so much to enjoy as part of SMITE Season 9 and the content won't be slowing down anytime soon with two more Conquest maps set to arrive this year.
Make sure to keep up with our dedicated SMITE page throughout the entirety of Season 9. We'll make sure to have all the latest news on the battleground of the gods.
Featured image courtesy of Hi-Rez Studios.