Facebook is launching the "Hanging Out" section for its streaming platform Facebook Gaming, the company has announced.
In 2020, "Just Chatting" has been one of the fastest-growing categories on Twitch, and these days when you open Twitch, you will more often than not see "Just Chatting" being the most-watched category.
Facebook is clearly seeing the popularity of the IRL (in-real-life) streaming and is trying to bring the same concept to their streaming platform.
Facebook describes "Hanging Out" as a streaming category with a focus on a conversation over gameplay.
"You can think of 'Hanging Out' as an IRL section for gaming creators, where the focus is still gaming, but their content explores a broad range of formats beyond their gameplay, ranging from art to podcasts and everything in between," reads the announcement.
We can more or less expect to see the same activities from content creators as we are seeing under the "Just Chatting" category on Twitch.
From chatting and podcasts to creative streams where content creators are painting, sculpting, cooking, making music and doing other creative activities.
And of course, things like vlogs from travelling and broadcasting various outside activities.
Still, Facebook warns content creators that they will not have absolute freedom to stream whatever they like in this category.
Things like sleeping, watching movies, or live streaming pets won't be allowed. Live streaming an event without direct commentary to the camera won't be allowed as well.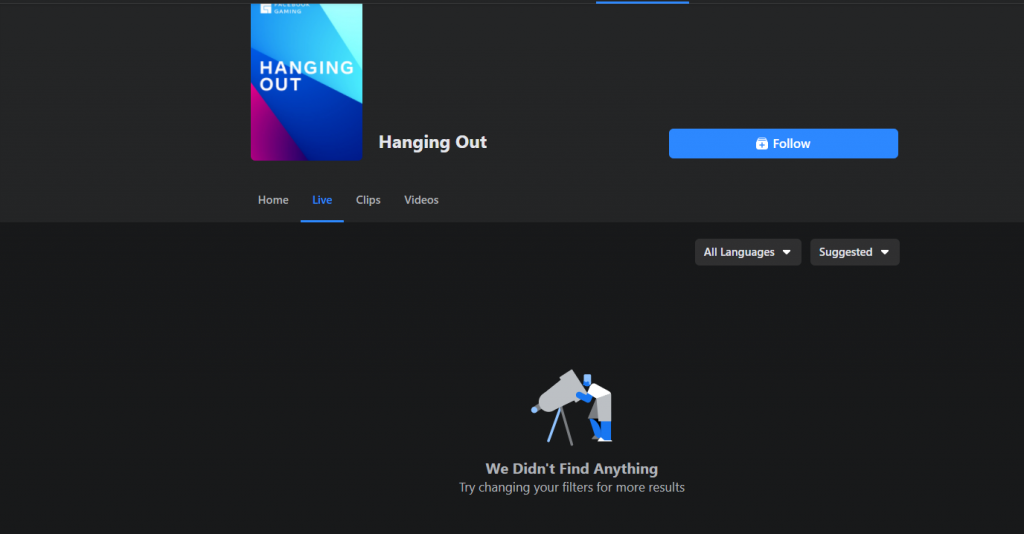 It seems that "Hanging Out" is currently not particularly interesting for Facebook content creators(Picture: Facebook)
The "Hanging Out" section is already available, but it seems that the platform's content creators aren't yet interested for IRL streaming, because there's not a single stream active in the category at the time of writing this article.
This is yet another move in the company's ongoing efforts to expand its streaming platform. When Mixer merged with Facebook Gaming, Facebook reportedly offered double the value of Ninja's and Shroud's contracts, but both streamers refused this proposition.