Manchester City striker Sergio "Kun" Aguero has become an unlikely hit on Twitch, with the Premier League currently postponed, the Argentinian has found streaming a good way to pass the time with viewers enjoying his laid back personality, often heard poking fun at himself and his gaming skills.
Like many streamers, Aguero has taken to reacting to videos on his channel. The big difference between him and most other gamers though is Aguero has a vast catalogue of top-level goals to watch, a perk of being the 4th highest goalscorer the Premier League. In one of his most recent broadcasts, he decided to revisit the iconic goal he scored against Queens Park Rangers to give Man City the 2011/12 Premier League title, a goal that is etched in the minds of millions all over the world.
The 32-year-old shared in hilarious fashion how that game was developing while watching the 93:20 documentary, starting with the Joey Barton red card incident in which the midfielder was sent-off for elbowing striker Carlos Tevez.
Joey claimed that the referee "unfairly" sent him off, to which Aguero responded in shock. "What are you saying? You threw an elbow!" 
During that incident, Sergio shoves Barton back while trying to defend his compatriot. Aguero clearly holding no grudges though, laughing at the situation while jokingly goading Barton. "There, right there. You see? I shoved him off, I stood my ground, you see? From Argentinian to Argentinian."
Aguero even reenacted the pained expression he made when Barton kneed him from behind.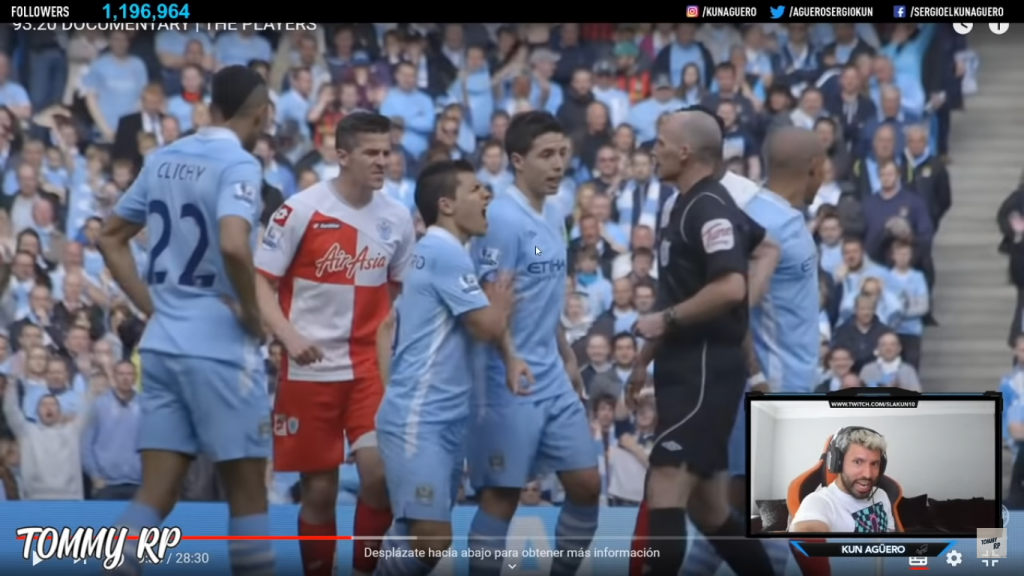 Aguero's good-natured personality shines through on his Twitch channel (Credit:Twitch.tv/slakun10)
"Look at his crazy looking face. No one saw him, not even the referee. A total assassin looking face," he said while unable to contain his laughter. "I tried to hold on to Samir! (Nasri)."
Several of Aguero's teammates tried to face Barton at the time, one of them was Mario Balotelli, who by that point in the match was still watching on the sidelines.
Aguero claims that the Italian striker said he had wished he was on the pitch at that moment, a statement that prompted Aguero to reply, "come on Mario, don't pretend you're a bad boy."
By all accounts before the goal, Sergio's involvement in that match was nonexistent, and no one is more aware of this than the man himself. Once he showed up on the documentary, the self-criticism started.
Aguero recounted in the documentary how his match was far from perfect, the streaming Kun, agreed. "Yeah, you're right daddy, you didn't do anything! You only took a knee to the back," he would later add that he spent almost the entire match "scratching his balls."
Finally, for the big moment, Aguero revealed a bizarre factoid - he never meant to shoot at the spot the ball would end up going. Had he done what he intended, the story could've potentially ended differently for Man City.
"Usually, I swear to God people, I didn't mean to shoot like that. If I had shot the way I wanted, across the other post, it would've bounced on these two defenders."
You can watch his entire reaction to the 93:20 documentary here.
Sergio's wits and inside knowledge makes us wish more footballers could jump in on a stream and retell their most iconic moments from a personal point of view.