Few birthday parties have attracted as much criticism as Bryce Hall's 21st birthday, though not many parties involve inviting over 100 people in spite of lockdown restrictions, showing little care for social distancing, strippers and the police turning up, and at one point a stripping policeman, and with the resulting fall out forcing the mayor of Los Angeles, who describes your Hollywood mansion as a "nightclub on the hills", to
cut off the electricity and water
to the property forcing you to move out.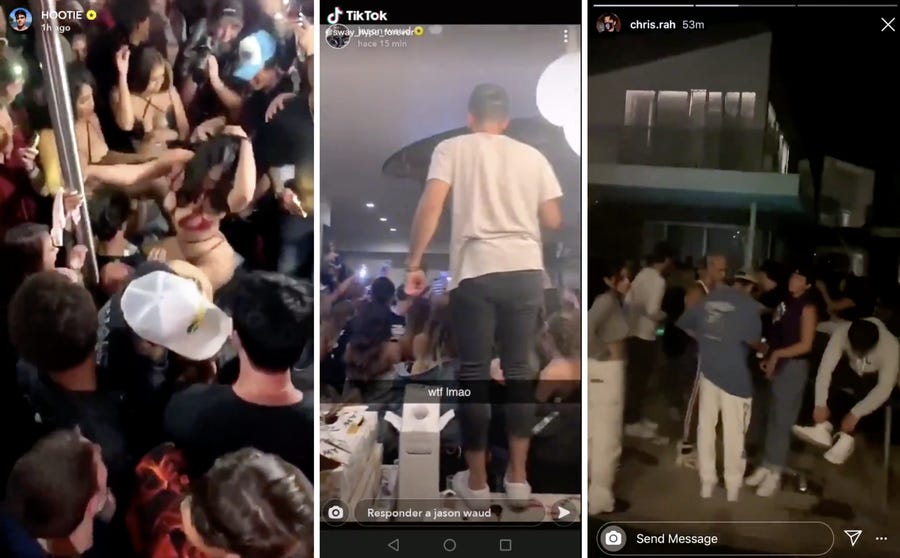 (Picture: Twitter/@defnoodles)
As a comparison, my 21st birthday party involved a trip to Nandos, six cans of Carlsberg, and getting half a season done on my co-op career mode on FIFA 14, and if you can't remember there was no global pandemic in 2014.
Since the party on August 14th, which was held in the Sway House, Bryce and his cohort have played a peculiar game. On one hand, putting out a series of videos poking fun at the mayor's threat of cutting the houses' amenities and on the other hand expressing his "regret" for throwing the party in the first place.
 
"I was not expecting that many people to come, it happened, our power got shut off, I deserved it, and now I'm just facing the consequences," the TikTok star told reporters on the 21st August.
Now the influencer, who boasts over 13 million followers on TikTok, has taken to Twitter to show a letter that shows that he is not currently infected with COVID-19.
The test, conducted by UltimateDX laboratories, states that the test was taken on 20th August, 6 days after the party.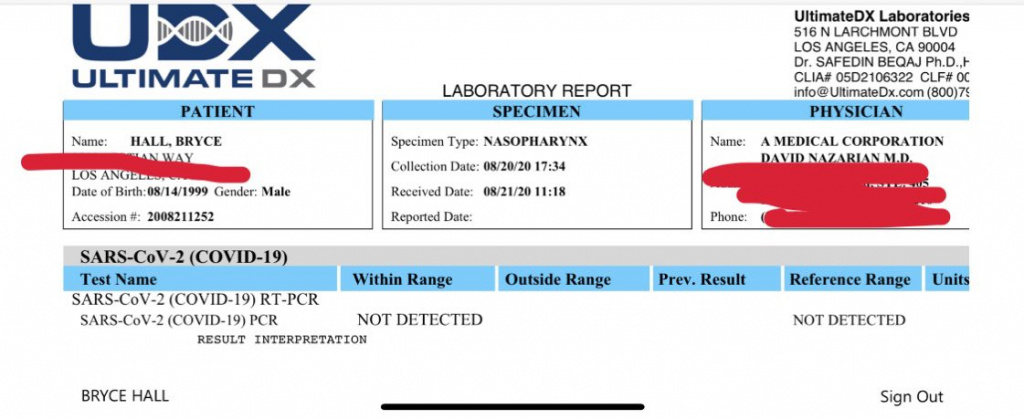 (Picture: Bryce Hall)
The test may not be enough to silence his critics, those infected with COVID-19 can reportedly take up to three weeks to produce the anti-bodies that tests, such as the one Bryce has taken, to show if someone has been infected.
Bryce has also announced he will be donating a "portion" of his merch sales under the unfortunately named Party Animal brand, to No Kid Hungry, a U.S based charity that runs food programs across the country.
with my power recently being shut off I now see what having no power can have on someone.
I decided to donate a portion of my upcoming merch sales to @nokidhungry
hoping to do my small part to help those in need in LA during these times. #losangeleshttps://t.co/Yprxl9fZRl

— Bryce Hall (@BryceHall) August 21, 2020
Bryce will hope that these moves will bring an end to this chapter or not yet clear, though it is likely a party featuring some of the biggest influencers in the US is on the cards anytime soon.