Recently, TikTok star Tony Lopez has come under fire after sexual abuse allegations made against the content-creator started appearing on social media. The recently 21-year-old video maker was accused of messaging underage girls in a series of posts and TikTok videos that went viral online. One such post involves messages between Lopez and a 15-year-old girl, with Lopez appearing to solicit nude photos from the minor.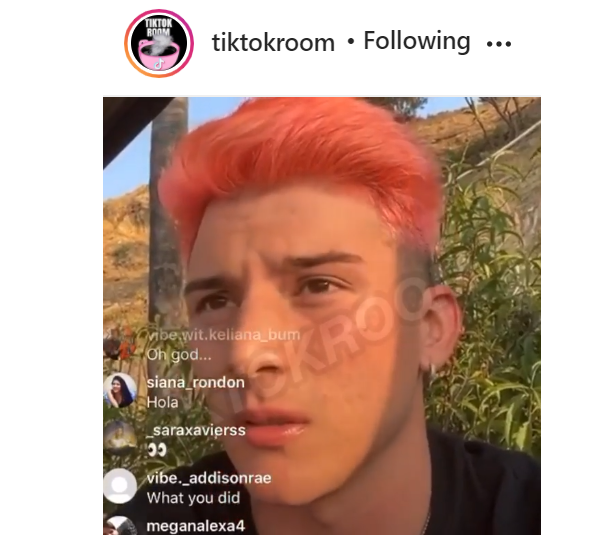 Tony Lopez took to Instagram Live and Twitter to apologize for his conduct. (Picture: Tony Lopez / TikTokRoom)
After the TikToker's sponsor, Bliss Spa, cut ties with the star, indicating that they would no longer work with Lopez going forward, the accused content creator posted an apology to his Twitter following.
In the apology, Lopez alludes to having been mislead regarding certain information, perhaps indicating a lack of awareness regarding his contacts' ages. Lopez also promises to make "better, well-informed decisions" in the future, and to learn from his mistakes. Nowhere in the statement does the TikTok star actually admit to what he's been accused of, however, and several of his fans in the comments are more than ready to forgive and forget.
everyone has the right to make mistakes

— lera kulyas (@kulya_ss) August 23, 2020
Keep growing Tony! You're still gonna be my idol though.

— Mads:) (@Madalyn_Boyd25) August 23, 2020
Taking to a live video captured by TikTokRoom, Tony Lopez continues his apology, stating that he's got to keep moving forward, and not excuse his past actions. The content creator's seemingly half-hearted statements repeat that he's still learning and that he takes full responsibility for what he did.
As a member of TikTok collective, Hype House, Lopez is still a major influencer in the app's community. Whether the group of stars will decide to take action or whether Lopez will follow in Charli D'Amelio's footsteps and voluntarily leave Hype House remains to be seen. But if the allegations against Lopez are true, having the man's continued presence in the creative collective might prove to be a mistake.