Open-world Viking RPG, Valheim, has been one of 2021's sleeper hits, the mix of a Minecraft-esque procedurally generated -- and the malleable world -- and survival gameplay has proved a winning formula, with millions jumping into their own unique worlds since its launch in February.
And it has been since then that players have been clamouring for more and while there has been plenty of bug fixes and the occasional new feature, bigger updates that advance the game from its early access roots haven't yet materialised.
That is soon set to change though, with the release of Hearth and Home, the first of many planned DLC / expansions, that look to build on core components of the game.
Hearth and Home takes a look at both the building and food systems. New building pieces are set to be added that will give Valheim's budding architects even more scope and the revamp of food -- and particularly how it affects players in combat -- is set to change the dynamics in combat.
For the breakdown on all that is coming with Hearth and Home keep on reading, more information is coming out by the day and we will keep this page updated as we get closer to release.
New building pieces
Building has been one of the game's most celebrated mechanics with players using various blocks to build some absolutely unbelievable structures, from Han Solo's Millenium Falcon to Ben "CohCarnage" Cassell's more traditional -- but still highly impressive -- sprawling coastal fortress.
It is an aspect of the game that Valheim's developers want to continue to nourish and in Hearth and Home there will be at least two new building blocks for players to use, those being darkwood roofs and window hatches.
As mentioned, whether these are the only two new building blocks is yet to be seen, but these aren't the only new potential additions coming for player's abodes.
The opportunity to display your wares
Being a Viking includes a lot of pillaging and looting, but what is the point if you can't display all those treasures?
Well, that is set to change with players now able to display not only their gold but also craft treasure chests and iron gates, offering up the ability to build a safe house within your home.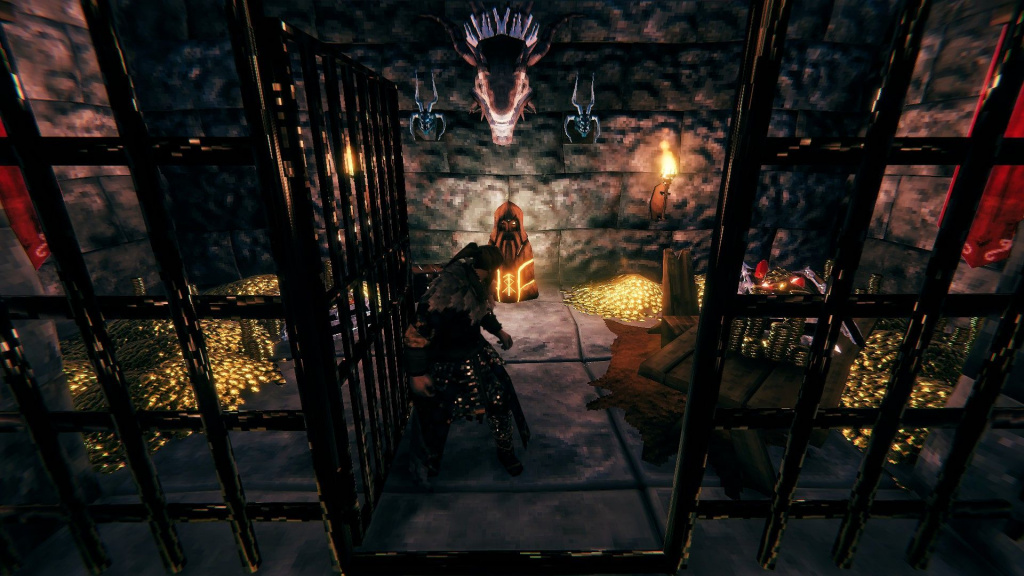 That's not the only addition to the home though with new cooking station extensions including a spice rack, butcher table, and pots & pans all being introduced as part of changes to the way food works in the game.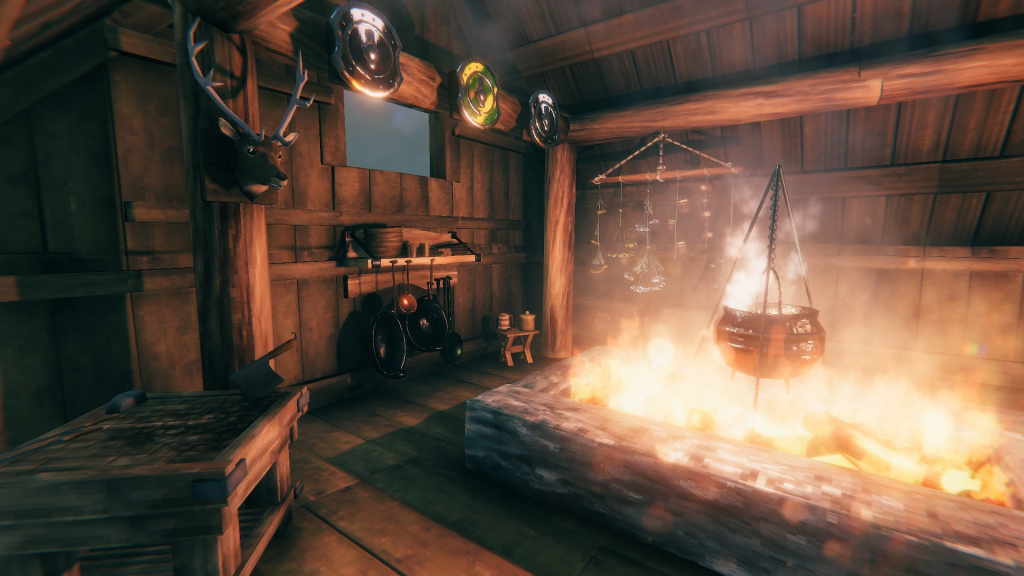 Changes to food and combat
Food is one aspect of the game that is being essentially overhauled with the Hearth and Home update.
Not only will there be many more foods to make, made possible by new ingredients as well as cooking equipment, there will also be a change in the way food affects players.
Currently, food offers roughly the same stamina and health. In Hearth and Home, food will be split into three categories with each offering to replenish stamina or health or both to varying degrees. What a particular food will do is displayed using a colour system.
Red icon: Mainly gives HP
Yellow icon: Mainly gives stamina
White icon: Offers an even split
The food bar has also been removed, instead, players will be shown how long they can go before they must eat a particular food again.
How health and stamina work in relation to combat is also changing, health will now affect how much you can parry attacks and also relates to the new 'stagger' bar that is set to be introduced. Those that like to take up a 'tank' role will find that stocking up on health-giving food is a priority.
On the other hand, stamina will now regulate how many attacks you can launch, so if you like to keep your damage output high you will want to opt for stamina-giving foods.
When does Valheim: Hearth and Home come out?
There is no fixed release date for Hearth and Home. Iron Gate has stated they are essentially behind schedule with the release of the game's content after the huge number of players that found the game back in February discovered more bugs, shifting priorities and pushing new content further down the roadmap.
Originally there was to be four "expansions" released during 2021, but now it looks like Hearth and Home will be the only one released this year with a late September / early November release date looking likely.
What is good news is that all these expansions will be coming to the game for free, so any Valheim diehards out there can know that there is much more to come.
UPDATE: Valheim was one of the featured games during the Gamescom 2021 Opening Night Live stream, revealing a beautifully animated cinematic trailer for the Hearth & Home update, and more importantly - a release date!
We can now officially confirm that Valheim: Hearth & Home is coming to Steam as a free update on 16th September 2021.