One of the first things you learn when start playing Valheim is the importance of food.
That's not a particularly strange thing, as Valheim is a survival game first and foremost, and making sure that your character is well fed is one of the core gameplay elements of survival games.
But Valheim goes one step further and uses some RPG elements when it comes to food. Simply put, you need to have a proper and balanced diet in order to take advantage of all bonuses and improvements that various food will give you.
But strangely enough, even if Valheim emphasises a diverse diet, it doesn't actually have that much diversity when it comes to cooking and dishes you can make.
If you are like us tired of the same old menu, then the Master Chef mod is a perfect choice for you!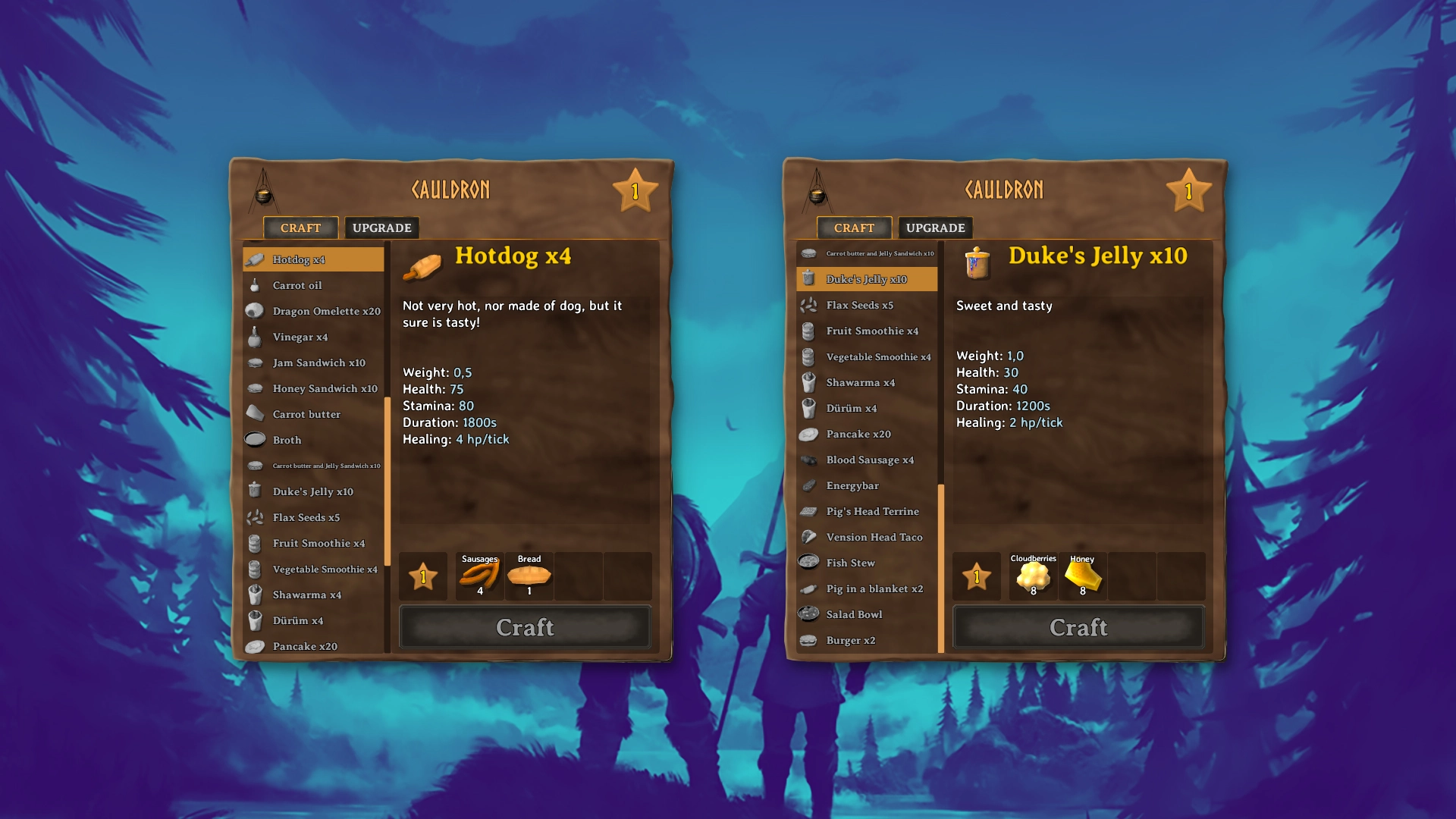 The Master Chef mod adds a lot of diversity to Valheim's cooking (Picture: Hrve/Iron Gate)
This mod introduces 25 brand new recipes to the game. They include new ingredients and bonuses, and will even allow you to use some previously non-edible items as food.
Each of the 25 new recipes has a unique icon that represents it, which were made to match the aesthetics of the game, but they might be changed in the future to look even better.
Hrve, the creator of the mod, says that he would like to work further on this mod and improve it, but he currently lacks the time and skills to work on some details, like unique 3D models for dishes or better icons.
"As this is the first iteration of the mod, all items borrow 3D models from other in-game items, so don't be surprised when you drop an item and it looks like something else," he explains. "This may also be updated in the future if I have the time to figure out how to and if enough people enjoy the mod."
Hrve says that he will make sure that the mod always works with the newest patch, and will make some changes and tweaks from time to time, and even add new recipes.
If you like the mod, make sure to download it over at Nexus Mods, so that Hrve knows that there is an interest in it and continues to support it.
It is definitely an interesting addition to the game, at least until the Hearth and Home update releases, which should be heavily focused on the house building aspect of the game and will include many new food recipes.
Here is a full list of new recipes added with the Master Chef mod:
 Hotdog x4
4 Sausages
1 Bread
 
Carrot Oil x1
4 Carrot Seeds
 
Dragon Omelette x20
1 Dragon Egg
2 Yellow Mushroom
1 Dandelion
 
Vinegar x1
20 Cloudberry
 
Jam Sandwich x10
1 Bread
1 Queens Jam
 
Honey Sandwich x10
1 Bread
5 Honey
 
Carrot Butter x1
1 Carrot Seeds
1 Honey
 
Broth x1
2 Raw Meat
1 Dandelion
 
CBJ Sandwich x10 (Carrot Butter and Jelly)
1 Bread
1 CarrotButter
1 Duke'sJelly
 
Duke'sJelly x8
8 Cloudberry
8 Honey
 
FlaxSeeds x5
1 Flax
 
Fruit Smoothie x4
3 Raspberry
3 Cloudberry
3 Blueberries
2 FlaxSeeds
 
Vegetable Smoothie x4
4 Turnip
4 Carrot
4 Mushroom
1 Dandelion
 
Shawarma x4
4 BarleyFlour
2 CookedLox Meat
1 Turnip
 
Dürüm x4
4 BarleyFlour
1 Turnip
2 CookedMeat
 
Pancake x20
1 DragonEgg
10 Barley Flour
1 QueensJam
1 Honey
 
Blood Sausage x4
2 Entrails
2 Bloodbag
1 Turnip
 
Energybar x1
4 BarleyFlour
1 Honey
1 Raspberry
1 Flax Seeds
 
Pig'sHead Terrine x1
1 BoarTrophy
3 Carrot
2 Turnip
1 Vinegar
 
VensionHead Taco x1
1 DeerTrophy
1 Turnip
4 BarleyFlour
1 CarrotOil
 
Fish Stew x1
2 RawFish
1 Turnip
1 Thistle
1 Broth
 
Pig in a Blanket x2
1Sausages
4 BarleyFlour
1 CarrotOil
 
Salad Bowl x1
2 Carrot
1 Turnip
1Vinegar
1 Flax Seeds
 
Burger x2
1 Bread
2 CookedMeat
1 Turnip
1 Flax Seeds
 
Neck Tail Skewer x1
1 Neck Tail
1 Turnip
1 Mushroom
1 CarrotOil