One of Valheim's most attractive features is that it can be played on a server with up to 10 other players. This means that you fight to survive the Norse realm with a small army of your friends.
To most players, this is a worthwhile endeavour and an experience that really increases the overall enjoyment of Valheim. However, a clip that has gone viral showcases just how dangerous it can be to have friends join your server. 
Valheim clip demonstrates why friends can't be trusted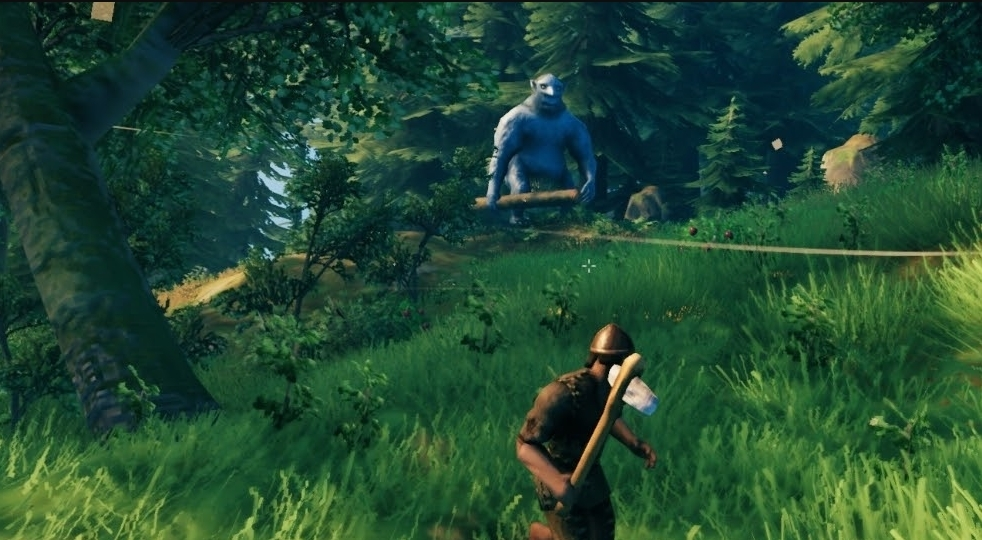 Trolls are responsible for ruining many Valheim players' bases. (Picture: Iron Gate)
Damon "Karma" Barlow, retired Call of Duty professional, is now a variety streamer on Twitch. He's best known for his three championships in Call of Duty and his time with OpTic Gaming. Though he wasn't a part of an organization for some time, he recently signed back with the organization to be a content creator. 
In one of his first few days in this new role, Karma decided to start playing Valheim, as many other streams have done. He began his journey by playing with fellow streamer and former H1Z1 professional, Camsoda. 
While playing on the server together, the two wanted to meet up and see each other's progress. Karma ventured over to Camsoda's oceanside base only to find that two Mountain Trolls were waiting for him, completely unbeknownst to Camsoda. Frightened at the sight of the two trolls, Karma immediately stepped inside of Camsoda's base which, as all Valheim veterans know, is a foolish move. 
My first time getting to @itsCamsoda 's house LMAOOOOO pic.twitter.com/dgLTdjPeIu

— Damon B (@DKarma) February 15, 2021
One of the two trolls followed Karma inside of the base and swung its club down, killing Karma and destroying part of Camsoda's base. When the base owner found out what was happening, it's safe to say he wasn't thrilled with Karma's decision. He exclaimed, "Damon, what the ****, are you kidding me?" 
It's clear Karma didn't know the Trolls would attack the base but it just goes to show that you need to be careful when inviting friends over to your base in Valheim. It also proves just how crazy Valheim can get at any given time. 
Camsoda has reason to feel alarm Mountain Trolls are not the easiest beasts to take down - thankfully we have a guide to help you do just that.