It seems Fnatic may have to find a replacement for Russian pro Valorant player Andrey "BraveAF" Gorchakov ahead of Masters Reykjavík, as the org has decided to suspend him following controversial comments regarding the current Russia-Ukraine conflict. 
The decision was made after Ukrainian Valorant and CSGO caster Aleksei "yXo" Maletskyi revealed a private conversation between BraveAF and a Ukrainian woman. 
In a translation provided by the own caster, the Fnatic player was seen openly supporting Russian President Vladimir Putin, blaming "the west" for fueling the conflict as they are looking to bring forth the "collapse of the CIS."
For those unaware, Ukraine has not been a part of the Commonwealth of Independent States since 2018.
"A player of your team supports the war in Ukraine. Denies civilian casualties. It seems he has no right to represent your organization in esport. Pay attention please," xYo stated via social media.
Pro Valorant player suspended over Ukraine comments
As a result of these comments coming to light, Fnatic swiftly issued a statement via Twitter, explaining that BraveAF was suspended effective immediately while an ongoing investigation determines the course of action taken moving forward.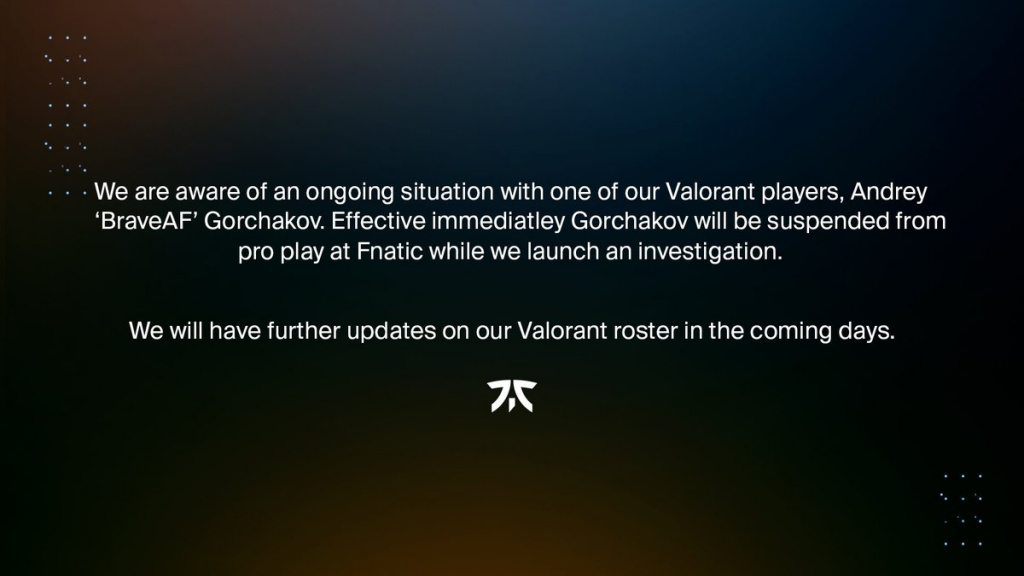 "We are aware of an ongoing with one of our Valorant players, Andrey 'BraveAF' Gorchakov. Effective immediately Gorchakov will be suspended from pro play at Fnatic while we launch an investigation," the statement reads.
BraveAF responded to the comments, giving context to the situation. According to the Russian player, his remarks were made on 24th February. "By that time nobody knew what's going on."
"You can clearly see on those pictures that I want this to end asap and don't want people to get hurt or killed," Brave said, explaining that he was ill-informed regarding the conflict. 
Will Fnatic replace BraveAF?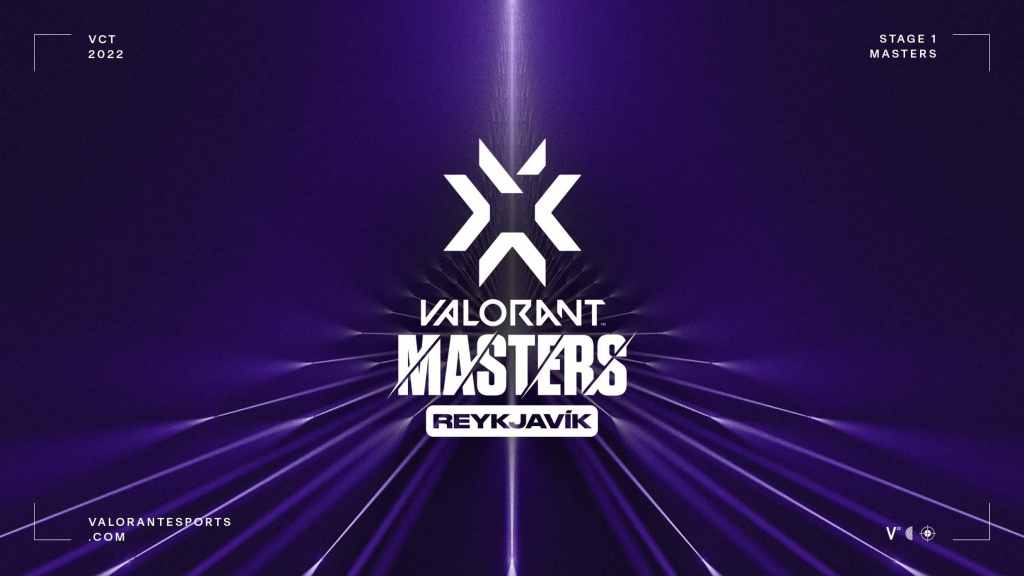 With the first Masters of 2022 less than two weeks away, Fnatic has to make a quick decision regarding BraveAF's future within the org. Whether the punishment will be to completely drop him or only bench him for Masters remains to be seen.
Alternatively, BraveAF could be allowed to compete at Iceland with Fnatic waiting until after the event to issue some kind of fine. Regardless of the suspension, many fans were unsure if Fnatic could even lineup BraveAF at Masters.
Ongoing COVID-19 regulations plus Russia and Ukraine travel restrictions made it impossible for FunPlus Phoenix, a team comprised primarily of players from both countries, to make it to the event despite winning the EMEA Challengers qualifier.
This is all speculation, but as soon as we get confirmation, we'll be sure to update you on the situation. 
Be sure to check out and follow our section dedicated to Valorant to stay updated with the latest news, guides, leaks, update announcements, and more related to the game.
Featured image courtesy of Fnatic.