Patch v4.0 for Valorant has been released without so much of a hitch or massive game-breaking bug, unless you call getting the latest Agent, Neon, unlocked right from the start a glitch.
That's right, players who booted up the game immediately after the update not only found plenty of weapon and map changes, the newest Protocol skin collection on the store, but also the fact that Neon was available to be played right from the get-go. 
Naturally, many wondered if this was intentional or a bug, as Riot didn't mention Neon becoming playable as soon as the update went live. Eventually, the developers did confirm it was a glitch and temporarily removed the new duelist from the game until the issue was fixed. 
Neon is disabled from Valorant
Via social media, Riot Games confirmed a hotfix was on the way to resolve an issue with Neon's availability, thus removing her momentarily from the live servers. 
Neon accidentally went out as an unlocked Agent, so she's disabled in regions where Patch 4.0 is currently live. We're aiming to get her back in-game in roughly two hours.

— VALORANT (@PlayVALORANT) January 11, 2022
There are two ways for Valorant players to get a new Agent. One is to grind the Agent contract earning XP by playing matches and completing daily and weekly missions.
In total, to unlock a new character, which always comes at tier 5 of a contract, players need 200k XP, a bit of a grind considering weeklies give out 21k XP and dailies only 2k XP.
Of course, players can purchase tiers by utilising the game's premium currency, Valorant Points. Tier 1 of a contract costs 200VP, progressively increasing until tier 5 reaches 1000VP, meaning you'll need to spend a total of 3000VP to unlock Neon right away.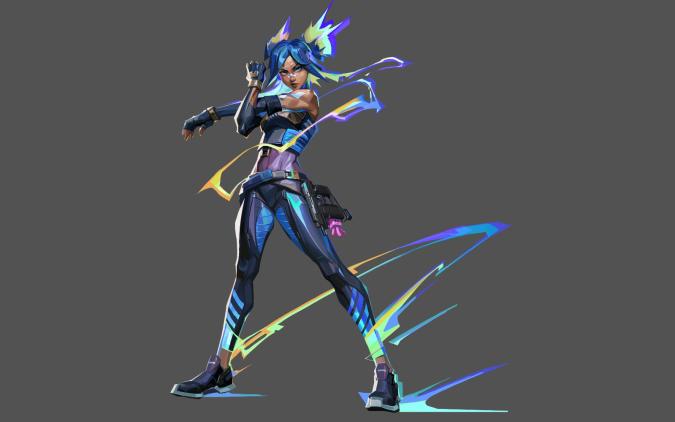 For context, a single weapon for the new Protocol 781-A collection costs 2475VP, so it's not cheap to purchase contract tiers by any means.
Hey, on the bright side, at least we won't have to worry about day 1 Neon insta-lockers plaguing our ranked games.
Featured image courtesy of Riot Games.