The second half of 2021 has big launches prepared for Nintendo's hybrid console, the Nintendo Switch, with titles such as
Metroid Dread
,
The Legend of Zelda: Skyward Sword HD
, and
Pokémon Brilliant Diamond and Shining Pearl
being among the main titles to be launched in the next few months.
On the third-parties side, one of the most anticipated will come from Capcom, who after the successful launch of Monster Hunter Rise, will once again spoil the fans of this franchise with Monster Hunter Stories 2: Wings of Ruin, from which we will talk in-depth below.
Monster Hunter Stories 2: Wings of Ruin - Gameplay details and development
Monster Hunter Stories 2: Wings of Ruin is one of the next RPG-style titles that will arrive exclusively on the Nintendo Switch, in which we will take the role of Red, a hunter who will receive a baby Rathalos, with whom he will be immersed in an adventure full of battles and epicity.
In this game, players will be able to befriend monsters, raise creatures from the egg, and more, taking on the role of Riders instead of the conventional Hunters we are used to in this series.
The origin of the plot of this game will come at the moment Red's world will need a hero since the apocalypse looms on the horizon. Despite being a sequel, Capcom has repeatedly confirmed that it will not be necessary to have played the first instalment released on the Nintendo 3DS, as the story and characters will be different.
As such, Monster Hunter Stories 2 presents us with a fresh proposal within the monster-tamer genre, where franchises such as Pokémon and Yokai Watch have always stood out, creating a turn-based RPG adventure with an epic story that highlights the evolution of this spin-off series, where we can interact with hundreds of creatures introduced in the most recent Capcom releases.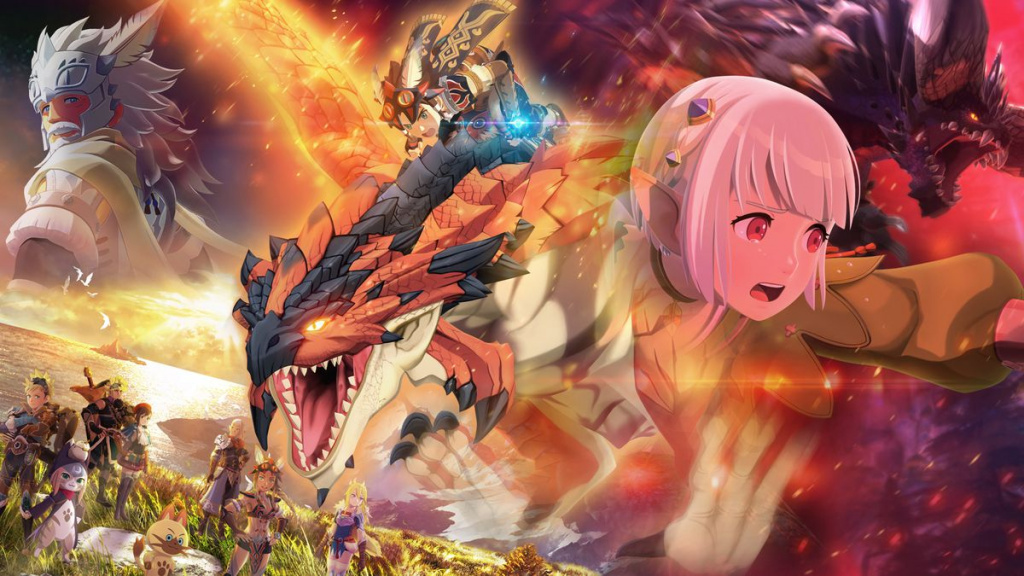 Its art style is more than notorious, having great influence from the anime shonen style, and endowed with impressive graphics and sounds that will immerse yourself in this new experience, without forgetting its gameplay that will give us countless hours training beasts, getting materials, and honing your inventory and skills.
Monster Hunter Stories 2: Wings of Ruin - DLCs Roadmap
Now, we must highlight part of the content the game will have in the future, since Capcom has released the full roadmap of DLCs that will reach this title adding new content from a few days after launch, until October 2021.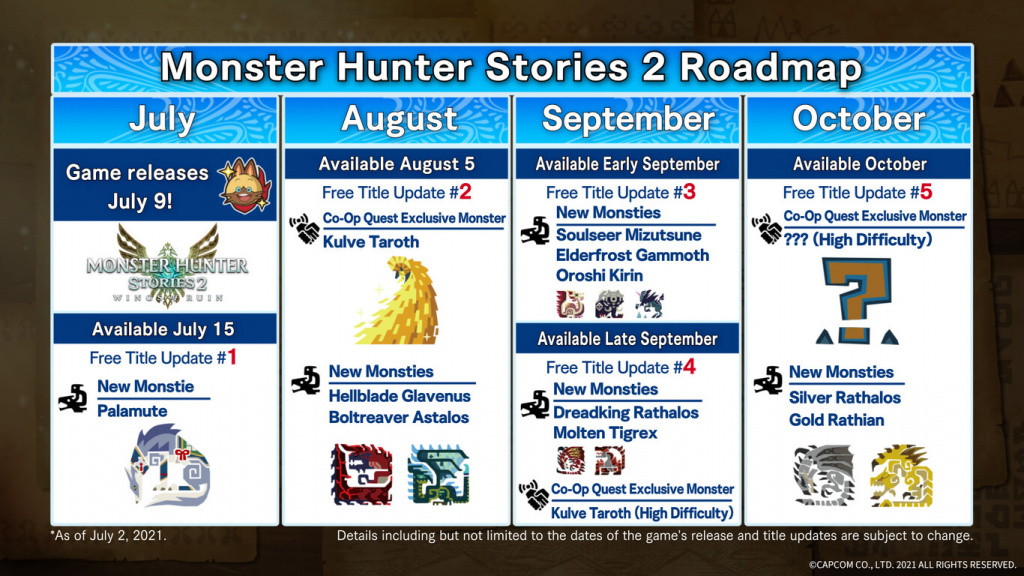 All this content will be available for free, so there will be no need to purchase an Expansion Pass or something similar to enjoy new missions, both solo and co-op, as well as new beasts to discover and capture.
Monster Hunter Stories 2: Wings of Ruin - Editions and Size
Monster Hunter Stories 2 will be available in two editions, whether you just want to jump into the adventure instantly, or are a fan of the franchise:
Standard Edition ($59.99 USD): Available either digitally through the Nintendo eShop, or in physical format, with an additional download required to play it at Day One.
Deluxe Edition ($79.99 USD): Available digitally on the Nintendo eShop, it includes Rider's Layered Armor, Ena's Outfi, Navirou's Outfits, Rider's Hairstyle, and Sticker Sets as bonuses.
In addition, in case you want to test the game before purchasing it and experience part of the missions and its gameplay, you can download a demo available within the eShop right now.
According to Nintendo's website, the size of the base game will be 13.5 GB, although it will increase with the future content releases, so we recommend you to save it through a Micro SD. The demo has a download size of 2.5 GB.
To finish, we can only say Monster Hunter Stories 2 features make it a title more faithful to the base of its original franchise than its prequel, by giving a more than a complete game in all kinds of things, so if you are a fan of this saga or from turn-based RPGs, this game will be perfect for you.
Monster Hunter Stories 2: Wings of Ruin will be available on 9th July 2021, on Nintendo Switch and PC via Steam.