When one talks about mobile MOBA games, Wild Rift is perhaps one of the top names that will emerge in your mind. The game has received an overwhelming response from the community right from its closed beta testing. Being a competitive title, players always strive to improve their battling skills and climb the pinnacle of the leaderboard.
While grinding for the desired rank, players often look for ways to check their statistics and match history in Wild Rift. When it comes to stats tracking, Riot Games has incorporated a dedicated profile section containing all the relevant data. So without further ado, let's check out how to access it.
How to check statistics in League of Legends: Wild Rift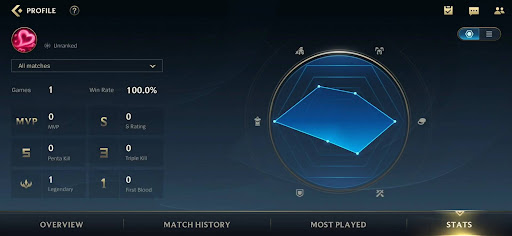 The only way to check players stats in Wild Rift is by accessing the profile section. Here are the steps that you need to follow:
Launch Wild Rift on your smartphone.

Login to your game account.

Tap on the Profile button on the top left of the screen.

Switch between tabs to check different statistics.
In order to see other Wild Rift player stats, you can use third-party tools like WildStats.GG. Simply enter the player's username and tag in the search bar to get detailed info. However, make sure the player's profile is set to public in order to fetch the stats.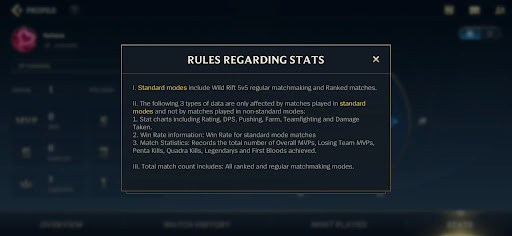 Here are the stats that are recorded in the League of Legends: Wild Rift:
Standard modes include Wild Rift 5v5 regular matchmaking and Ranked matches.

The following three types of data are only affected by matches players in non-standard modes:

Stat charts including Rating, DPS, Pushing, Farm, Teamfighting and Damage Taken.

Win Rate information: Win Rate for standard mode matches.

Match Statistics: Records the total number of Overall MVPs, Losing Team MVPs, Penta Kills, Quadra Kills, Legendary and First Bloods achieved.

Total Match count includes: All ranked and regular matchmaking modes
So there you have it, everything you need to know about checking players in League of Legends: Wild Rift.
Don't forget to check out more guides, as well as new updates through our Wild Rift dedicated section.