The 9th season of EA and Respawn's popular Battle Royale title, Apex Legends, is fast approaching, with a release date set for 4th May 2021. We will likely see a new Legend called Valk, possible Titanfall content, as well as an Arena mode coming to the game, alongside a shiny new Battle Pass and much more. However, a dataminer has found another new Apex Legends character in the game's files, called Pariah.
Here's what we know so far about Apex Legends' Pariah, including details on the upcoming Legend's abilities, passive, and even Legendary skin names.
Please note: The main image of this article showcases Horizon, as there are no images available of Pariah just yet.
Apex Legends Pariah release date
Since Pariah has been found in the game's files, one would expect the new character to release with Apex Legends Season 9, right?
Well, as we've mentioned at the start of this article, the expected new Legend for Season 9 is the recently-teased Valk. This means Apex Legends' Pariah might only release in Season 10, with no exact release date revealed just yet.
Apex Legends Pariah abilities & passive 
Despite the new Apex Legends character Pariah possibly being several months from a release date, dataminer Biast12 has revealed the full set of abilities, as well as the passive for the upcoming Legend.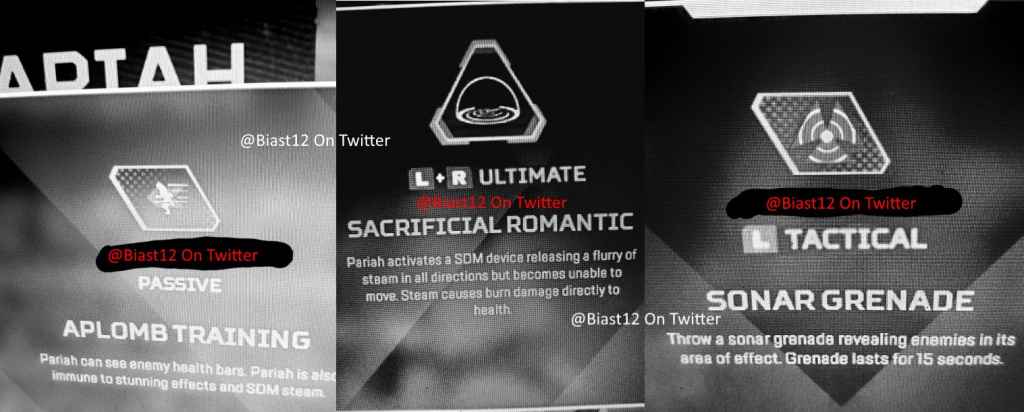 (Picture: Biast12)
Check out Pariah's possibly abilities below, starting with the Legend's passive.
Pariah Passive: Aplomb Training
"Pariah can see enemy health bars. Pariah is also immune to stunning effects and SDM steam."
Pariah Tactical: Sonar Grenade
"Throw a sonar grenade revealing enemies in its area of effect. The grenade lasts for 15 seconds."
Pariah Ultimate: Sacrificial Romantic
"Pariah activates an SDM device releasing a flurry of steam in all directions but becomes unable to move, Steam causes burn damage directly to health."
At the very least, this looks like an interesting new Apex Legends character, but there's even more...
Apex Legends Pariah skins
It looks like the developers might already have ideas for the names of Pariah's Legendary skins.
Dataminer Biast12 even found Legendary Skin names for Pariah, which are:
Secret Service
Lost Archive
Phantom Edge
Chimera
Since we have no idea what Pariah will look like, and there are no texture files available in the game's files just yet, there's no telling how these Legendary skins will look like.
As always, you should take information from leaks such as this one with a grain of salt. The new Apex Legend character Pariah could be a very long way off from releasing, and things might change significantly during production.