Supercell is brining the snow in Clash Royale Season 19, entitled Frozen Peak. While the developer
announced in December
they would only make balance changes every three months, there's still some nice content coming your way in Clash Royale Season 19.
Here's everything you need to know about the next season of Clash Royale, starting with the release date and time, followed by content and what you can get from the Pass Royale in January 2021.
Clash Royale Season 19: Release date & time
Clash Royale Season 19 has a release date of 4th January 2021, so if you are reading this, the season might already be live in your region.
The release time for Clash Royale Season 19, as per previous seasons, is roughly 08:00 GMT. Expect some minor downtime as Supercell gets the servers ready for Frozen Peak. 
Clash Royale Season 19 content & boosted cards
The new season will take place on the featured arena called Frozen Peak (Arena 8) so don't expect any new arena to appear.
No new card has been announced just yet, and with Season 18 bringing the Mother Witch, we don't expect any new card to appear until February 2021 earliest.

(Picture: Supercell)
There will be two boosted cards in Clash Royale Season 19, namely the Ice Wizard and the Mother Witch. This means the Mother Witch remains boosted, while the Ice Wizard gets a boost keeping with the frosty theme of the new season.
Clash Royale Season 19: Pass Royale rewards
The Pass Royale will feature a free and Elite version, as always, with the latter requiring players to open their wallets for some great rewards.
Clash Royale Season 19's Pass Royale includes a new tower skin, as well as a new emote called "Ice Wizard: Dancer." Further, the Ice Wizard popcorn emote will be available in the shop once Clash Royale Season 19 releases.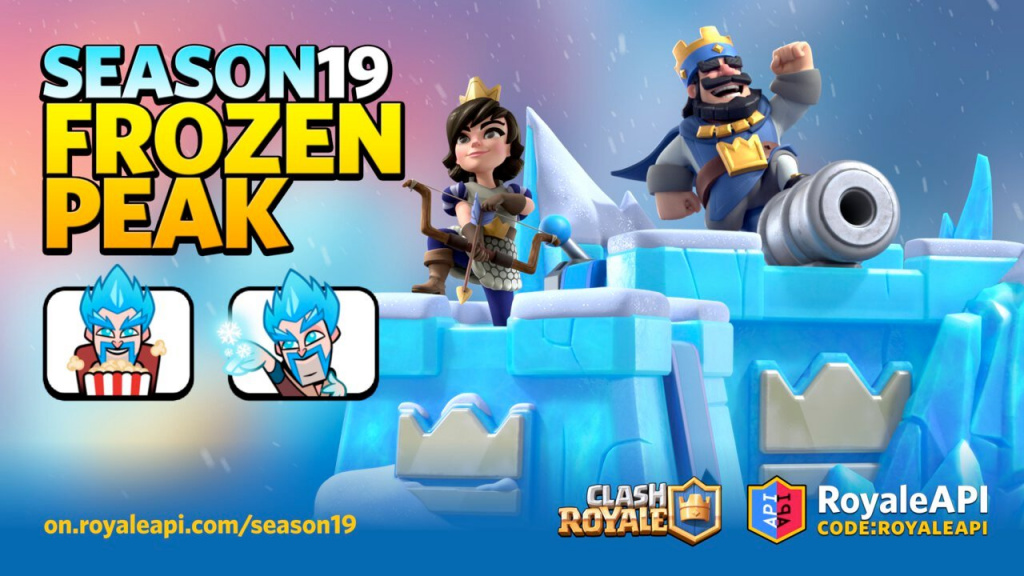 (Picture: RoyaleAPI)
The Elite version of Clash Royale's Season 19 Royale Pass also gives the following benefits:
Unlimited re-entries and continues for Special Challenges
Automatic chest unlocking
Strikes for all Pass Royale & Crown Chests
An exclusive Pass Royale golden name
Gifts for all Clanmates
While Clash Royale Season 19 isn't the biggest one ever, and doesn't bring any new balance changes, the new emotes and tower skin do look fantastic, so don't miss out.