Despite some minor nerfs, the AS VAL is still one of the best assault rifles in Call of Duty: Mobile Season 7.
Since the weapon's addition in the Season 2 Day of Reckoning update, the AS VAL has become a staple meta gun in 2021.
This fully automatic assault rifle boasts an exceptionally high fire rate and above-average damage multipliers, making it especially deadly both in close-quarter combat and mid-range encounters.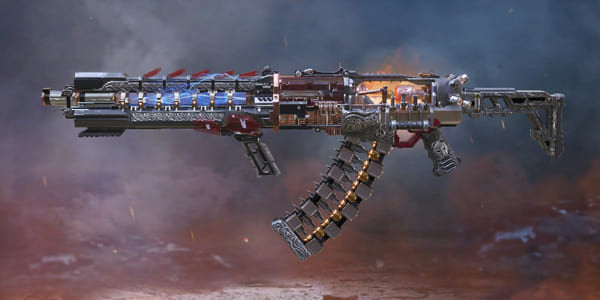 The AS VAL has received a single nerf in the Season 7 balance update, with movement speed being slightly decreased when equipped with Large Extended Mag B, which is a very popular attachment for the assault rifle.
The devs didn't like the mobility provided with this mag, so they have decided to decrease movement speed from -1% to -2% and reload speed from 0% to +6%.
How is this affecting the weapon in the new season, and what is the next best AS VAL class setup in COD Mobile Season 7? Let's check out!
Best AS VAL loadout for COD Mobile Season 7
We have tested the weapon in the new season, and in the current Season 7 meta, use these attachments for the best AS VAL class setup in COD Mobile.
Barrel: MIP 200mm Mid-range
It will increase your damage range and bullet speed by 20%, helping you to be significantly more efficient in mid-range combat.
Stock: OWC Skeleton
You will often aim down sight with the AS VAL, and the Skeleton will help you in that regard by increasing your ADS movement speed and decreasing ADS time. 
Underbarrel: Strike Foregrip
It will help us to hit our targets more consistently by reducing ADS bullet spread and vertical recoil.
Laser: OWC Tactical
Not much to say here, one of the must-have attachments that significantly improves ADS time and further decreases ADS bullet spread. With no downside asides from the visible laser, which in COD Mobile isn't much of an issue.
Ammo: Large Extended Mag B
Despite nerfs, this is still by far the best mag for this weapon, and there is no real reason not to use it.
And that's it; this is the best AS VAL build for COD Mobile Season 7, one that might even break the SMG meta, as it works great both in mid-range encounters as well as in close-quarter combat. The biggest downside is the weapon's strong recoil, which can be hard to manage, so always keep that in mind when engaging.
For more news and guides, check out our dedicated Call of Duty: Mobile hub.