Call of Duty Mobile Season 5 announced some significant balance changes, but the BK57 Assault Rifle (AR) remains one of our top picks in its class. While the weapon does not boast the same high damage output and range as the CR-56 AMAX, it is certainly still an overall good weapon to use.
Players can unlock the weapon at level 34 and enjoy high accuracy, firing rate, and damage. Here's our ultimate BK57 loadout for COD Mobile Season 5 to help you land those kills whilst out on the battlefield.
Best BK57 loadout for Season 5
We've gone with a gunsmith loadout by the YouTuber "Trident" to maximize the BK57's accuracy and range. This loadout will, however, sacrifice a bit of mobility.
Muzzle: Monolithic Suppressor
Barrel: MIP Extended Light Barrel
Stock: OWC Skeleton Stock
Laser: OWC Laser - Tactical
Rear Grip: Granulated Grip Tape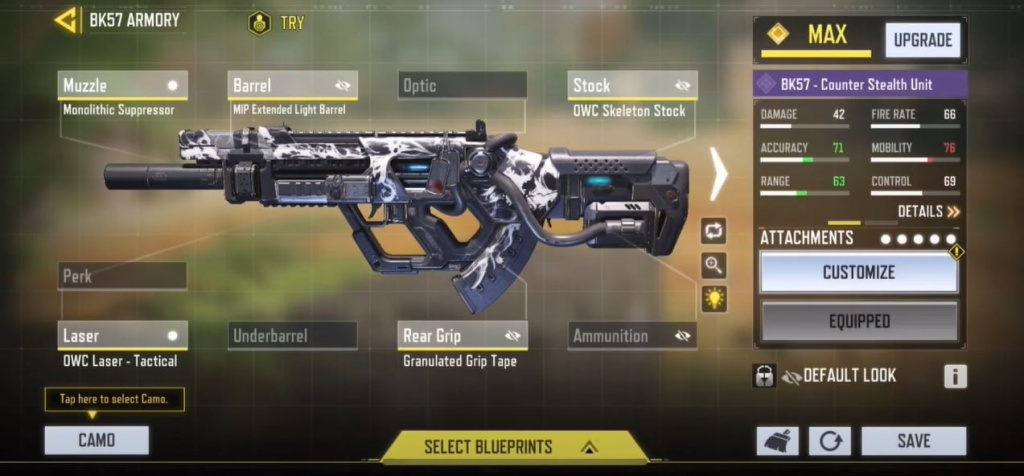 The Monolithic Suppressor is an obvious attachment for the stealth playstyle, trading aim down sight (ADS) speed for superior sound suppression and damage range.
Picking up the MIP Extended Light Barrel will confer additional ADS bullet spread accuracy and damage range, at the cost of ADS speed.
The OWC Tactical Laser is the singular attachment for ADS speed in this loadout. Equipping it will boost the BK57's ADS speed and ADS bullet spread by 8.0% and 9.2%, respectively. If you prefer a higher ADS time, then you can replace the OWC Skeleton Stock with the YKM Combat Stock instead.
Of course, using the OWC Skeleton Stock will improve ADS bullet spread, hit flinch, and horizontal recoil (at the expense of ADS movement speed), which are major downfalls of the BK57. This option may also be better if you have a less aggressive playstyle.
Finally, the Granulated Grip Tape Rear Grip will boost aiming stability and aim walking steadiness, to keep your aim steady on the target and ultimately help you land your kills.
BK57 damage stats at range
Using this build will do 32 damage per headshot and 27 damage per body shot at close range (0-27 meters), with some damage falloff in the mid-range (28-44 meters) at 26 and 22 damage per head and body shot, respectively. At long-range (45 meters or greater), you can expect the loadout to give you 22 damage per headshot and 19 damage per body shot.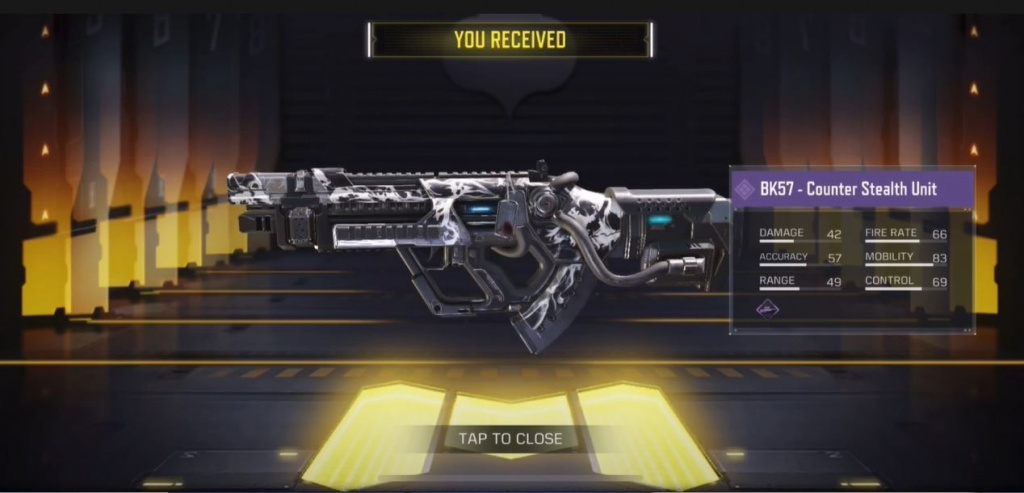 The BK57 may not be the best gun to use in COD Mobile Season 5 right now, but it still packs considerable damage as an S-tier option.
You can watch Trident's video below for a demo of the best BK57 loadout for COD Mobile Season 5 in action and for a more detailed explanation of the build.
Don't forget to check out our dedicated COD Mobile section for news, leaks, guides, weapon tier lists, loadouts, and more.
Header image via Activision