Whenever there is a new gun added to COD Mobile, one of the first enigmas players want to solve is an answer to a question - what is the best class setup for this weapon?
And with the MX9, things are no different, as the newest COD Mobile submachine gun looks like a great option to start the new season, but first, we need to find out what are optimal attachments in order to to have the best results with the weapon.
The MX9 is a weapon with no particular standout characteristics, and its stats fall mostly in the average category for its class,  with the weapon being most similar to the QQ9 and Fennec.
On the other hand, it doesn't have any big downsides as well, which makes it great for players who like to use their SMGs from a mid-range distance from time to time, despite the MX9 still being primarily a strong close-quarter combat weapon.
This makes it an interesting and versatile choice for various maps. After testing several builds, checking the numbers and how the weapon behaves, we are almost certain that this is the best class setup for the MX9 in COD Mobile.
Best MX9 gunsmith loadout for COD Mobile Season 6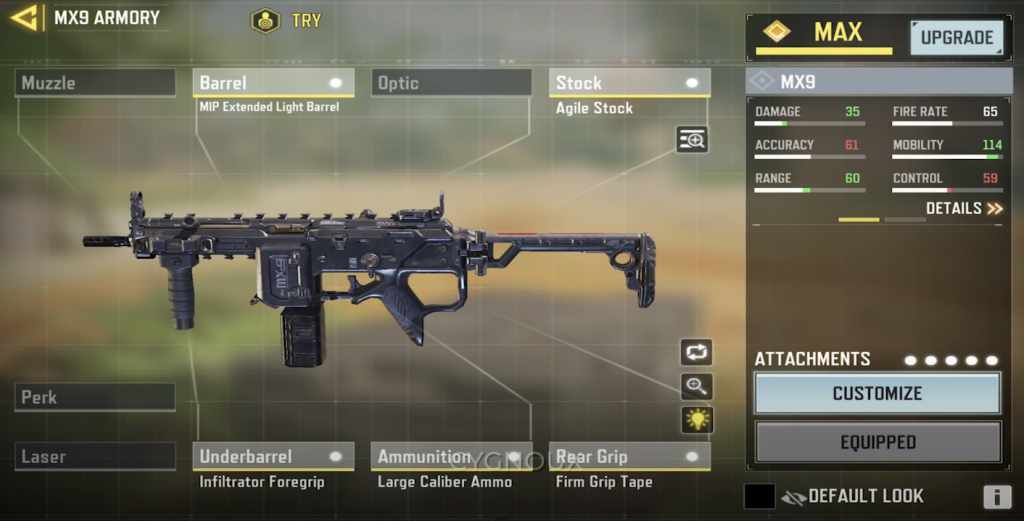 If you are still not sure how to play with the MX9, use these attachments for the best  MX9  gunsmith build.
Barrel: MIP Extended Light Barrel
The barrel will increase the damage range by 20%, further solidifying the weapon's reliability at mid-range.
Stock: Agile Stock
The Agile Stock will provide us with a much-needed mobility boost, with improved Sprint-to-Fire times, and +40% ADS Movement Speed. Though, you should keep in mind that this attachment will hinder your hipfire accuracy.
Underbarrel: Infiltrator Foregrip
Further improves our ADS Movement Speed and Movement Speed by 5%. It's not much but it comes with no downsides. 
Rear Grip: Firm Grip Tape
With close-range combat, it is all about speed and reflexes, and this will improve our ADS Time, as well as Hit Flinch, which will give us more control in intense close-quarter situations. 
Ammo: Large Caliber Ammo
Being a close-range gun, having the weapon's Body Part Damage Multiplier improved will significantly boost our time-to-kill.
And that would be the best MX9 gunsmith class setup for the start of Season 6. As you can see from this choice of attachments, to focus of this MX9 build is on extremely high mobility, as you will now have one of the weapons with the fastest ADS Movement Speed time in the game.
This is ideal for what we want to achieve - a weapon that is reliable from a slightly longer distance and with which you will be able to quickly approach the target while shooting at them and avoiding being shot, and finally - to dominate close-quarter combat.
Don't forget to check out our dedicated COD Mobile section, featuring all the news, guides, weapon tier lists, loadouts and more.