Call of Duty: Mobile Season 1 2022 is finally here, and it keeps on delivering great content.
At the start of the season, we've received Clan War updates, a new tactical weapon Storm Ball, the new PPSH-41 SMG, a new multiplayer mode called "Heist", and a shiny new battle pass.
But that's just the beginning, because, as the season progress, there's so much more to come.
Two new maps, Hacienda and Nuketown Temple are set to be released, but the real fun will be trying out the new Kilo 141 assault rifle.
If you want to hone your skills with the Kilo 141 as soon as possible, here's what you will need to do in order to unlock it.
How to unlock Kilo 141 in COD Mobile Season 1 2022?
Kilo 141 is a great option to go with for mid-range combats and while it performs well in close range combats, it's not as deadly as other assault rifles available in Call of Duty: Mobile. If you want to grab this gun for yourself, you will need to complete the following missions in order.
Fire 500 bullets in MP matches: 5 Weapon XP Cards and 1000 Battle Pass XP
Kill 30 enemies in MP matches: 200 Credits and 1000 Battle Pass XP
Kill 50 enemies with an assault rifle: MK2 - Artbeat and 1000 Batte Pass XP
Kill 35 enemies with any KRM-262 equipped with five attachments (available in the Credit Store): 10 Weapon XP cards and 2000 Battle Pass XP
Kill 20 enemies with any KRM-262 equipped with the Gung-Ho perk (available in Credit Store): Fine Five and 2000 Battle Pass XP
Win five MP matches with any KRM-262 equipped: Kilo 141 and 2000 Battle Pass XP
You can grab Kilo 141 till the COD Mobile Season 1 ends.
COD Mobile Kilo 141 stats & gameplay
While the Kilo 141 is still not fully released (at the time of writing), some YouTubers, like Yanrique, already had a chance to try out the assault rifle, and you can see it in action below.
As for the weapon's stats, here are the base numbers without any attachments:
Damage: 29
Fire rate: 68
Accuracy: 57
Mobility: 90
Range: 58
Control: 42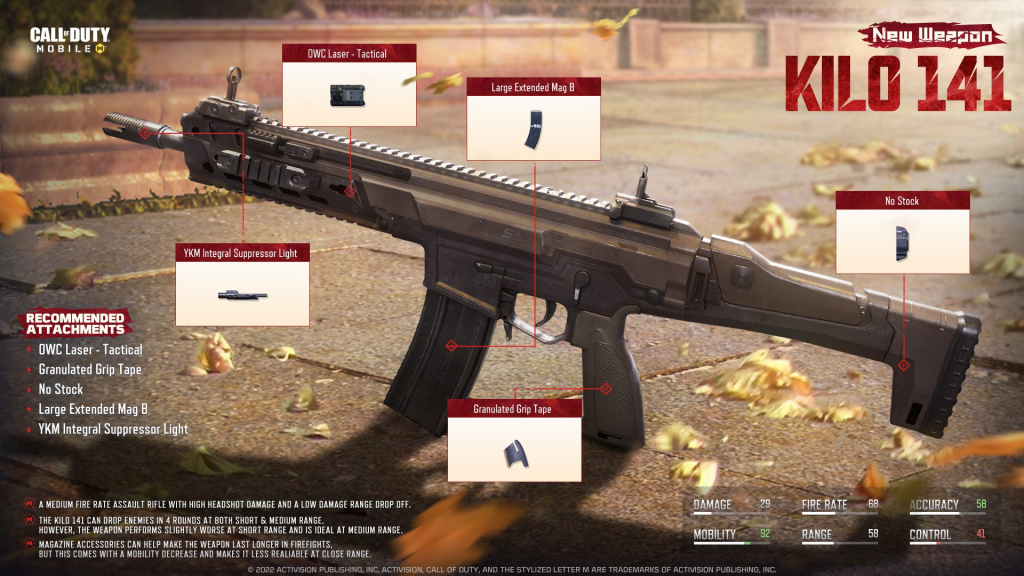 As you can see, the weapon boasts superb mobility, excellent fire rate, and decent range and accuracy, but its damage is abysmal and it is not that easy to control. 
Based on these stats, we reckon that the Kilo 141 will be perfect for mid-range encounters, especially if you prefer constant movement over more static play. Once we properly test the weapon, we'll make sure to present you with the best loadout for this potent assault rifle.
Featured image courtesy of Activision.