Controversy continues in the CS:GO scene as Anonymo Esports has announced their match against Ninjas in Pyjamas will have to be replayed after NiP's complaints about packet loss in their defeat during the Flashpoint Season 3 Upper Bracket Round 1.
Anonymo shared via social media a quick statement in which they explained that prior to the match, they offered NiP to play on any official server to avoid connection issues, with FACEIT, one of the tournament organizers failing to properly make sure there were no problems with the selected server.
As a result, following NiP's criticism after losing 2-1, the solution was to "force" Anonymo into a Bo1 on 16th May or the full Bo3 replay on the 18th. "It's just ridiculous."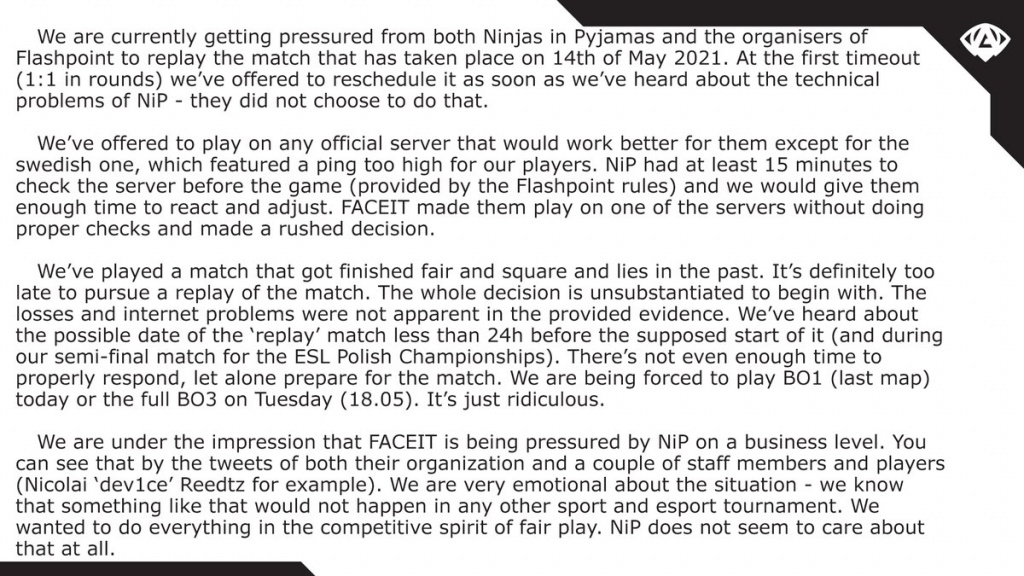 (Picture: Anonymo Esports)
Paweł "Innocent" Mocek stated via Twitter that referred to the situation as "f*cking amateur sh*t," as he feels they're taking away a win they thoroughly deserved. 
Whatever the resolution ends up being, they must come to an agreement fast as the next matches of the tournament are right around the corner, with the loser playing against HYENAS on the 18th, and the winner facing FunPlus Phoenix on the 20th.
As always, we'll keep you updated as the story develops.