With the new CS:GO update which was released by Valve on 24th July, Trusted Mode is now the default launch mode, which means you can no longer simply disable it with a launch option. However, there's still a way to enable third-party software for CS:GO.
How to enable third-party software in CS:GO
While Trusted Mode is the new default launch mode for the game, there is one way to disable it. Keep in mind you shouldn't disable it to use cheats, as you will be swiftly banned from the game.
However, many gamers use some third-party software, from video recording to even legitimate peripheral software or to test out new maps. Some of the legitimate software still doesn't work.
This is why we will provide you with step-by-step instructions on how to enable third-party software in CS:GO. 
Launch Steam.
Update CS:GO if you haven't already.
Right-click on CS:GO and select properties.
In the "general" tab, click on "set Launch options".
Type in -allow_third_party_software in the text box (see image below).
Run CS:GO with Trusted Mode disabled.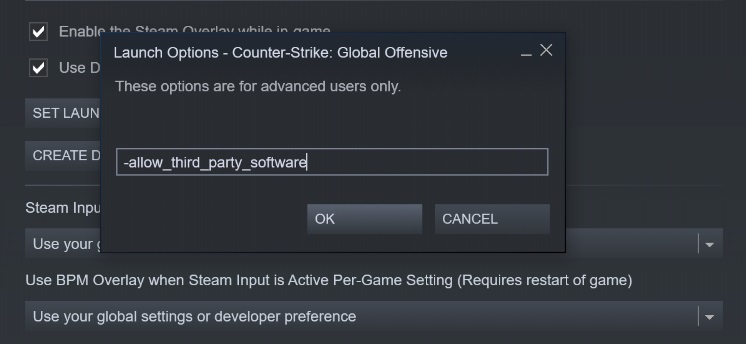 The launch option to enable third-party software (Screenshot via Steam)
If you do enable third-party software to run with CS:GO using this launch option, effectively bypassing Trusted Mode's protection, there are some disadvantages. First, you won't be able to matchmake, and secondly, Valve warns it might affect your "Trust Rating" in the game.
To go back to default, simply remove the -allow_third_party_software launch option, leaving it blank, and restart your Steam client, then launch CS:GO.