On 9th July, Valve released their new anti-cheat measure for CS:GO, called Trusted Mode. This measure is enabled by default to all players, and it has been causing some severe CS:GO performance issues and crashing. Now, a new update aims to address these issues experienced by players. 
CS:GO performance issues with Trusted Mode
The CS:GO performance issues and crashing experienced by players is related to Trusted Mode. Third-party apps which try to inject themselves into the game get blocked by Trusted Mode, but this blocking is causing severe performance issues for some.
According to Valve, the new CS:GO update fixes these performance issues and crashing. Keep in mind these aren't just for players running cheats, as many legitimate third-party apps, from video capture to gaming peripheral software is being blocked.
The new CS:GO update notes read:
Fixed performance issue caused by third party applications repeatedly attempting to inject into CS:GO.
Fixed crashes caused by third party applications injecting into CS:GO.
As you can see, Valve doesn't mention any of these third-party apps by name. Instead, the developer simply notes how this is now fixed. 
If you want to disable it to run legitimate apps, you can do so. However, you won't be able to matchmake against others, and your "trust rating" could be affected.
Launch Steam.
Right-click on CS:GO and select properties.
In the "general" tab, click on "set Launch options".
Type in -untrusted in the text box (see image below).
Run CS:GO with Trusted Mode disabled.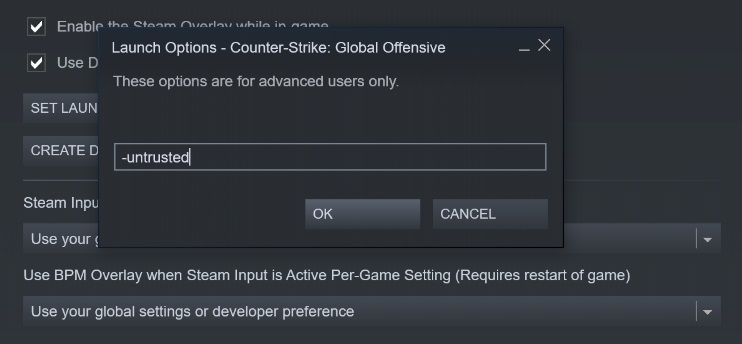 How to disable Trusted Mode (Picture: Valve)
To go back to default, simply follow the first three steps, then remove the -untrusted text line, and restart your Steam client, then launch CS:GO.
While you wait for Valve to fix all the issues related to Trusted Mode, you can always spend some time watching the latest episode of our Lockdown video series.
Lockdown: Ubisoft Forward announcements and why did Ninja delete TikTok? (13.07.2020)