As the first North American CS:GO RMR event, giving teams from the region a shot at qualifying for the Stockholm Major, the CS_Summit 8 tournament is a pretty big deal. The CS_Summit 8 tournament is, of course, hosted by Beyond the Summit and sponsored by VIE.bet. Here's everything you need to know about CS_Summit 8, including how to watch, the tournament format, prize pool, schedule and more.
CS_Summit 8 prize pool
The CS_Summit 8 tournament features a prize pool of $50,000 USD as well as a tonne of RMR points. These RMR points teams can acquire will give themselves a shot at a spot in the Stockholm Major. 
The prize pool distribution is:
1st place - $17,000 and 1,600 RMR points
2nd place - $10,000 and 1,500 RMR points
3rd place - $7,000 and 1,400 RMR points
4th place - $5,000 and 1,300 RMR points
5th place - $4,000 and 1,200 RMR points
6th place - $3,000 and 1,100 RMR points
7th & 8th place - $2,000 and 950 RMR points each
Each of the eight teams competing in the main event will get a share of the prize pool, as well as some RMR points.
This brings us to our next section, featuring the teams and format of CS_Summit 8, as things might get a bit complicated.
CS_Summit 8 teams & format
The CS_Summit 8 tournament will run in four phases, which makes things a bit complicated. First off, only four of the eight teams have received direct invites to the main event. 
Another four teams have been invited to Phase 2 of CS_Summit 8, and they will have to face off against teams from the Open Qualifiers to make their way into the main event.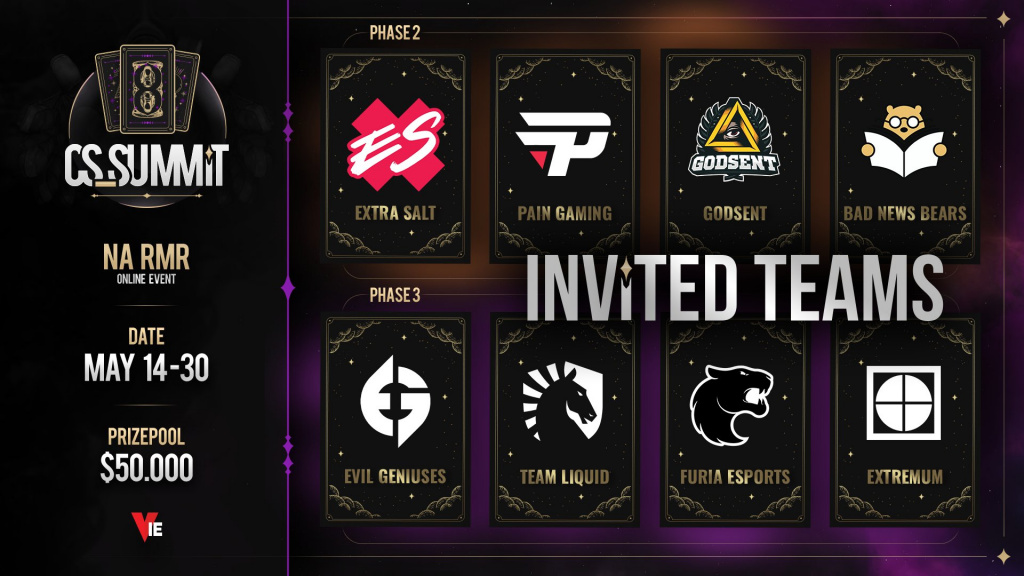 (Picture: Beyond the Summit)
CS_Summit 8 will start with Open Qualifiers (Phase 1) giving North American CS:GO teams a chance to make it to Phase 2, which is the Closed Qualifiers.
This will be followed with a Group Stage of the main event (Phase 3), and the tournament ends with a playoffs (Phase 4).
The graphic from Beyond the Summit below explains how it all works.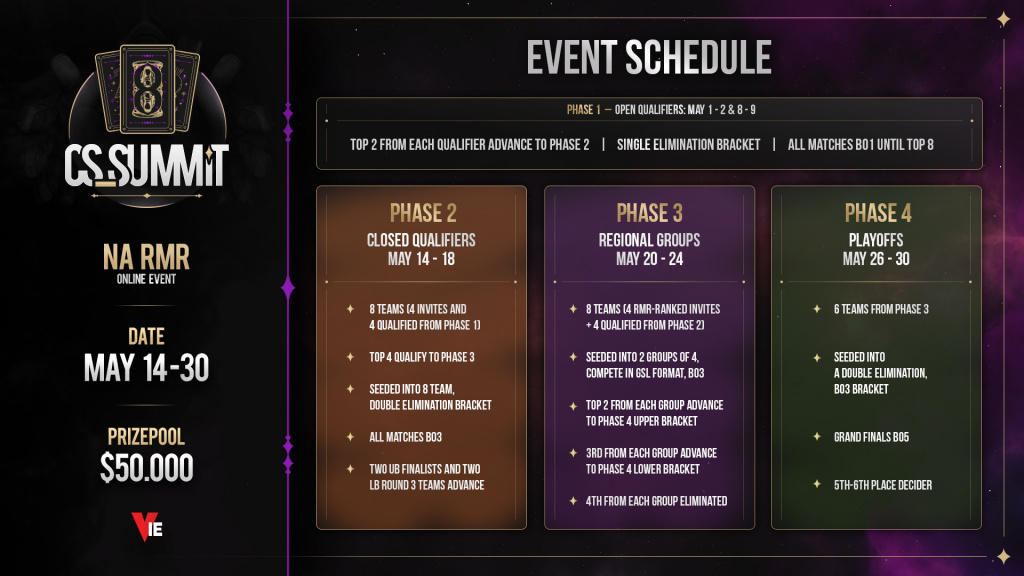 (Picture: Beyond the Summit)
Yes, there's even a way for CS:GO teams to join the event via Open Qualifiers...
How to join CS_Summit 8
North American CS:GO teams looking for a chance at glory can actually join the Open Qualifiers of CS_Summit 8.
To join, follow the links for the Open Qualifiers below:
Good luck to all those NA teams who decide to enter.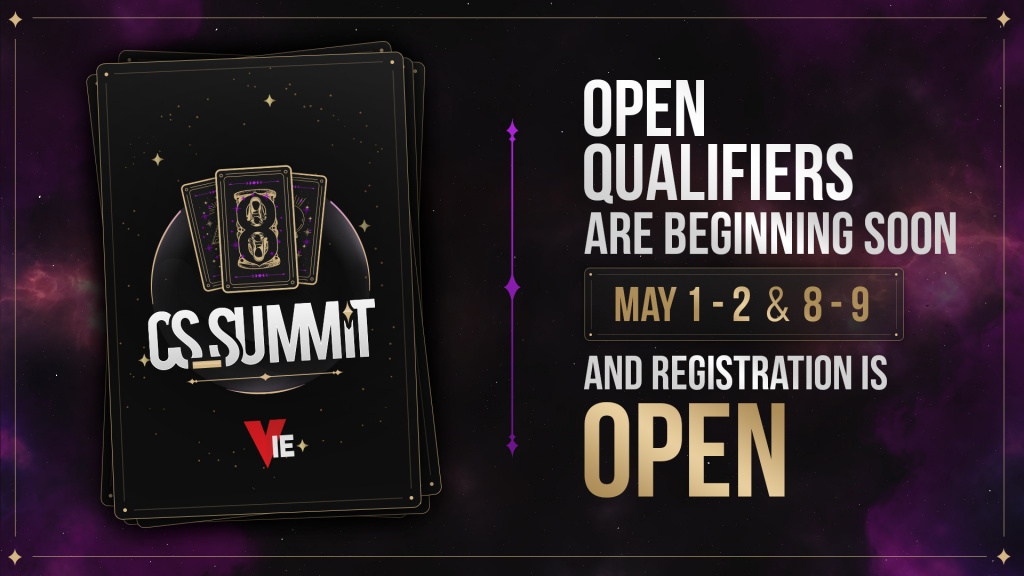 (Picture: Beyond the Summit)
There's always a chance a completely unknown team can join one of the Open Qualifiers, and make their way to the main event of CS_Summit 8.
CS_Summit 8 schedule
The entire CS_Summit 8 tournament is scheduled to run from 1st to 30th May 2021, starting with the first Open Qualifier as mentioned in the previous section.
Check out a rundown of the CS_Summit 8 schedule below:
Open Qualifier 1 - 1st and 2nd May
Open Qualifier 2 - 8th and 9th May
Closed Qualifiers - 14th to 18th May
Group Stage - 20th to 24th May
Playoffs - 26th to 30th May
Without a doubt, there's a whole lot of CS:GO esports action to watch at CS_Summit 8.
How to watch CS_Summit 8
You can catch all the CS:GO esports action of CS_Summit 8 on the official BTS CS:GO Twitch channel.
For your convenience, we've embedded the channel below.