Flashpoint's first season begins on 13th March but the live group selection show has taken place with all 12 teams in attendance to determine the first matchups of the new tournament series.
The format involves each team picking an opponent to be added to the group and the final team being able to cause havoc by swapping teams around to make up for their lack of initial pick as long as the top three teams do not veto it.
The top three seeds were invited onto the stage and each team was then drawn into different groups and were then invited to pick their opponents.
Group A draft = In-Game Feeders
MAD Lions were the top seed overall and were drawn into Group A. Represented by Lucas "Bubzkji" Andersen, they picked Orgless and draft captain and in-game leader Pujan "FNS" Mehta came onto the stage.
Teams are encouraged to pick the 'weaker' teams for their own group and as the first pick, FNS explained that the 10-day-old team expected to be picked but that they would "s**t on them" in the end.
FNS selected Danish roster Copenhagen Flames, a team that made it through to the Europe Minor after an intense Closed Qualifier but didn't initially qualify for Flashpoint, as the third team for the group.
René "TeSeS" Madsen was quiet in response and picked the final team, c0ntact Gaming, for Group A.
The proposed swap by c0ntact Gaming was for HAVU Gaming in Group B to swap with Copenhagen Flames, but instead Orgless went over to Group B in exchange for the Finnish team.
The following teams are now confirmed to be in Group A now named In-Game Feeders:
MAD Lions
HAVU Gaming
Copenhagen Flames
c0ntact Gaming
Group B draft = Group of Assisted Living
FunPlus Phoenix were the second seed and were drawn into Group B.
Casper "cadiaN" Møller said the team was aiming for the NA teams to pick, in the first sign of some of the banter that Flashpoint was hoping to encourage. Their first pick was Chaos Esports Club.
Owen "smooya" Butterfield represented the organisation on stage as their draft captain but there was no screeching from the Rat King. He said that he doesn't screech much in easier games and that FPX had not looked too strong recently.
The third pick saw smooya debate picking MIBR, but instead he opted for HAVU Gaming as cadiaN seemed to swing the British AWPer's vote.
Eetu "sAw" Saha selected Dignitas, who he believed are "worse than MIBR" and Richard "Xizt" Landström said the team felt confident even with Ladislav "GuardiaN" Kovács as a stand-in for Håkon "hallzerk" Fjærli.
Before the swaps, cadiaN joked that he had belief in Xizt's vetoes. Xizt's proposed swap was HAVU Gaming for Orgless which was approved by the three top teams.
The MIBR swap saw Cloud9 added to the group in favour of Chaos Esports Club in the end.
The following teams are now confirmed to be in Group B renamed Group of Assisted Living:
FunPlus Phoenix
Cloud9
Orgless
Dignitas

Group C draft = Snakes and Ratters
Gen.G were the third highest seeded team took initial control of Group C.
Sam "s0m" Oh said all of the other teams were not a threat and Gen.G did win DreamHack Open Anaheim last month.
In the third NA pick and s0m's own former organisation, Team Envy were selected, a team that was flown in to Flashpoint on a private jet, and Nifty came out onto the stage.
Nifty selected Cloud9 as the third team for Group C, with South African player Johnny "JT" Theodosiou as draft captain, who was surprised that the group had all of the "NA s****es" which caused a laugh from caster Anders Blume. Aran "Sonic" Groesbeek is a former Team Envy player and the banter mostly revolved around him.
MIBR was automatically placed into Group C and Epitácio "TACO" de Melo was their draft captain. He said the teams are afraid of the moment MIBR will wake up and his proposed group swap was for Cloud9 to swap with Chaos Esports Club. His excuse was that he wanted to face the North American organisation "in the playoffs" instead.
The trade happened despite the vote by FunPlus Phoenix against the move.
The following teams are now confirmed to be in Group C called Snakes and Ratters:
Gen.G
Team Envy
Chaos Esports Club
MIBR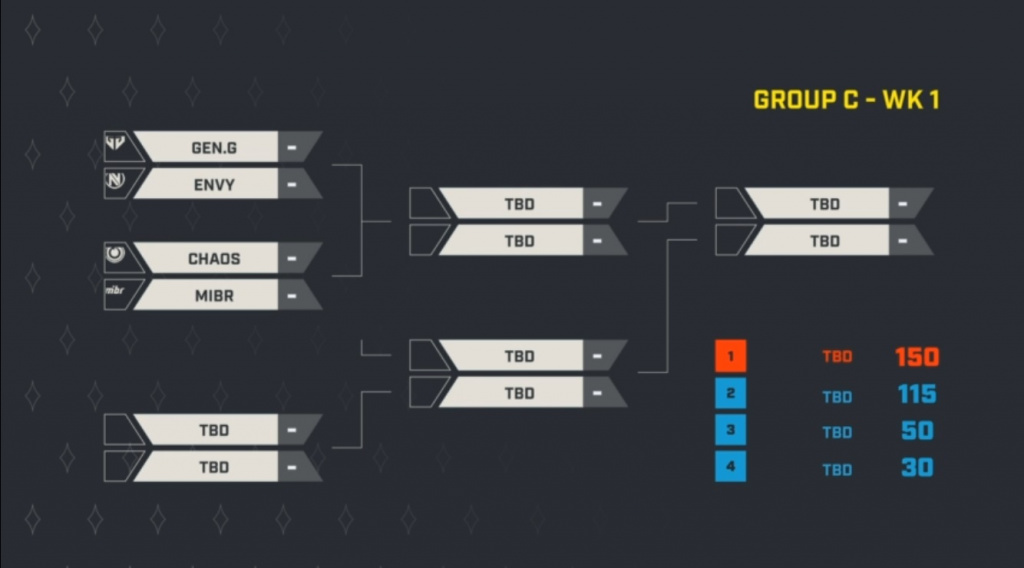 Flashpoint begins 13th March from 17:00 GMT (18:00 CET / 13:00 EST) as Copenhagen Flames take on HAVU. All of the matches will be broadcast live on the official Flashpoint Twitch channel.
At the press conference officially announcing Flashpoint, we spoke to Auguste "Semmler" Massonnat about his time in the Overwatch League, what brought him back to CS:GO and why Flashpoint is a league to watch this year.