The CS:GO coaching bug has rocked the esports title's competitive scene, with several prominent coaches admitting or being found guilty of using the exploit. Now, the famous Brazillian esports organization MIBR has removed to players and their coach from the CS:GO roster.
MIBR CS:GO roster update
Following the recent drama brought on by the CS:GO coach bug, MIBR has decided to remove players Epitacio "TACO" de Melo and Fernando "fer" Alvarenga from the roster.
Further, the coach Ricardo "dead" Sinigaglia has also been removed due to use of the coaching bug. The coach and manager was recently suspended after it was revealed how he used the coach spectator bug in an ESL One: Road to Rio match. 
On Twitter, MIBR shared the following message: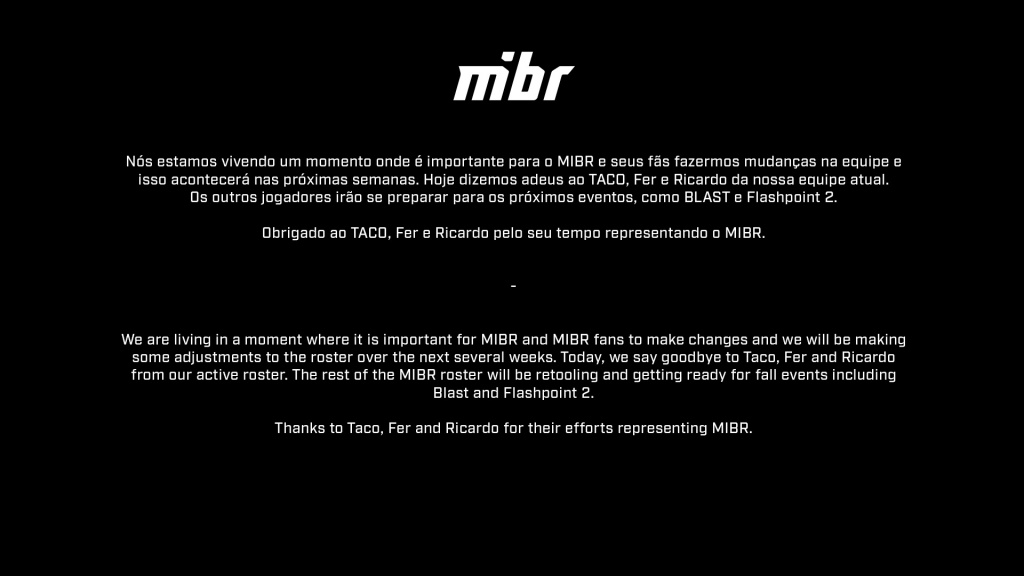 (Picture: MIBR)
MIBR's CS:GO squad has also been in a slump as of late, winning only four of their last 14 matches. 
In a TwitLonger post, TACO explained how this decision was made exclusively by the organization.
TACO states: "I just want to make it clear that it was a decision made exclusively by the organization. 
"I'm sad that I have to leave my teammates FalleN, fer, kNg, trk and dead - especially in the current team situation, but looking forward to seeing what the future holds!"
FalleN steps down due to MIBR's decision 
Gabriel "⁠FalleN⁠" Toledo isn't happy with the decision by MIBR regarding their CS:GO roster. So much so that FalleN has decided to step down from the active MIBR CS:GO lineup.
In a Twitlonger post, FalleN explains: "I'm not satisfied with the recent decision. Last weeks have been tough and challenging and that is why I'm asking to leave the active roster while I think on my next steps.
"This time will be necessary to find my essence and return the peace I need to decide my path, while I accomplish my contractual obligations."
At the time of writing, the MIBR CS:GO roster lineup which is still active looks like this:
Vito "⁠kNgV-⁠" Giuseppe
Alencar "⁠trk⁠" Rossato
It remains to be seen how the organization will restructure their CS:GO squad, and what the future holds for MIBR.