On 10th June, Valve released a major new update which improves on the long-standing visibility issues in CS:GO. As with every new update for the game, data-miners dive in, and this time, they might have struck gold, finding a potential new CS:GO game mode.
New CS:GO retake game mode
We haven't seen a new game mode in CS:GO for quite some time, with Valve releasing Danger Zone all the way back in 2018. With the not-so-great response to Danger Zone, Valve probably didn't want to experiment with more new game modes.
This might change soon, as there is some evidence Valve will release a new CS:GO game mode, "retake", in the future. Data-miners found files hidden on both Inferno and Mirage. 
The info comes from Reddit user "Forest_Technicality", who first spotted the togglable barriers named "retake.asite" and "retake.bsite" on both maps. For those who don't know, togglable barriers were used to make regular maps smaller for the 2v2 Wingman game mode.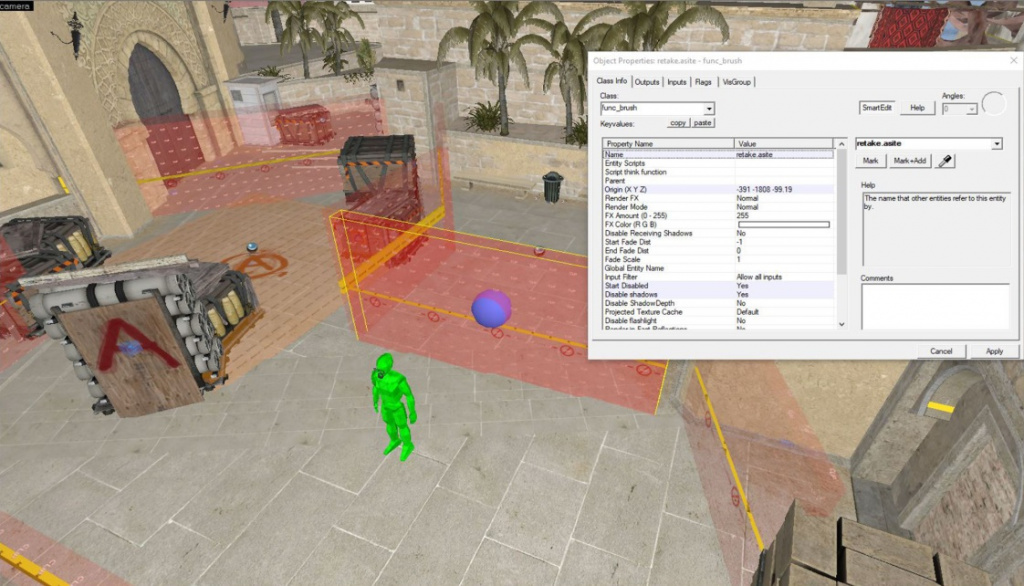 Togglable barriers on Mirage A Site (Picture: Forest_Technicality)
Since the new CS:GO retake game mode isn't out yet, and there's no official word from Valve, these barriers are currently disabled. There are also no entity spawn points just yet.
Reddit user Forest_Technicality explains in a Reddit post what was found.
Keep in mind this could have been an internal experiment by Valve. This means the new retake CS:GO game mode might never go live. Heck, we've been seeing files pointing towards a CS:GO Source 2 port for years now.
On Mirage, Forest_Technicality reportedly also found a secret area by noclipping off of bombsite A. At the time of writing, it is unclear what this area could be used for, but common sense says warmup.
Nothing of interest was found on the other official maps after the major CS:GO update.
We will just have to wait and see if Valve actually releases the retake game mode for CS:GO, or if the developer will finally port the game to Source 2. While you wait, check out the latest episode of our Lockdown video series.
Lockdown: Destiny 2 announcement and FaZe Clan's cinematic universe (11.06.2020)