3/5/2022 - 19:43
They've done it!! Clan Elysium have become back-to-back Worlds First champs.
3/5/2022 - 18:16
It seems Ascend Clan is getting closer and closer, doing massive damage on the DPS phase of Rhulk!
3/5/2022 - 16:56
Datto, Ascend Clan, ExBlack and Twicemas are all on the last boss. Most have gone radio silent as to not give any advantages to their opponents.
3/5/2022 - 15:13
Twitch streamer Twicemas' team has defeated the Caretaker and is now seemingly in the lead!
3/5/2022 - 15:03
More updates, Redeem Clan has pushed through and is now on the Caretake boss alongside Datto's crew. It remains to be seen if anyone's gotten past it.
3/5/2022 - 13:59
Datto's fireteam has cleared the first encounter within the raid, time for the classic OMAHA that signals complete silence to avoid leaking strats for other teams.
3/5/2022 - 12:41
Gladd's squad as well as Redeem Clan have been continuously booted off the game after the first encounter. A sad moment as this Worlds First raid race might not be happening at all.
3/5/2022 - 12:27
Sadly it seems some fireteams have been disconnected from the game, making them lose precious time. Some, like streamer ManoDestra's team, didn't and have taken a lead at the start.
3/5/2022 - 12:18
My name is Andrés Aquino and I'll try to keep you up to date with everything related to the raid, including some encounters, and of course, all the content launched after the race is finished.
3/5/2022 - 12:17
Welcome to yet another raid race! This time featuring the Vow of the Disciple activity that debuts with The Witch Queen.
One of the most exciting times in Destiny 2 is revealing a new raid and the race to become the first squad to complete it. Indeed, developer Bungie's looter shooter has seen continued strong with The Witch Queen expansion, kicking off Year 5.
With the developers encouraging players to give it a go, the most dedicated bunch were geared up days in advance, bringing their best loadouts and gear into the mix.
Similarly to previous raids, most of the top content creators in the Destiny 2 scene will aim to become the world's first raid team to complete it. If you're unaware, here are the stipulations for the Worlds First raid race.
Where to watch the Destiny 2 Vow of the Disciple raid race?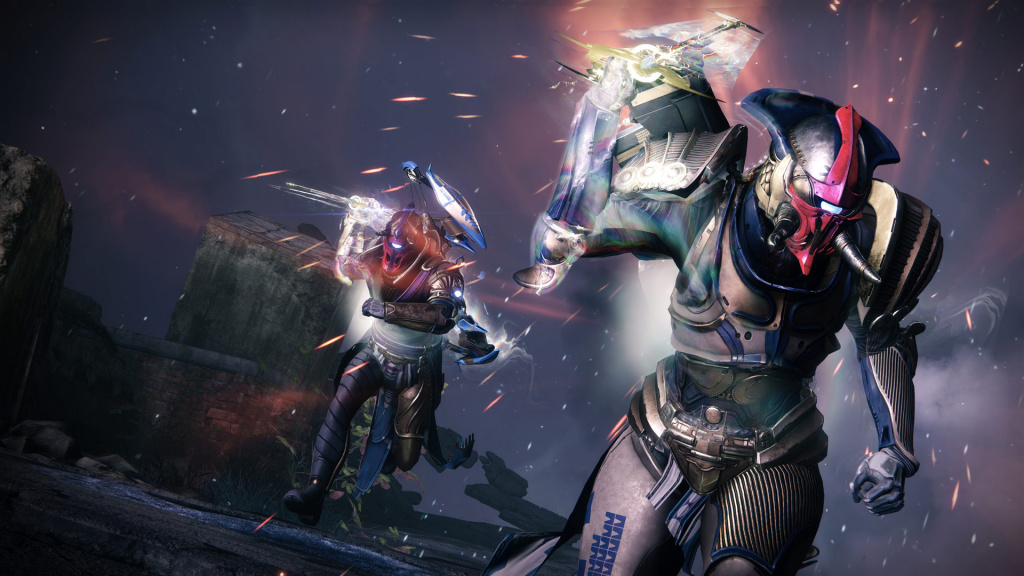 The raid was unlocked at 1 PM EST / 6 PM GMT / 7 PM CET. Multiple teams jumped in and immediately tried to solve each encounter, defeat every boss and collect all pieces of sweet loot before anyone else.
While Bungie has provided a site to watch every single streamer looking to complete the raid, these are some channels we recommend you check out:
Professor Broman: The former raid-racer is doing a tailgate, checking in on the most famous teams' progress.
Gladd: Clan Redeem is many people's favourite choice to become the world's first winners, so be sure to check Gladd or any other Redeem member periodically.
Teawrex: The streamer is playing with the "Bungie is my Dad Clan" and is looking to claim the title of the world's first Deep Stone raid winners.
If you can't keep your eyes on Twitch, stick around this page as we'll post live updates as soon as any development occurs. 
Featured image courtesy of Bungie.
---
For more Destiny 2 news, be sure to check out our dedicated section or take a look at some of our Guides & Tutorials just below:
Weekly Updates - Destiny 2 Weekly Reset | Destiny 2 Weekly Challenges | Destiny 2 Xur Location This Week | Destiny 2 Trials of Osiris Map & Rewards This Week | Destiny 2 Lost Sector Rotation |
Upcoming Updates - Destiny 2 Season 19 Release Date | Destiny 2 The Dawning Event 2022| Destiny 2 Lightfall Release Date | Everything We Know About 'Destiny 2 The Final Shape'
Exotics, Catalyst & God Rolls - Alter of Reflection Catalyst Quest | Austringer God Roll | Calus Midi Tool God Roll | Dead Man's Tale God Roll | Fixed Odds God Roll | Hawkmoon God Roll | How To Get Come To Pass | How To Get Dawn Chorus | How To Get Omnioculus | How To Get Star-Eater Scales | Mechabre God Roll | Osteo Striga Catalyst | Riptide God Roll | Queens and Worms Quest
Game Guides - Destiny 2 Redeem Codes | How To Unlock All Subclasses | Memories of Ruin Puzzle Solution| Strikes Guide | Where To Farm Cabal | Where To Farm Fallen | Where To Farm Hive | Where To Farm Scorn | Where To Farm Vex | How To Get 100k Nightfall Score | 
Raid Guides - Master King's Fall Totem Challenge Explained |