Destiny 2 is an ever-shifting immersive world with tons of systems in place. From time to time, Bungie decides to change how certain things work. For the launch of The Witch Queen, Orbs of Power generation was reworked among many other things. 
Previously tied primarily to Masterworked guns, exotic weapons with a Catalyst, and Super final blows, Orbs of Power are now part of the mod system, much to the dismay of some. 
Regardless of how you feel, Orb generation will now take up slots while trying to craft certain builds with mods, making Masterworking weapons a bit more useless outside slight stat boosts. 
What are Orbs of Power?
If you're new to Destiny 2, Orbs of Power are small objects that drop following certain conditions being met. As we mentioned, previously these were getting kills with Masterworked weapons or Super kills.
Their primary function is to grant a decent amount of Super energy but some mods take advantage of Orbs in incredible ways.
If you're a veteran, you're probably aware of the Charged with Light mods that grant stacks and buffs depending on the number of Orbs you pick up.
In essence, generating Orbs is always a thing you should keep an eye out for, especially in high-end PvE content. With that said, how do you generate them with the new system? 
How to generate Orbs of Power in Destiny 2
There are two ways to create Orbs of Power now. The most straightforward one is getting Super final blows. Of course, if you want to constantly reap the benefits of mods that need Orbs, waiting for Supers to charge isn't going to cut it.  
Enter the new Orb mods. These have different requirements, but each fits a specific function in certain builds. 
With the launch of The Witch Queen, the following mods were introduced to create Orbs of Power depending on your subclass or playstyle.
Harmonic Siphon: Rapid weapon final blows with damage matching your subclass type create an Orb of Power
Kinetic Siphon: Rapid Kinetic weapon final blows create an Orb of Power
Arc Siphon: Rapid Arc weapon final blows create an Orb of Power
Solar Siphon: Rapid Solar weapon final blows create an Orb of Power
Stasis Siphon: Rapid Stasis weapon final blows create an Orb of Power
Void Siphon: Rapid Void weapon final blows create an Orb of Power
Don't worry about grinding for them, as they're all automatically unlocked for players to use at will. 
There is one extra mod that can generate Orbs, Power Preservation, which grants extra Orbs of Power on Super final blows. This one drops from Legendary Engrams.
How to equip mods in Destiny 2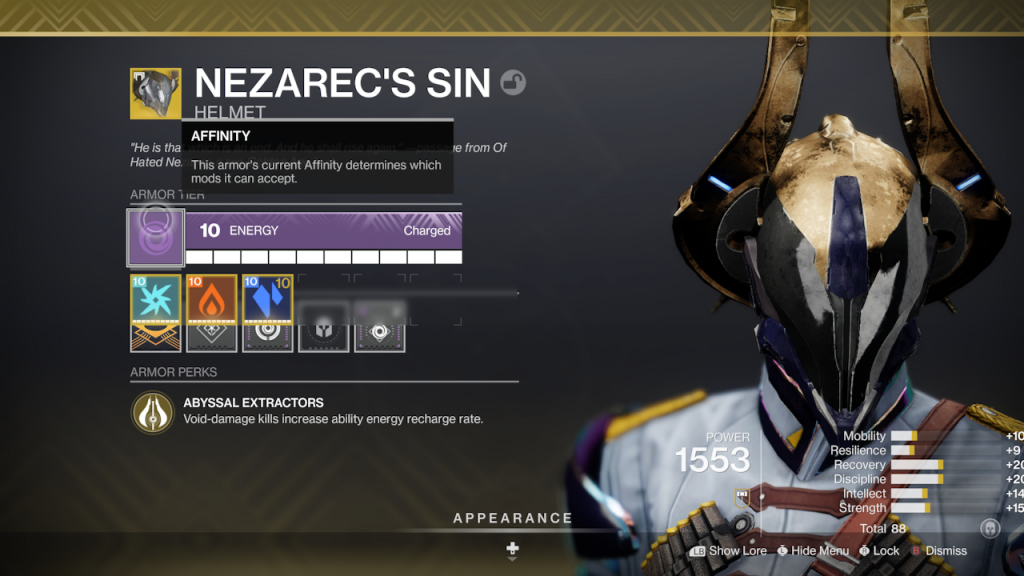 To equip Orb mods you need to check how many Energy slots does your Helmet piece has available for use as well as its affinity. 
For example, if you want to equip the Arc Siphon mod but your Helmet boasts a Void affinity, that means you'll have to change it. It has a steep cost if you're a New Light so the better option is to find a secondary Arc Helmet to use. 
Featured image courtesy of Bungie.
---
For more Destiny 2 news, be sure to check out our dedicated section or take a look at some of our Guides & Tutorials just below:
Weekly Updates - Destiny 2 Weekly Reset | Destiny 2 Weekly Challenges | Destiny 2 Xur Location This Week | Destiny 2 Trials of Osiris Map & Rewards This Week | Destiny 2 Lost Sector Rotation |
Upcoming Updates - Destiny 2 Season 19 Release Date | Destiny 2 The Dawning Event 2022| Destiny 2 Lightfall Release Date | Everything We Know About 'Destiny 2 The Final Shape'
Exotics, Catalyst & God Rolls - Alter of Reflection Catalyst Quest | Austringer God Roll | Calus Midi Tool God Roll | Dead Man's Tale God Roll | Fixed Odds God Roll | Hawkmoon God Roll | How To Get Come To Pass | How To Get Dawn Chorus | How To Get Omnioculus | How To Get Star-Eater Scales | Mechabre God Roll | Osteo Striga Catalyst | Riptide God Roll | Queens and Worms Quest
Game Guides - Destiny 2 Redeem Codes | How To Unlock All Subclasses | Memories of Ruin Puzzle Solution| Strikes Guide | Where To Farm Cabal | Where To Farm Fallen | Where To Farm Hive | Where To Farm Scorn | Where To Farm Vex | How To Get 100k Nightfall Score | 
Raid Guides - Master King's Fall Totem Challenge Explained |