Destiny 2 has entered its third weekly reset since the release of The Witch Queen, the latest expansion that was met with almost universal praise. 
While PvE players have had time to dabble in everything the Throne World has to offer, including the latest Vow of the Disciple raid, PvP fans are relishing the return of Iron Banner. 
The limited-time event comes around during one week each month, bringing an assortment of weekly bounties for players to chase Pinnacle Gear, the only drops that will get you past the 1550 Power cap.
It's not as simple as jumping into some matches and grinding it out, as Iron Banner is one of the two PvP modes where PL advantages are enabled, the other being Trials of Osiris.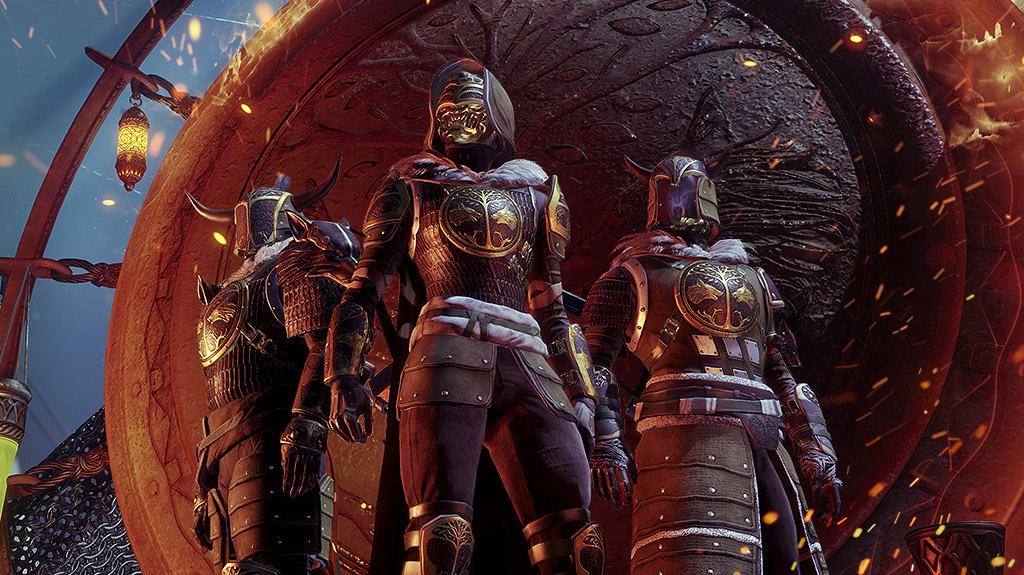 This means that if you're a New Light player, you'll more than likely find yourself completely outclassed. 
If you manage to get some games without getting your morale completely destroyed, you might get rewarded with some exclusive Iron Banner weapons, including the new Frontier's Cry Hand Cannon.
How to farm Frontier's Cry Hand Cannon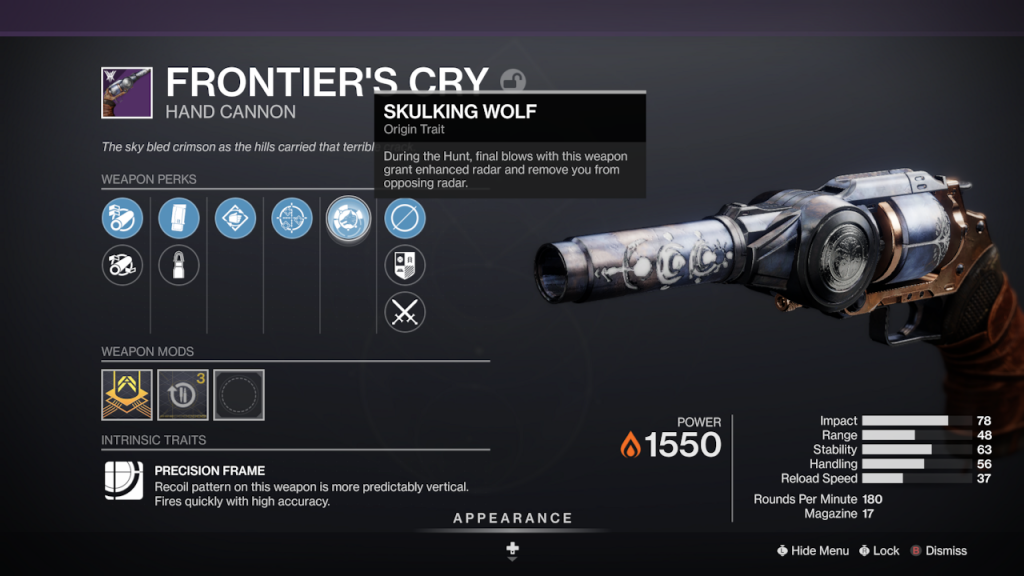 There are multiple ways within the Iron Banner activity to get a Frontier's Cry HC. Here are the most important ones:
Complete Iron Banner matches
Complete Iron Banner bounties
Exchange Iron Banner tokens with Saladin
Complete steps of the Iron Banner Seasonal quest
Note that neither of them outside the quest guarantees the gun dropping but chances are exceedingly high regardless. 
Frontier's Cry Hand Cannon God Roll
Let's quickly discuss a god roll for Frontier's Cry. Being a 180RPM Hand Cannon already puts this at a disadvantage, but that doesn't mean it won't have its uses. 
Sadly, while the Iron Banner can drop weapons with two origin traits, the Frontier's Cry only drops with one: the Skulking Wolf. It's an extremely situational perk that only activates when a Hunt is triggered in Iron Banner, granting you increased radar capabilities and invisibility from it after you land final blows.
You'll want a primarily PvP roll so there's no use in recommending a PvE one due to the gun being simply too weak for high-end content. 
Here are our recommendations
First Column: Steady Hands, Rapid Hit
Second Column: Kill Clip, Eye of the Storm
You can also make things like Iron Grip work, which grants amazing stability at the cost of reload speed. Try pairing it with Rapid Hit, which grants increased reload speed after every precision hit, just know, you'll need to be a good shot to make this combo work.
Featured image courtesy of Bungie.
---
For more Destiny 2 news, be sure to check out our dedicated section or take a look at some of our Guides & Tutorials just below:
Weekly Updates - Destiny 2 Weekly Reset | Destiny 2 Weekly Challenges | Destiny 2 Xur Location This Week | Destiny 2 Trials of Osiris Map & Rewards This Week | Destiny 2 Lost Sector Rotation |
Upcoming Updates - Destiny 2 Season 19 Release Date | Destiny 2 The Dawning Event 2022| Destiny 2 Lightfall Release Date | Everything We Know About 'Destiny 2 The Final Shape'
Exotics, Catalyst & God Rolls - Alter of Reflection Catalyst Quest | Austringer God Roll | Calus Midi Tool God Roll | Dead Man's Tale God Roll | Fixed Odds God Roll | Hawkmoon God Roll | How To Get Come To Pass | How To Get Dawn Chorus | How To Get Omnioculus | How To Get Star-Eater Scales | Mechabre God Roll | Osteo Striga Catalyst | Riptide God Roll | Queens and Worms Quest
Game Guides - Destiny 2 Redeem Codes | How To Unlock All Subclasses | Memories of Ruin Puzzle Solution| Strikes Guide | Where To Farm Cabal | Where To Farm Fallen | Where To Farm Hive | Where To Farm Scorn | Where To Farm Vex | How To Get 100k Nightfall Score | 
Raid Guides - Master King's Fall Totem Challenge Explained |