Destiny 2 fans who have been diligent enough to track down all Atlas Skews via the Tracing the Stars questline and A Hollow Coronation exotic quest have gotten their hands on Ager's Scepter, the brand-new Stasis exotic trace rifle.
The gun is a blast to use and features some incredible perks that synergise amazingly with Stasis builds. Since it occupies the primary slot, it leaves the heavy slot open for another big hitter to add to your arsenal. This makes it a definite must-have for Guardians.
What's even better is that it features a catalyst that players can acquire to make Ager's Scepter even better. So, how does one get ahold of the Ager's Scepter catalyst and what does it do exactly? Let's find out.
How to get Ager's Scepter catalyst
Thanks to Bungie, we'll not only know how to obtain the Ager's Scepter catalyst it but we also know when it will drop. Sadly, you will have to wait a little longer before trying to get your hands on it.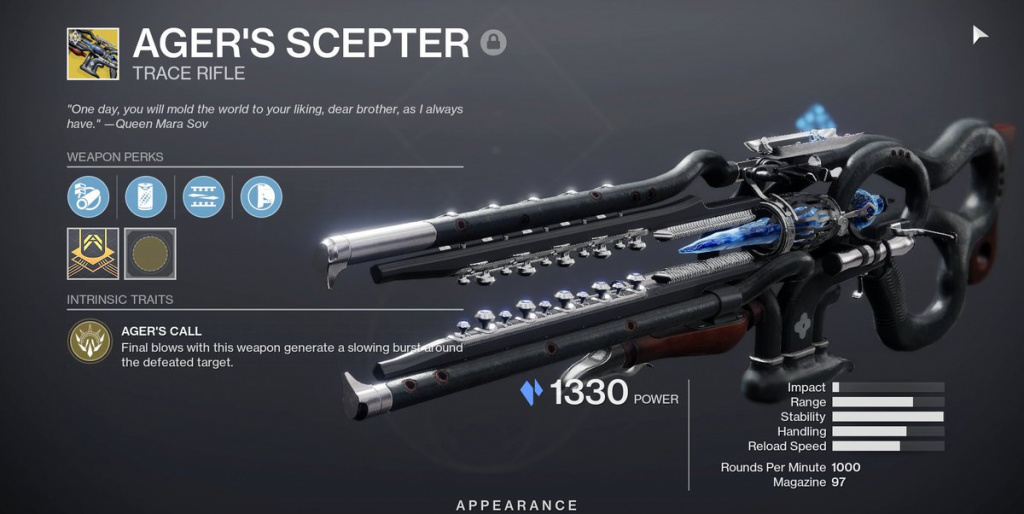 According to Bungie, the catalyst for the Ager's Scepter will only become available to drop after the reset on 21 September. This news was announced via the developer's official Twitter page on 14 September.
The Catalyst for Ager's Scepter will become available to drop from Wayfinder's Troves in the Astral Alignment activity starting after the reset on 9/21/21.

— Destiny 2 (@DestinyTheGame) September 14, 2021
The developers also noted that, in order for players to obtain the catalyst, they would need to open Wayfinder's Troves after finishing the Astral Alignment activity. The Troves are the second chest to spawn at the end of Astral Alignment and require 100 Parallax Trajectory to open them.
What does the Ager's Scepter catalyst do?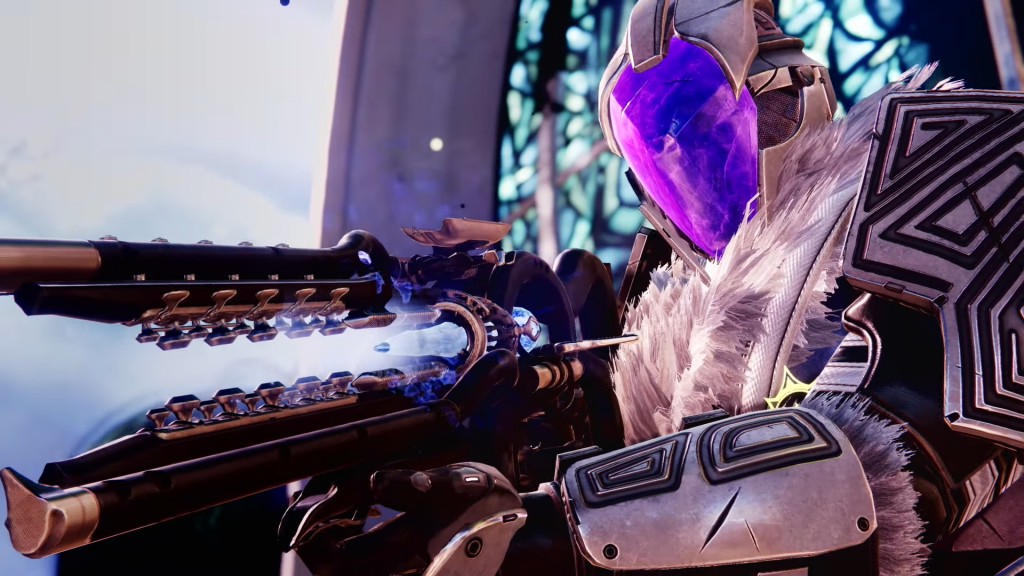 According to leaked sources via Reddit, the weapon will use fully charged Super energy to give Ager's Scepter a tremendous amount of utility. 
Here is the leaked description of the catalyst:
Drain Super energy, overflowing the magazine and empowering the beam with bonus damage and the ability to slow and freeze targets until the magazine or Super energy runs out, or the weapon is stowed. Can only be activated when Super energy is full.
Are you excited about this insane drop? Let us know by tweeting at us on Twitter.
For more on all things Destiny 2, check out our dedicated section.
Feature image courtesy of Bungie.
---
For more Destiny 2 news, be sure to check out our dedicated section or take a look at some of our Guides & Tutorials just below:
Weekly Updates - Destiny 2 Weekly Reset | Destiny 2 Weekly Challenges | Destiny 2 Xur Location This Week | Destiny 2 Trials of Osiris Map & Rewards This Week | Destiny 2 Lost Sector Rotation |
Upcoming Updates - Destiny 2 Season 19 Release Date | Destiny 2 The Dawning Event 2022| Destiny 2 Lightfall Release Date | Everything We Know About 'Destiny 2 The Final Shape'
Exotics, Catalyst & God Rolls - Alter of Reflection Catalyst Quest | Austringer God Roll | Calus Midi Tool God Roll | Dead Man's Tale God Roll | Fixed Odds God Roll | Hawkmoon God Roll | How To Get Come To Pass | How To Get Dawn Chorus | How To Get Omnioculus | How To Get Star-Eater Scales | Mechabre God Roll | Osteo Striga Catalyst | Riptide God Roll | Queens and Worms Quest
Game Guides - Destiny 2 Redeem Codes | How To Unlock All Subclasses | Memories of Ruin Puzzle Solution| Strikes Guide | Where To Farm Cabal | Where To Farm Fallen | Where To Farm Hive | Where To Farm Scorn | Where To Farm Vex | How To Get 100k Nightfall Score | 
Raid Guides - Master King's Fall Totem Challenge Explained |