Destiny 2's latest expansion, The Witch Queen, continues to be a successful affair even after the launch of Vows of the Disciple Raid. Aside from completing the Witch Queen campaign, and Season of the Risen content, players still have plenty of exotic weapons to acquire and their catalysts like the Osteo Striga SMG catalyst.
Another new powerful exotic weapon introduced in The Witch Queen expansion is the Parasite grenade launcher, acquiring which is a strenuous task of its own. The Osteo Striga catalyst makes an already powerful weapon into a menacing beast, and many might be wondering if it's also the case with the Parasite exotic weapon. 
The Parasite exotic catalyst in Destiny 2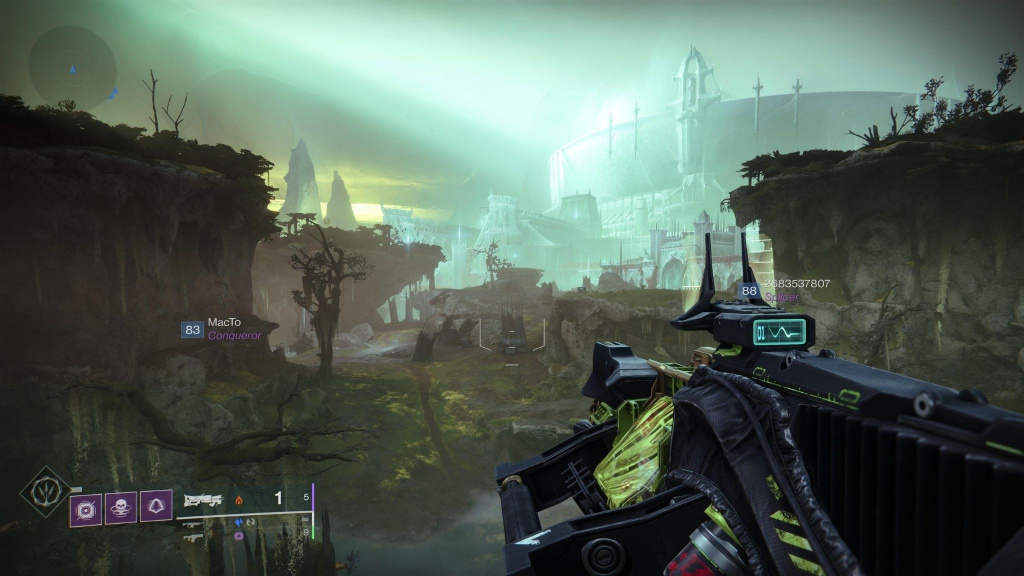 Unfortunately, the Parasite exotic grenade launcher doesn't have a catalyst you can acquire or craft in Destiny 2 yet. Interestingly, Bungie also hasn't accepted nor denied whether the Parasite exotic catalyst will be added in the future seasons.
While the news might come off as disappointing to some, the default Parasite exotic grenade launcher is more than sufficient to be an overpowered crowd control weapon.  
Two of its abilities - Worm's Hunger and Worm Byproduct, easily help it stand out among other exotic and legendary grenade launchers and make the grind needed to acquire it all the more worthy.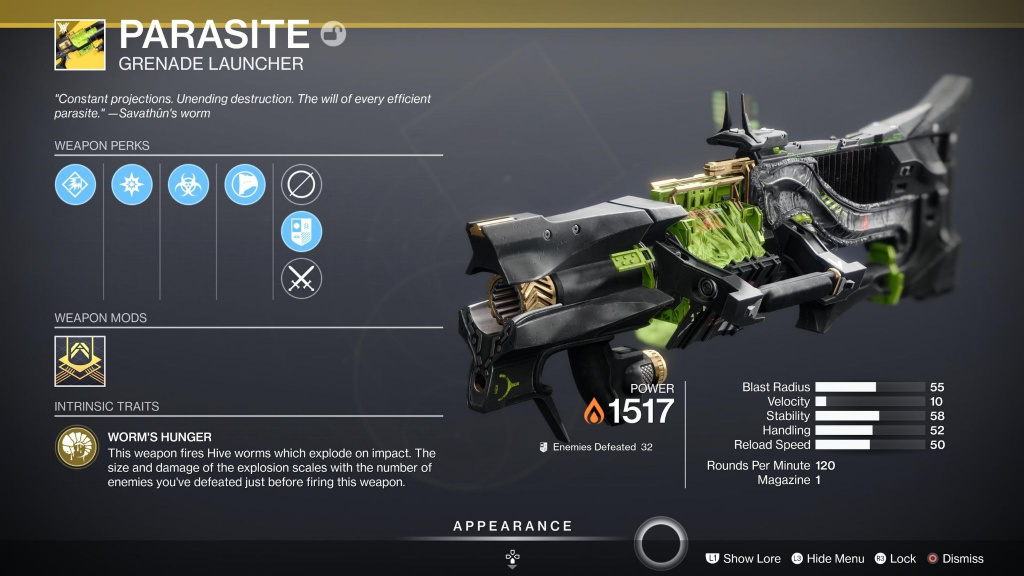 For those unaware, to acquire the Parasite exotic grenade launcher in Destiny 2, you must complete Of Queens and Worms exotic quest, that's unlocked after finishing The Witch Queen campaign. 
There are 17 steps in Of Queens and Worms exotic quest, and while it might seem intimidating, most of these steps are rather straightforward and simple to complete. However, it would take you well over 5-6 hours, if not more, to complete it. 
Once you have finished all the steps, Queen Mara Sov will hand you the Parasite exotic grenade launcher, which in all fairness, you deserve after all the grind.
That concludes our guide on whether the Parasite exotic grenade launcher in Destiny 2 has a catalyst or not. Make sure to check our dedicated Destiny 2 section for more news, guides, and features. 
Featured image courtesy of Bungie.
---
For more Destiny 2 news, be sure to check out our dedicated section or take a look at some of our Guides & Tutorials just below:
Weekly Updates - Destiny 2 Weekly Reset | Destiny 2 Weekly Challenges | Destiny 2 Xur Location This Week | Destiny 2 Trials of Osiris Map & Rewards This Week | Destiny 2 Lost Sector Rotation |
Upcoming Updates - Destiny 2 Season 19 Release Date | Destiny 2 The Dawning Event 2022| Destiny 2 Lightfall Release Date | Everything We Know About 'Destiny 2 The Final Shape'
Exotics, Catalyst & God Rolls - Alter of Reflection Catalyst Quest | Austringer God Roll | Calus Midi Tool God Roll | Dead Man's Tale God Roll | Fixed Odds God Roll | Hawkmoon God Roll | How To Get Come To Pass | How To Get Dawn Chorus | How To Get Omnioculus | How To Get Star-Eater Scales | Mechabre God Roll | Osteo Striga Catalyst | Riptide God Roll | Queens and Worms Quest
Game Guides - Destiny 2 Redeem Codes | How To Unlock All Subclasses | Memories of Ruin Puzzle Solution| Strikes Guide | Where To Farm Cabal | Where To Farm Fallen | Where To Farm Hive | Where To Farm Scorn | Where To Farm Vex | How To Get 100k Nightfall Score | 
Raid Guides - Master King's Fall Totem Challenge Explained |