Valve has been listening to the Dota 2 community with this year's Battle Pass,
shutting down the Sideshop
, and making
levelling up easier
.
Now, Valve is asking for the community's help, with the Collector's Cache voting open for all Battle Pass owners.
Dota 2 Collector's Cache voting
When you log into Dota 2, from now until 12th June, you will be able to cast your vote on which cosmetic items you would love to see in this year's Dota 2 Collector's Cache. No specific release date for the Collector's Cache has been revealed.
Voting is only open to Battle Pass owners. According to Valve, there has been an amazing amount of high-quality Dota 2 Workshop submissions for this year's Collector's Cache. 
As is tradition, Valve wants Battle Pass owners to weigh in on the process of picking the best of the best, and help them make the final decision. 
Dota 2 Battle Pass owners can vote by giving a thumbs up or a thumbs down for each set under consideration. The sets with the highest scores will be included as the main items in this year's Collector's Cache.
There are currently 148 fantastic, community-created sets to go through. It is always great to involve the community in decisions such as this one, especially since they will be throwing their wallets at the Collector's Cache later this year.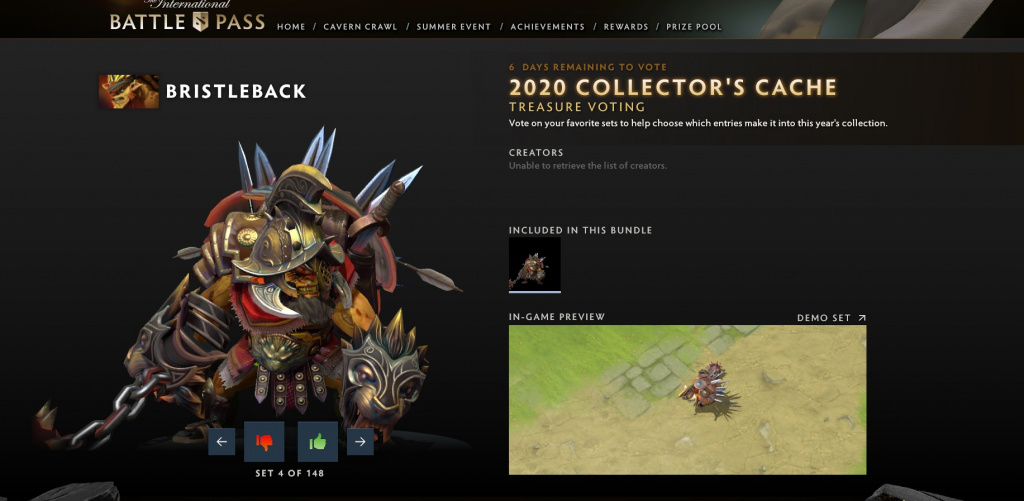 What the Battle Pass voting process looks like (Picture: Valve)
The cosmetic item sets with the highest scores when the Collector's Cache voting finishes up on 12th June will be the main items of the Cache. 
Valve also thanked all the talented workshop artists who made submissions this year. The collection of 148 candidates, including great in-game previews, definitely looks to be the best yet.
Read more: Twitch streamer Moxxi flashed with NSFW content due to Dota 2 Guilds feature
While you patiently await the Dota 2 Collector's Cache voting to complete, and the treasure to release, keep yourself busy with the latest episode of our Lockdown video series.
LilyPichu Is The Best Wingman & Red Dead Redemption 2 Bath Injury