Elden Ring's side quests are riddled with connecting stories that, by producing specific endings, can have implications for the fates of its characters. It does task players with exploring multiple side quests, which can be challenging to manage and track.
Fia's questline contains connecting stories for D, Hunter of the Dead, Rogier and Ranni, which uncovers the location of D's twin brother. This guide will detail how to complete Fia's questline and where to find D's brother in Elden Ring.
How to progress in Fia's questline in Elden Ring?
You will only discover D's brother after completing Rogier and Fia's questlines. Players would have met D at Stormhill by accepting his quest to locate the Deathroot item and investigate a town overrun by a Tibia Mariner.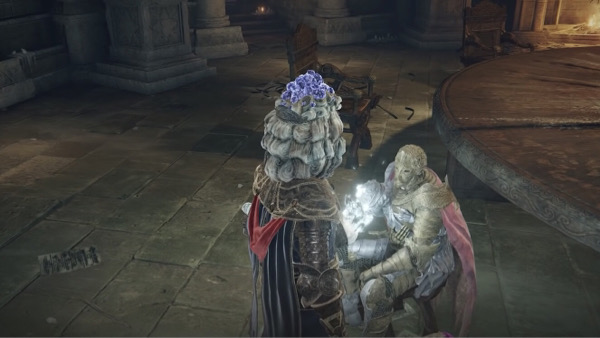 After completing D's questline, speak with D. Followingly, he will offer his services, where you can purchase selected incantations from him. You can also begin Rogier's questline, for which you can return to the Roundtable Hold to see him before concluding his questline.
Return to the Roundtable Hold and speak with Fia. She'll ask a favour from you and hand you a dagger. You will then be tasked to locate the dagger's owner and safely return the weapon to them.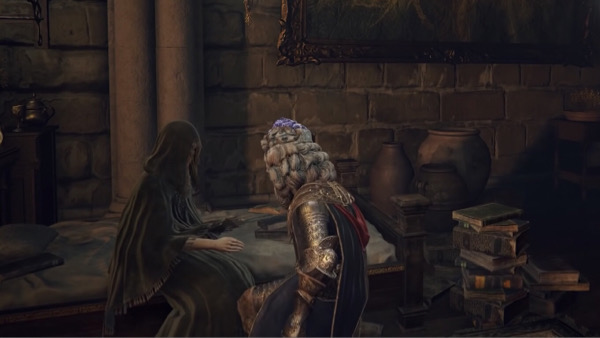 Then, speak to D at the Roundtable Hold, and he'll ask you to hand the weapon to him since he knows who the dagger belongs. Next, you'll need to reset the area and upon returning to the Roundtable Hold, find Fia inside an unlocked room kneeling beside D's body.
You can loot his body to obtain his armour as she disappears. Once she disappears, pay Rogier a visit where you'll find him unresponsive.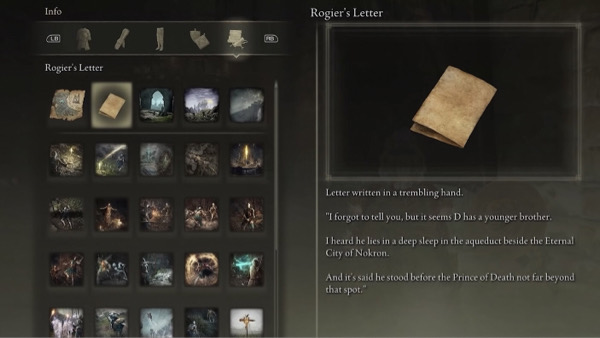 Interact with him again, and you'll receive some items and a letter that speaks of D having a twin brother located at Nokron, Eternal City. At this point, you can now seek out D's brother in Nokron; if you have defeated Starscourge Radhan.
To get closer to the location of D's brother, fast travel to the Ancestral Woods Site of Grace. Once you have located him, you can continue Fia's quest by finding her at an underground area, Deeproot Depths. 
Where to find D's brother in Elden Ring?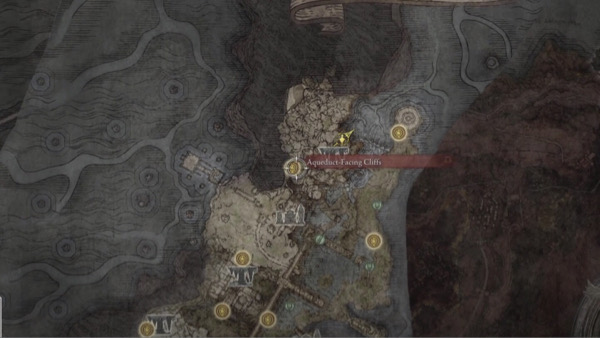 You'll need to locate the Valiant Gargoyles boss arena near the Aqueduct-Facing Cliffs Site of Grace northeast from the Ancestral Woods Site of Grace. Look for a cliff closest to the Site of Grace and drop down to find the boss battle arena.
D's brother is sleeping on a ledge nearby the arena; however, he'll be unresponsive unless you hand him D's armour. After giving D's armour to his brother, you can head to Deeproot Depths, after which you will find Fia and trigger a boss battle with her.
Since you'll need to defeat her to start wrapping up her questline, let her hug you as she'll ask you to find the Cursemark of Death. This can be obtained during Renna/Ranni's questline, where you can give her the item, and she'll fall into a slumber.
Reset this area to allow her to teleport you into a dream state, where you'll need to defeat the Lichdragon Fortissax. Defeating this boss will award you the Mending Rune of the Death-Prince and bring you back to Deeproot Depths.
You can leave to reset the area which, upon your return, you'll find D's brother has killed Fia. Then, you can collect Fia's and D's armour (if you didn't attack him), ending her questline.
If you killed D's brother to acquire the armour, you'd learn from his final words that D's real name is Darian as he asked his brother for forgiveness.
We want to thank the YouTube channels LunarGaming and Indyrael for the complete walkthrough on completing Fia's questline and locating D's brother in Elden Ring.
If you're interested in more Elden Ring guides, check out our related guides featured below.
Elden Ring - Related guides
Featured image courtesy of YouTube / Indyrael.