Elden Ring is one of the best titles released in the past year, and players are still journeying through the Lands Between and discovering what it has to offer. The modding community, however, has already gone full steam ahead. Creating some of the best mods you can add to your gaming experience.
Today we'll look at the Top five best Elden Ring mods you should try out on your next journey through the Lands Between, including where to download and tips you should know. 
How to install Elden Ring mods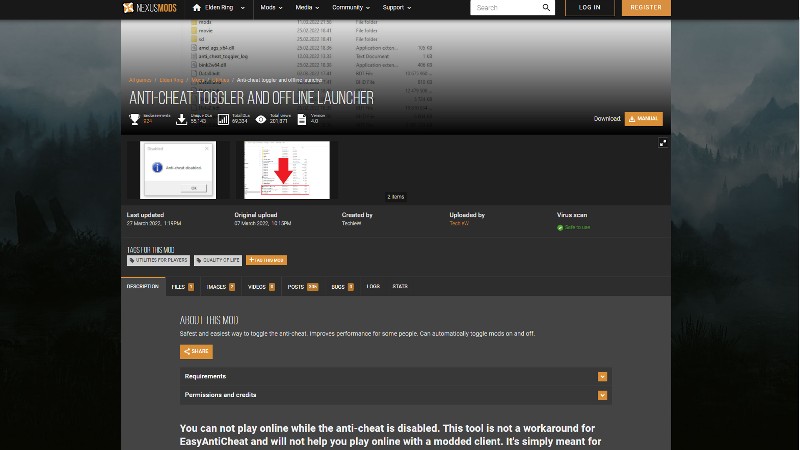 First and foremost, when using mods in Elden Ring, you must know how to install them safely. Elden Ring uses an anti-cheat system when playing online play called Easy Anti-Cheat. 
If this system detects any form of cheats or mods, you can consider your game account toast. So we recommend playing offline when using mods and disabling all of them when playing online. 
So before we get started, the mod you need for your safety is the Anti-cheat toggler and offline launcher mod. If you plan on using any of the mods we'll be showing you today, make sure you have this mod installed and configured before anything else. 
Top five best Elden Ring mods
Pause the Game Mod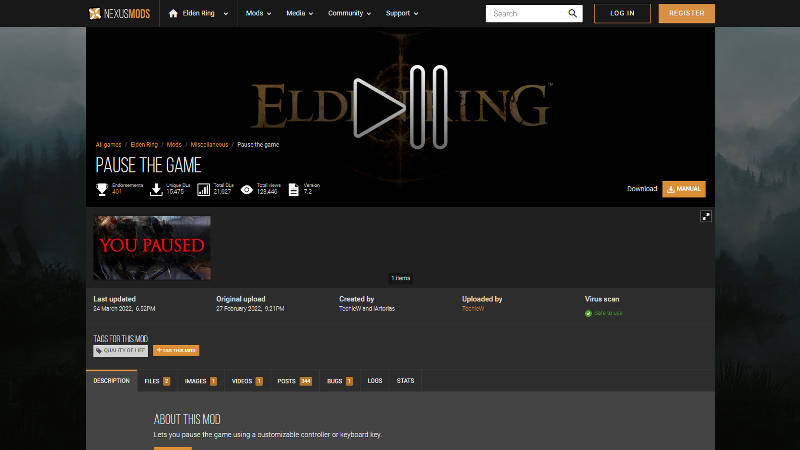 Any Soul's Borne player knows the struggle of being mid dungeon when the doorbell rings or when nature calls and you're facing down a gauntlet of enemies. As the name implies, this mod allows you to pause the game. 
While in any of the in-game menus, players can pause the game. It's ideal for those who want to take a quick break or even catch their breath during a tough battle. 
Prepare to Die (Hard Mode) Mod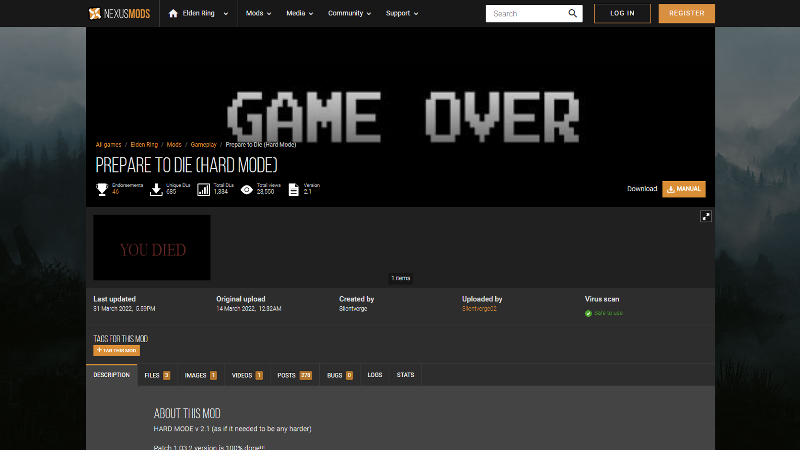 There has been much debate over the years as to whether any of the Souls games should have an "easy mode". But one thing that seems unanimous is the idea that it can't hurt to make the games a little more difficult.
Aptly named after Dark Souls 1's remake, the Prepare to Die mod makes the game harder by improving the stats of all enemies in the game. From increasing their health, damage and stamina to making them able to hear and spot players from much further away.  
The enemies will also hunt players down more adamantly than before and not give up so easily, so we recommend learning to run and hide very well if you play this mod. While this mod makes the game difficult, it's not impossible to play, so we recommend this to any Elden Ring player looking to challenge themselves.  
Easy Mode for Elden Ring Mod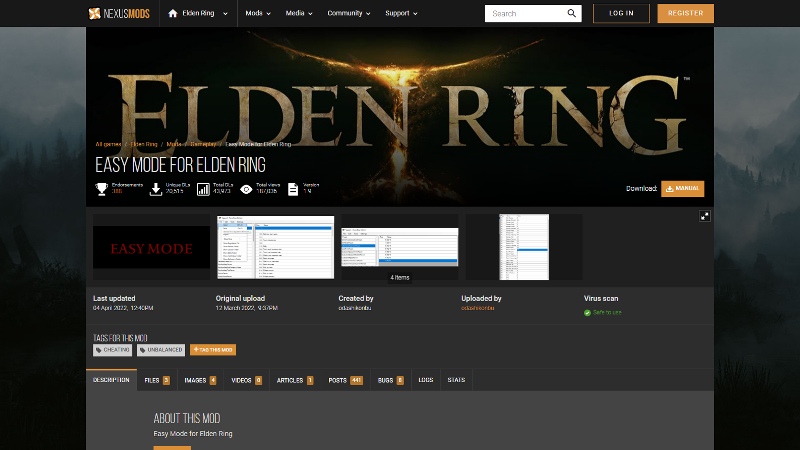 The other side of the difficulty argument for Soul's games has always been that some players want to simply enjoy the game and not struggle through it as they sometimes can. The modding community has catered to this concern and we agree with their approach. 
The Easy mode for Elden Ring mod makes the game easier without taking away what makes the game engaging. By reducing enemy damage by 50%, increasing player damage by 25% and increasing the number of runes obtained by 10x the normal amount. 
This is a welcomed balance to the game's difficulty curve and doesn't fundamentally make the game too easy. It provides a new way of approaching the game to players who want a less strenuous experience. 
Grand Merchant Mod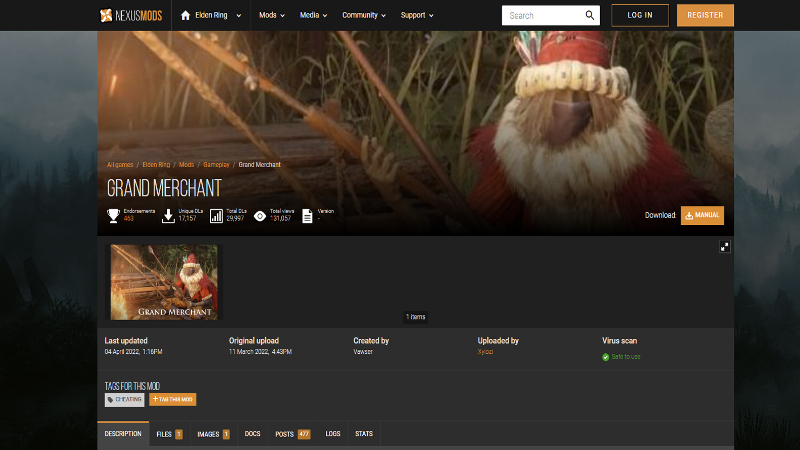 The Soul's games are known for their vast and explorative worlds. So collecting the various items the game has hidden is always an enjoyable journey to venture on. But we've all been there when you just want to find that item you're looking for or want to try new items but don't have 3 hours to explore a new area. 
This is where the Grand Merchant mod comes in, by allowing the player to easily access all the items in the game via the Item Crafting Menu. It's ideal for those who want to try out different builds with different items the game offers. But of course, you can mess around with items in the game just to see what they do. 
Unlock The Framerate Mod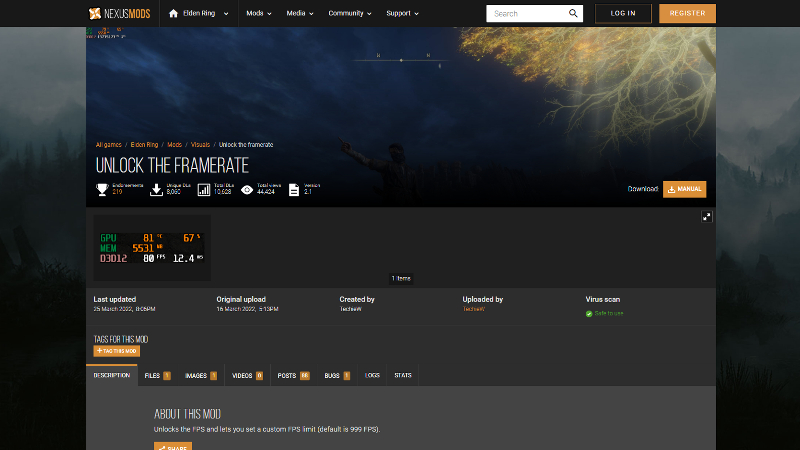 Last but not least, every gamer knows the struggle of getting a game to play nice when it comes to framerates. Sometimes even with a beast of a system, the game can cut your frames per second (FPS) for no real reason. 
Luckily, the modding community has created the Unlock The Framerate mod that solves this issue for us. With it active, players can manually set their framerate to cater to their needs, whether you need to raise or lower it. The limit you can set it to currently is 999 FPS. 
And there are the best 5 Elden Ring mods you can try out today. Thanks for reading, and if you're interested in more Elden Ring content, please check out our dedicated Elden Ring section here. 
Feature Image Courtesy of FromSoftware.