Between Twitch viewership booms courtesy of the pandemic and Netflix's hit show The Queen's Gambit, chess has undergone a cultural resurgence in 2020. 
On Twitch, over 8 million hours of chess were watched in November 2020 alone - a massive jump from 1.13 million the previous year (via Twitch Tracker). While Netflix's critically-acclaimed drama, released in October, likely contributed to this increase, it's a trend seemingly sparked by COVID-19 lockdowns around the world - peaking in June with 12.6 million hours watched on the platform. 
This boost in popularity has ricocheted into interest from esports organisations too. Counter Logic Gaming signed Qiyu Zhou back in August; becoming the first esport organisation to sign a chess grandmaster. This was followed by the high-profile acquisition of Hikaru Nakamura to Team SoloMid, a five-time US champion who started 2020 as the number one blitz chess player in the world.
Andrew "penguingm1" Tang, 21, was subsequently signed by Cloud9. With over 30,000 followers on Twitch and 15.8k YouTube subscribers, he's one of the most popular chess streamers, who hopes signing with an esports organisation can bring chess to a wider audience. 
"It's the ultimate individual mind game," Andrew tells GINX TV. "It's just you vs your opponent and nothing else.
"I was extremely excited as soon as [Cloud9] contacted me. I definitely didn't need that much convincing. I've been watching Twitch and these kinds of things for a long time, so it's really cool to see esports organisations getting involved with chess. I completely want to be a part of that, so there was no way I was going to say no.
"Wearing my Cloud9 jersey to tournaments is definitely going to stick out. I have no idea how older people will react. Hopefully I can bring more exposure to them, and to young kids at the tournaments."
A chess prodigy
Andrew started playing aged four when he joined a chess class in pre-school taught by a parent. At aged eight, he started playing chess online against people around the world, where he developed a particular skill and passion for Bullet chess.
Unlike traditional chess which allows lengthy periods to analyse the board, Bullet chess is a variant on blitz chess which gives players three minutes or less in total move time (with faster variations called hyperbullet and ultrabullet). This means players have to analyse and respond with lightning reactions, working just as much against the clock as an opponent's mind.
With matches over in a few minutes, it's become the most popular form of chess for online streaming. Among the chess community however, there's often debate, and purist snobbery, over whether speed chess should be valued equally next to traditional chess.
"Lots of older people started playing when Bobby Fischer became world champion [in 1972], especially in America. So you've got a lot of these older players who think speed chess isn't real chess because it's not as deep, not as correct, you don't have as much time to think. But it's just a bit of a different skillset in my opinion," Andrew says.
"It's completely unreasonable to not call it real chess. It's the same rules. You have to be good at chess to play speed chess.
"I think speed chess is more interesting to watch, which is one of the reasons why chess is blowing up so much recently," Andrew adds. "No one wants to watch a super long, six hour classical tournament on Twitch. That tournament coverage exists but it's really only for experienced players. It's not how you get new players into the game."
The PogChamps tournament series hosted by Chess.com is possibly the peak of the game's dominance on Twitch this year, which saw popular streamers like Félix "xQc" Lengyel and MoistCr1tikal compete for a $50,000 prize pool.
While the pandemic pushed the spotlight on online chess, it's the involvement from big personalities which has arguably maintained that interest - a pattern echoed by the sudden popularity of Among Us in 2020, two years after release.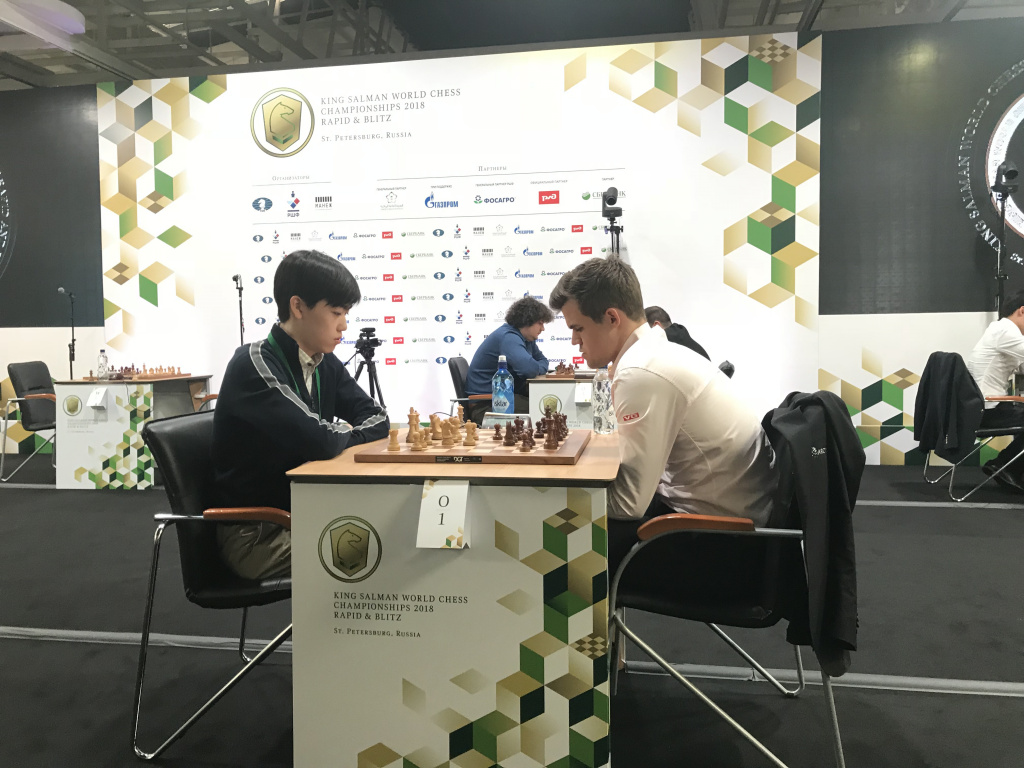 Andrew Tang playing against Magnus Carlsen at the 2018 World Chess Championships (Picture: Andrew Tang) 
Of all the personalities however, Andrew wants to see more renowned chess players step up to streaming, particularly current World Chess Champion Magnus Carlsen - who he's played against on numerous occasions.
"If Magnus would stream, I think that'd be huge," Andrew says. "I definitely think he'd help chess grow more on Twitch.
"It's still crazy to me that he knows who I am, and that he'll message me after games. I don't know him that well personally yet but we have our conversations, which is just crazy."
Going in blind
Like the best esports today, chess is a showcase for incredible feats of mental skill. This is best displayed in blindfold chess, where players cannot see positions of the pieces and only have each other's chess notations, and their own memory of the board, as guidance. 
It's a form of chess which stems as far back as 1266, when the first known blindfold event took place in Florence, Italy. It's still however one of the most impressive spectacles within the game all these centuries later, with blindfold runs by Magnus Carlsen earning millions of views on YouTube. 
Combined with speed chess however and blindfold play takes on a whole new level. For Andrew, it was a skill which came through study and practise without a chess board. 
"I would read chess magazines without having a board in front of me," Andrew said. "So that practise, I'd eventually just be able to follow the games in my head while reading the magazine.
"You have chess notation which describes each move that was played, so I could follow these games totally and then that's when you know you can play blindfold; if you can follow chess games without a physical board. 
"People think it's crazy but you build up to it. At first, I'd be able to follow half the game and then lose the board for example, but eventually you get to a point where you can finish a game blindfolded."
Andrew achieved every chess player's dream by earning grandmaster status in 2017, attained through "norms" aka high placements in tournaments and having an Elo rating of over 2500. 
His aspirations however go all the way to becoming world champion, although sustaining a career as a chess player is difficult. The high costs of International travel, tournament entry fees, and with a lack of sponsorship opportunities, players often have to juggle part-time jobs, or become chess coaches, unless they're in the upper echelons of the ranks.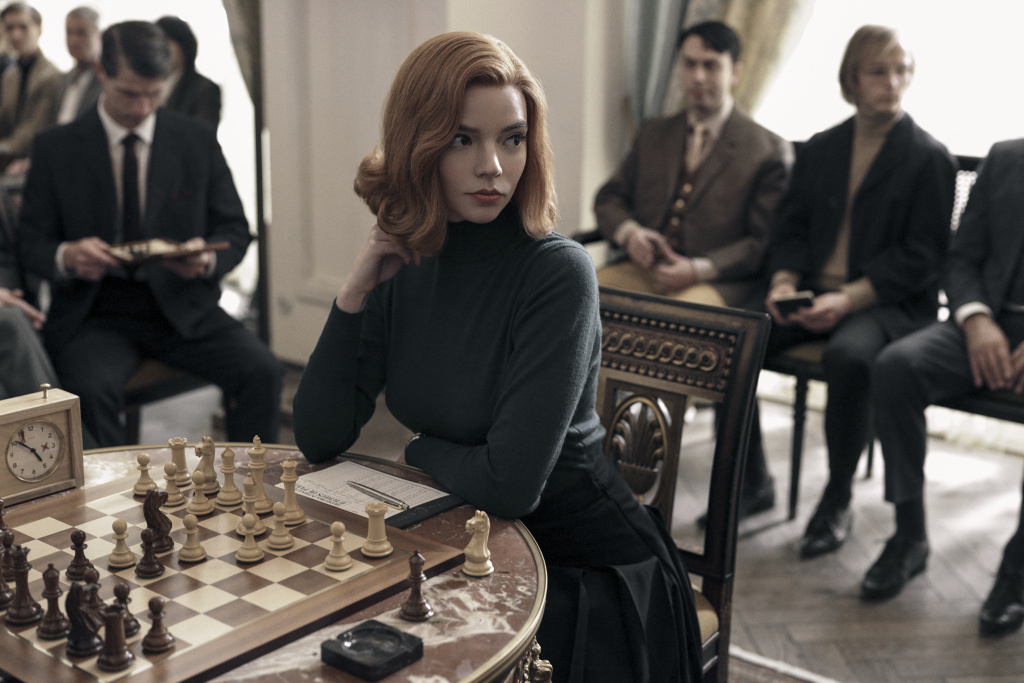 The Queen's Gambit on Netflix also highlights the financial struggles faced by players (Picture: Netflix) 
The interest and financial backing from esports organisations however could make sustaining a chess career far more viable - although it's unclear how extensive, or fleeting, this support will be. The hope of making chess his full-time occupation is what Andrew strives for, but he's acutely aware of the uncertainty ahead - juggling streaming and studying for a finance degree at Princeton University as back-up options. 
"Of course, my parents want me to have a degree," Andrew says. "So I'm not sure what the future holds. If chess continues to grow I think it'd be amazing to make chess my career. 
"I definitely want to have options because chess historically is not the easiest thing to make your profession. Maybe the top 20 players in the world can make a living just playing, but everybody else pretty much has to do coaching. I don't know if that's what I want to do.
"Everybody wants to be world champion but it's easier said than done. I think at one point it'd be really cool if I could make it to a 2700 rating, which is approximately top four in the world. No one can say whether they'll become world champion, it's just a lot of work and you just have to become the best. 
"I want to become the best bullet player in the world though, that's for sure."