FaZe Clan has been in the news recently and for all the wrong reasons. It was recently revealed that several of its members and affiliates were engaged in a cryptocurrency "pump and dump" scam. The FaZe members that were implicated included Frazier "Kay" Khattri (who is alleged to have led the operation), Jarvis "Jarvis" Khattri, Nikan "Nikan" Nadim and Jakob "Teeqo". FaZe Kay was fired from the organization, whilst the others have been suspended indefinitely, pending further investigation. 
Co-founder, Richard "FaZe Banks" Bengston, previously came forward to insist that he had no knowledge of the "Save The Kids" scam operation. This was despite allegations that he had "pumped and dumped" a different altcoin in the past (namely, $BSocial). 
$BSocial: "No Hard Feelings" FaZe Banks
In a tweet posted by Jake Lucky on the 9th of July, the irony regarding FaZe Banks's involvement with the Bank Social altcoin was highlighted. The tweet read:
Banks accused of pumping and dumping crypto:

8 days ago, the CEO of BankSocial did an interview where he blatantly says FaZe Banks pumped and dumped their token

8 days later, they say no hard feelings

What the frick is going on pic.twitter.com/rUqYpOl6wC

— Jake Lucky (@JakeSucky) July 9, 2021
Jake also indicated that the CEO of Bank Social, John Wingate, said that "they pumped it and then dumped it", during an interview with Mashable. He uploaded images to demonstrate, which can be viewed below.

In the statement, Wingate was alluding to FaZe Banks and others who bought the $BSocial token on his advice and later "backed out of the deal", by dumping the token.
FaZe Banks subsequently tweeted an open apology, citing: "Sorry your guy's project got dragged into all of this".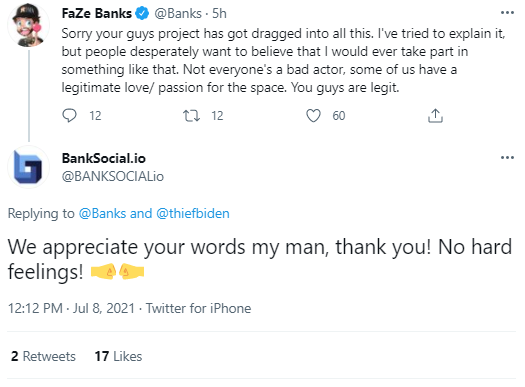 After essentially ratting out FaZe Banks during the Mashable interview, Bank Social then tweeted a reply to FaZe Banks' apology tweet by saying: "We appreciate your words my man, thank you! No hard feelings".
We're not too sure what's going on, but it definitely sounds sus.
Jailtime on the cards for FaZe members involved in crypto scam?
In addition to this, it was revealed that there may be jail time for the individuals involved in the "Save The Kids" scam. Jake Lucky tweeted: "On the just-released Mom's Basemen episode, FaZe Banks says the reason no member has responded yet has been the legal implications at play, and that someone going to jail is a possibility in this situation". 
On the just released @momsbasement episode, FaZe Banks says the reason no member has responded yet has been the legal implications at play, and that someone going to jail is a possibility in this situation.

— Jake Lucky (@JakeSucky) July 8, 2021
Jake further added in a comment that it "doesn't seem like RiceGum thinks he's going to jail", explaining that RiceGum's lawyer told him to "have more 6ix9ine energy in this situation". We're unsure what this means, although this could allude to RiceGum "snitching" on the other members in exchange for a less severe sentence.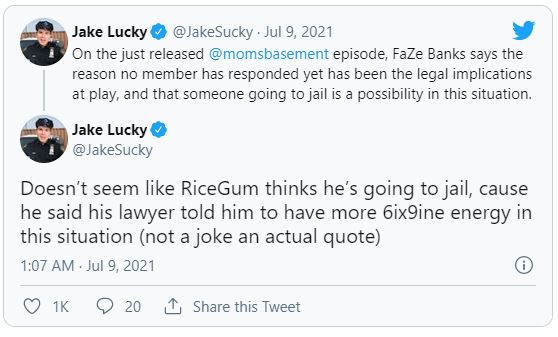 Depending on the outcome of an official investigation by authorities, jail time could indeed be on the cards. This would, however, depend on their level of involvement and complicity in the scam.
Since cryptocurrencies are not regulated the same way as other tradeable assets (like stocks), they may fall out of SEC jurisdiction. Instead, the FaZe members involved could be slammed for the federal offence of defrauding their followers of their money (similar to "get rich quick" schemes).
In case you've been out of the loop, we highly suggest that you check out the video below by Coffeezilla. It covers many important details regarding the entire ordeal.
The entire situation is sticky. It seems unlikely that FaZe Banks was unaware of the "Save The Kids" scam given his prior involvement in the crypto space. We should note that these claims, however convincing, are speculative at best.
In the end, the truth will prevail and we endeavour to provide further details as more official statements are reports become available.
Looking for more information about your favourite teams? What about news and updates around the latest esports tournaments? Then check out our dedicated esports section right here.
Header image via FaZe Clan (jail bars edited in by author)