SomeOrdinaryGamers (Mutahar Anas) is a popular YouTuber with over 2 million subscribers and is best known for his "Deep Web Browsing" and "Virus Investigations" series videos. In a recent "nuke" video, Mutahar revealed further details regarding the alleged involvement of former or suspended FaZe Clan members (including Kay, Jarvis, Nikan and Teeqo) in the "SaveTheKids" cryptocurrency scam operation.
In the video, entitled "The actual truth behind the SaveTheKids scam", Mutahar exposes several FaZe members for their alleged involvement in orchestrated "pump and dump" operations by backtracking transactions to and from their crypto wallet addresses via the blockchain.
SaveTheKids was ever meant to be charitable
To start, Mutahar highlighted that the SaveTheKids operation was allegedly never intended to be a charitable endeavour. This follows the information that every $KIDS token transacted charges 3% tax, of which just 1% is deposited to charity. The other 2% is divided equally, with 1% going to locked liquidity and 1% going back to the holders, as indicated on the official SaveTheKids website.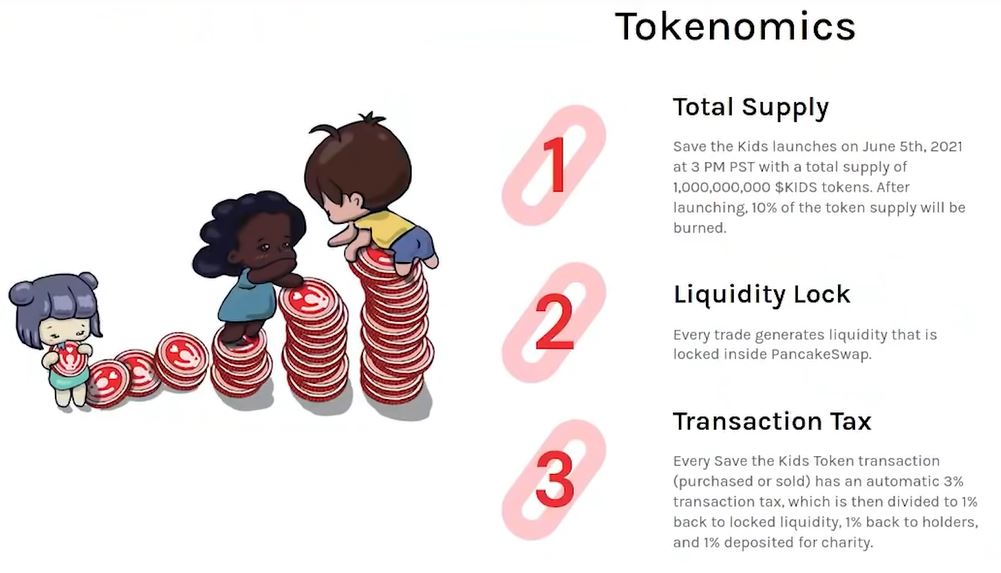 As of this moment, the $KIDS token is fundamentally dead as a result of the "pump and dump" scheme. For those unaware, this scheme describes the unlawful practice of artificially inflating (i.e. "pumping") the price of a token that was purchased at a discounted price and then later selling (i.e. "dumping") it for a substantial profit.
Although laws governing such schemes may not apply to cryptocurrency securities, the alleged activities of the FaZe members in question may involve fraud and deception, which are federal crimes.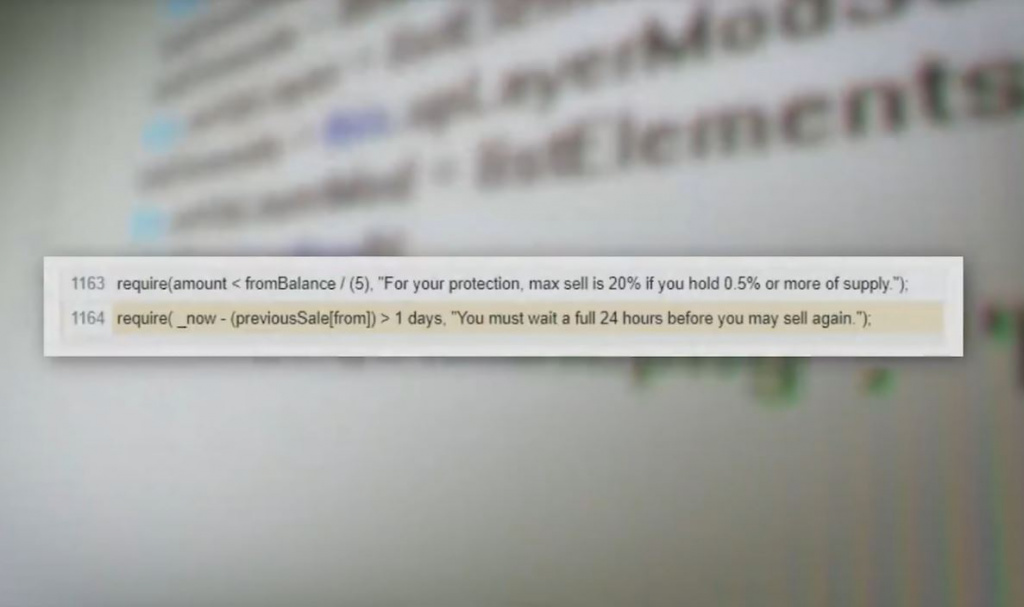 In the video, Mutahar explains that the "anti-whaling" code (i.e. measures to prevent holders with a large volume of token from "dumping" their assets all at once) was unexplainably removed a day before the token went live. "The kids were never going to be saved", he said.
FaZe wallet addresses linked to $KIDS token scam
Mutahar then went on to link wallet addresses believed to belong to FaZe Clan members to the SaveTheKids scam.
In the video, he shows how FaZe Nikon received 2.5 million tokens from the SaveTheKids deployer and later proceeded to sell off copious amounts of the token (allegedly equal to the initial investment value) just hours later. 
Mutahar said that while the wallet holder (who is believed to be Nikon) perhaps didn't benefit from the operation (since they still held about two-thirds of the token received from the deployer), it is still egregious that they participated.
After reacting to an apology video by FaZe Kay (linked below) Mutahar admits that Kay may be telling the truth when he claimed that he "lost money on SaveTheKids token". Mutahar reveals that Kay did send 50 BNB (equal to about $19,510.50 at the time of sale) of his own money to the SaveTheKids presale wallet address. 
Attempting to be both fair and objective, Mutahar said that "given on the dump and the dates lining up on the blockchain, it does in fact look like [Kay] didn't make any money", adding that he is going to "believe [Kay] here regarding [his] statement".
He also added that even if Kay did make money, it likely wasn't anything substantial and doesn't warrant the political fallout that he has experienced. Mutahar did, however, criticize Kay for assuming the victim role and by deflecting his involvement in the scam regardless.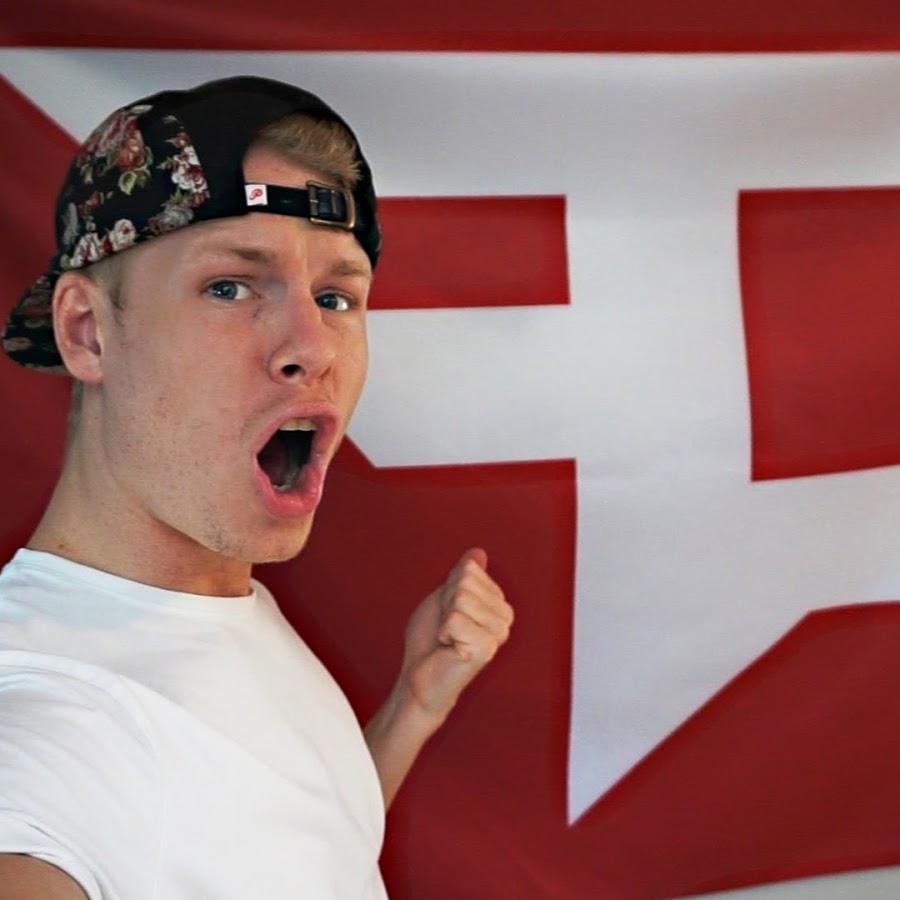 Mutahar also revealed that the only FaZe member that "went by unscathed" was FaZe Teeqo. After confirming the crypto transaction history of Teeqo's wallet via the blockchain, Mutahar showed that Teeqo did not sell off any $KIDS token (not even his own investment) and did not benefit from the scam at all. 
"He is actually fairly innocent. He might be the only mother f****er who wanted to save the g*d*** kids", further adding that "not only did he get the money from the deployer address, he didn't dump a single token of $KIDS". Teeqo also bought more $KIDS tokens with his own money, which may exonerate Teeqo from the entire scam.
FaZe Kay allegedly involved in giveaway fraud
Despite Kay claiming not to have benefited from the SaveTheKids scam, it appears that he may have benefited from other crypto-related dealings, according to Mutahar.
Mutahar later goes on to explain how he found what he believed to be FaZe Kay's crypto wallet address. He explains how he backtracked a transaction from a SafeGalaxy giveaway that Kay ran on Twitter and then proceeded to further investigate the wallet's transaction history.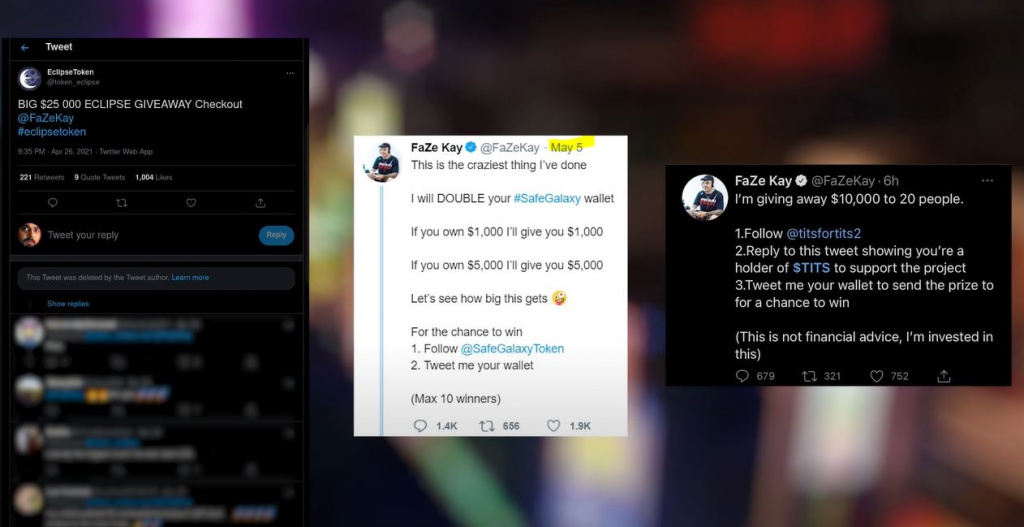 "One of the things [Kay's alleged wallet] was involved in was the presale to the SaveTheKids token and various other [crypto] giveaways", including EclipseToken, SafeGalaxy and Tits Coin. Mutahar then explains how he discovered this after he linked the date and time of Kay's tweets to various transactions involving each coin to and from his alleged wallet address on the blockchain.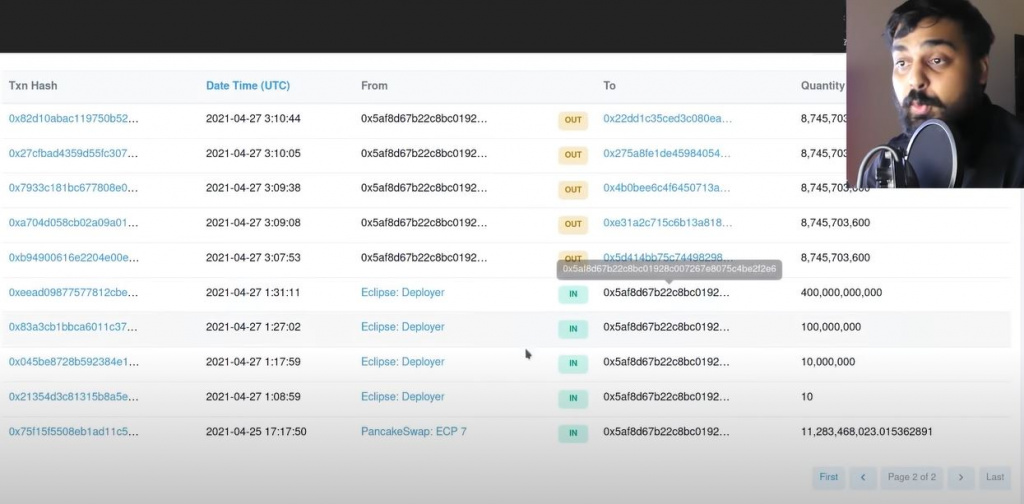 He also explored the transaction history of the token winners and revealed how several individuals repeatedly won FaZe crypto giveaways. He demonstrates this by doing a BSC scan of a random wallet address (0x78e) and shows how the individual won two EclipseToken giveaways 1 day apart, before immediately dumping the balance a minute later.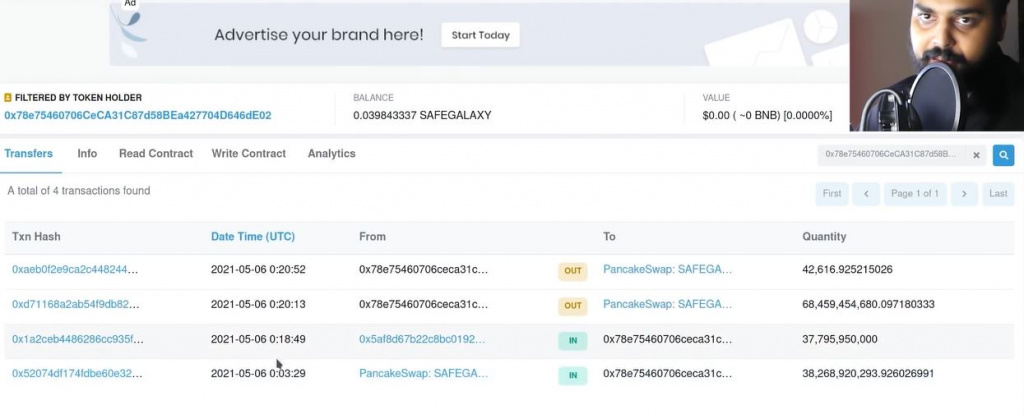 He then shows how the individual also won Tits Coin and received SaveTheKids token giveaways from the founder's wallet as well (only to immediately dump the tokens soon after receiving it).
Mutahar proceeds to do this with other wallet addresses as well, unveiling what appears to be a network of crypto "pump and dump" schemes, of which Kay and the various crypto giveaway winners are allegedly involved.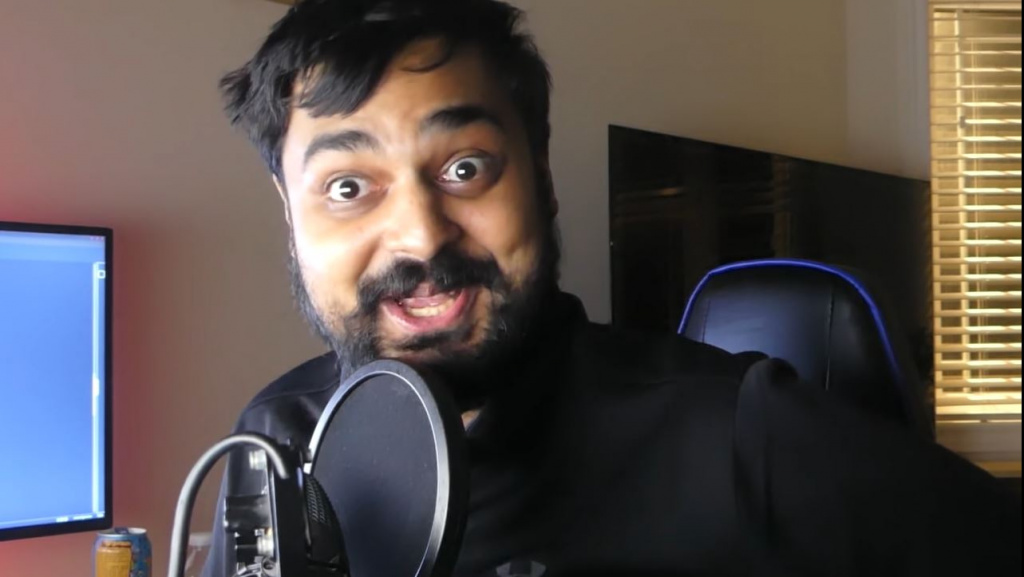 "If this isn't giveaway fraud, then I have no f***ing idea what is. Okay. These accounts that I've shown you won every giveaway [and] most of them [were also] were invested in SaveTheKids, they also received extra money from [Kay] and now they're sending money back and forth between each other", Mutahar said.
Mutahar continues to describe further details in his video, which we highly recommend you watch for greater context. The video is about 70 minutes in duration but is definitely worth watching.
Disclaimer: Although the evidence reported in this article appears compelling, we insist that all information should be observed as speculation and should not be construed as fact. We do, however, endeavour to report on factual evidence as it is revealed by the investigating authorities.
Header image via YouTube / SomeOrdinaryGamers / SaveTheKids.