On the morning of 24th February 2022, Russia launched an unprovoked invasion of Ukraine, endangering 44 million civilians living in its cities. President Vladimir Putin's assault on Ukrainian democracy has subsequently sparked mass anti-war protests worldwide, including on the streets of Moscow and St Petersberg.
In the wake of the ongoing crisis in Ukraine, many prominent esports organisations have united in condemning Russian hostility in the country. In addition, several esports figureheads have spoken out, calling for a peaceful end to the conflict.
However, rumours began to circulate recently, noting that certain Russia-based esports organisations, namely Gambit Esports and Virtus.pro, had prohibited staff and players from publically supporting Ukraine, claims later revealed to be false.
Rumours that VP and Gambit decry Ukraine support are not true
According to a Twitter post by Ukrainian esports caster Vitalii Nikolaevich "v1lat" Volochai on 24th February 2022, Volochai received information that Virtus.pro and Gambit Esports "forbid their players and other staff to express their support to Ukraine" amid the Russian invasion.
From two independent sources I got information that https://t.co/kTVxSso1B2 and Gambit forbid their players and other staff to express their support to Ukraine during russian agression.

Massive fines and firing were mentioned to me as a punishment for social media posts

— Vitalii Volochai #StandWithUkraine (@v1lat) February 24, 2022
Volochai noted that the information was received from "two independent sources" and added, "massive fines and firing were mentioned to me as a punishment for social media posts."
Naturally, the post sparked outrage among users on social media. For example, Twitter user Ola Danckwardt condemned the allegations, writing, "If this is true, these orgs must receive the same treatment as [the] Russian government. Complete isolation from the esports scene."
However, Ukrainian Counter-Strike: Global Offensive esports star Oleksandr Olegovich "s1mple" Kostyliev later shot down the allegations, saying that they were were "not true."
Notably, neither Gambit Esports nor Virtus.pro have issued a formal statement denouncing the claims at the time of writing. However, some users online speculate this might be for their protection, noting that the Russian government is currently arresting anyone contesting the war.
Remarkably, this hasn't stopped individual Russian pro players from proclaiming their support to Ukraine. For example, Gambit's Konstantin "Hardecki" Kozlov tweeted "#StandWithUkraine." 
#StandWithUkraine 🇺🇦♥️

— Gambit Hardecki (@hxrdecki) February 24, 2022
Gambit pro player, Igor Vlasov, said he doesn't know what to say about the situation, calling for the conflict to end as soon as possible. "Praying for everyone who can get hurt in this conflict," he said.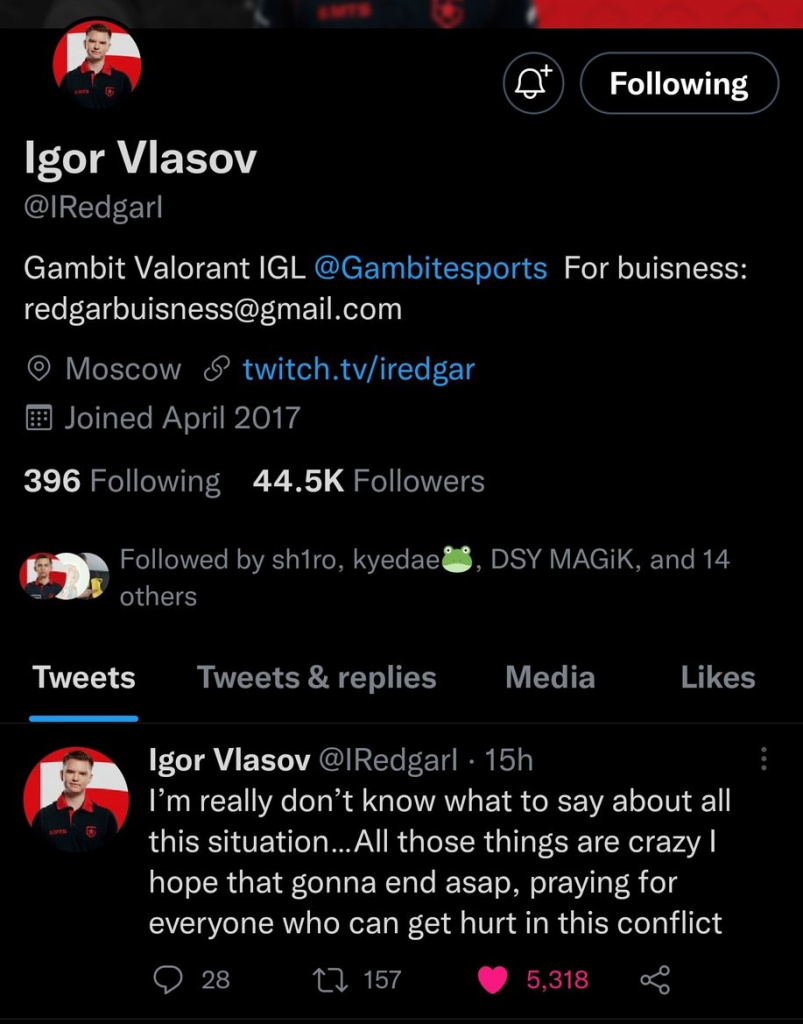 Furthermore, Virtus.pro player Mareks "YEKINDAR" Gaļinskis has also condemned the war, reportedly writing "F*ck war" in an expired Instagram story. Similarly, Vladislav "nafany" Gorshkov reportedly denounced the war on Instagram.
In a bid to crackdown on anti-war movements in Russia, police have arrested thousands of demonstrators already. Yet, while the threat of forced labour and imprisonment has silenced many, it seems these Russian esports players are undeterred in supporting Ukraine's fight for peace, earning them the respect of the broader esports community.
Featured image courtesy of Gambit Esports and Virtus.pro.