Now that Fall Guys has finally released, over 1.5 million players have entered the fight for first place in the wacky battle royale-style game. Playing a series of minigames with the aim to be the last jellybean standing at the end of it all, there's a lot to learn if you want to be the best. Here's how to win at Hex-A-Gone.
How to win Hex-A-Gone
One of Fall Guy's most notorious game modes, Hex-A-Gone has players running along disappearing hexagons, aiming to be the last one to fall into the void below. With this round increasing in popularity, and often determining who will be the game's final champion, it didn't take long for players to come up with an insane Hex-A-Gone strategy.
In the unusual strategy, players stand in place, causing themselves to fall right down to the bottom layer of the map, where they remove as many hexagonal platforms as possible by running in a spiral from the middle outward. Although this would appear to be a bad strategy, putting yourself close to the void below, it's a high-risk high-reward type of deal, as other players then begin to fall into the void you yourself made.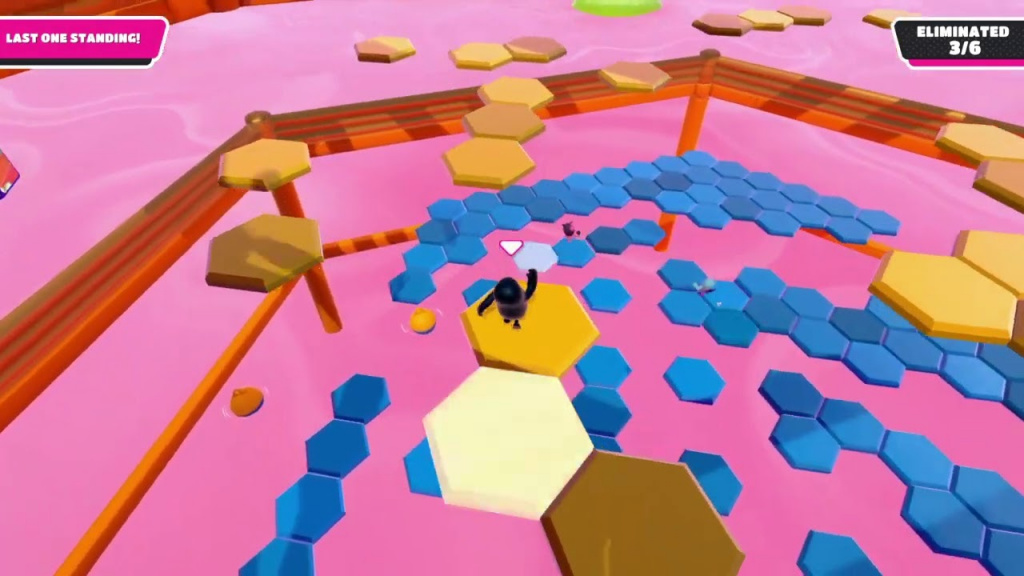 (Picture: YouTube)
The issue with this strategy is that it is now known to the world, and you'll see players employing it in more and more Hex-A-Gone rounds with each passing day. Of course, there is a way to counter the strategy - simply playing the game as it's intended and delaying your descent until the player at the bottom has nowhere left to go.
To best slow yourself down and stay alive for the longest time, be sure to jump from hexagon to hexagon, even when only jumping to a neighbouring panel. You can leap over small gaps with your dive too, so it's not the end of the world if there's nothing nearby. When it's looking as though you'll have to fall down a layer soon, tilt the camera and see if you can position yourself into a good space below, rather than leaving it to fate and risking falling too far down.
Some players choose to go on the offensive in this game mode, running circles around their opponents and causing them to have to fall. This is a good tactic for the final level but should be avoided early on. Try and stay as separate from the other Fall Guys as you're able to win at Hex-A-Gone and get yourself a crown.
Quick Tips
Avoid battling other players, where possible
Take it slow or race to the bottom, but commit to your strategy!
Make sure to leave yourself plenty of platforms when isolating an area
Fall Guys is available now on PlayStation 4 and PC. PlayStation Plus members can download it for free this month.