Update: Check the full list of winners right here. 
One of the most important and jam-packed fighting game events is back after a long hiatus due to COVID-19 -- Community Effort Orlando.
The event is known for hosting a massive amount of tournaments, rivalling Evo, including the latest and greatest fighting games as well as some classic competitive titles.
What distinguishes CEO from other events is its incredible wrestling-themed atmosphere, with the latter stages of tournaments taking place in an actual ring. In fact, for 2021, All Elite Wrestling has allowed CEO competitors to use their tracks to walk into the ring during finals.
With all that being said, let's take a look at everything you need to know about CEO 2021.
CEO 2021 - Schedule and games
Community Effort Orlando 2021 will start 3rd December, ending on the 5th. A total of ten games will have main brackets, these are:
Tekken 7
Mortal Kombat 11
GranBlue Fantasy Versus
Dragon Ball FighterZ
Ultimate Marvel vs Capcom 3
Skullgirls
BlazBlue: Cross Tag Battle
Most pools will be played on the 3rd while Sunday will be reserved for finals only. Take a look at the breakdown below.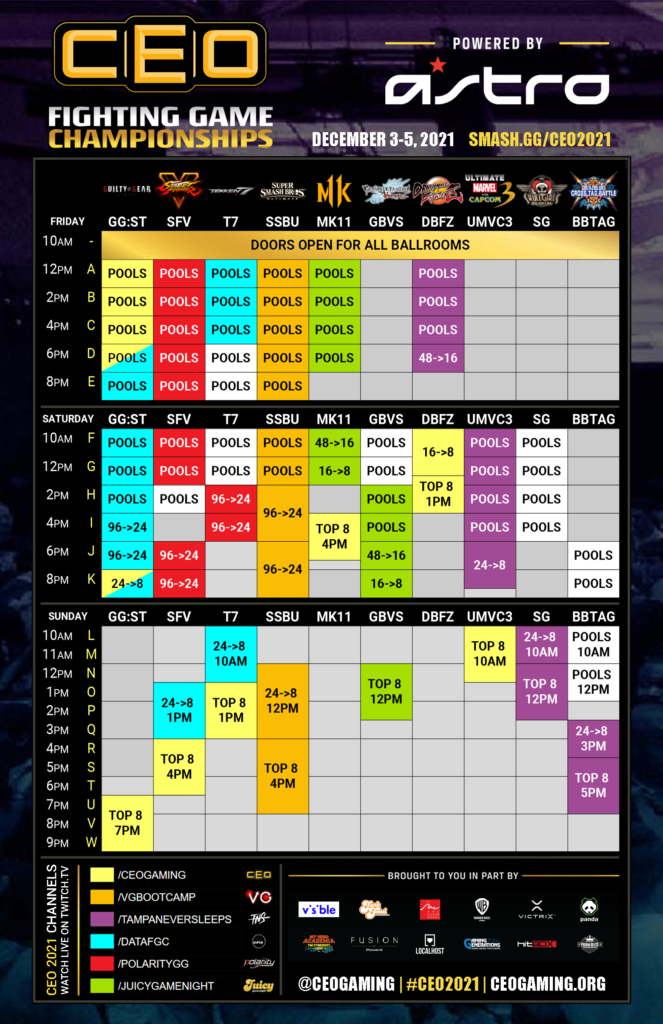 Prize pool
At the time of writing, the final prize pools for each game have yet to be determined, however, the winners will receive a personalised Championship belt to commemorate the occasion. 
How to watch
The event will feature many streams for fans to catch all the action. You can follow CEO with the links down below:
For more on all things FGC, check out our dedicated fighting game section. 
Featured image via CEO.