Despite missing out on a place on the Netherlands squad for the Euros, Hans Hateboer showcased in Atalanta that his skills made him worthy of being featured as a special card in FIFA 21 FUT, with EA Sports handing him a unique Festival of FUTball one.
The right-midfielder, who helped the Italian side reach the third spot at the end of the Seria A, toppling long-standing champions Juventus, missed out of the Euros due to a lack of form by the end of the season as a result of an injury, with manager Frank de Boer cutting him from the preliminary list days before the tournament began.
Still, with his incredible dribbling and pace, Hans Hateboer's influence will be much needed when Atalanta faces the Champions League next season.
Let's take a look at everything you need to know about the Hateboer FOF SBC.
FIFA 21 Hans Hateboer FOF - Stats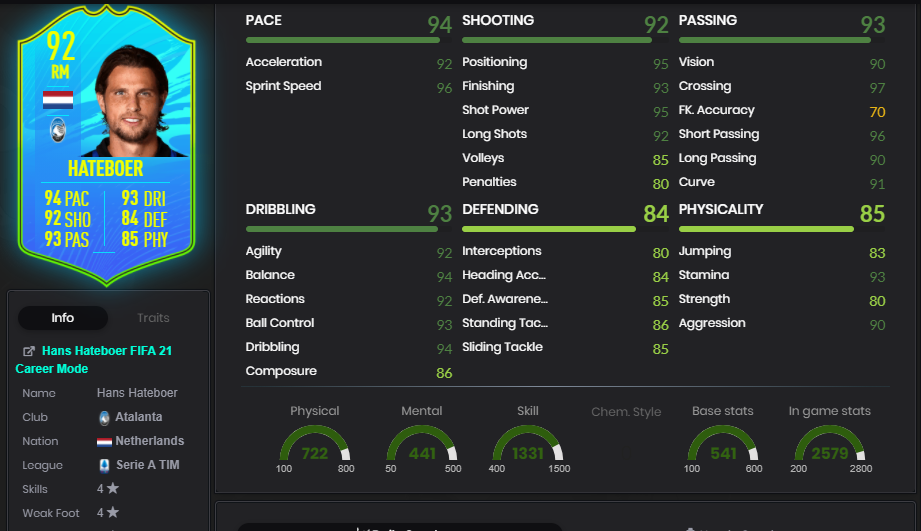 The right-midfielder excels at playing from the flanks, speeding past his opponents, and delivering precise balls to your centre-forwards. His best attributes to achieve this are his Acceleration (92), Sprint Speed (96), Crossing (97), Long Passing (90), and Dribbling (94).
On top of this, he's a natural finisher, with Finishing (93) and Shot Power (95) reaching near-perfect stats. Did we also mention that he boasts a 93 on Stamina and has a 4-star rating on his weak foot? 
Simply put, you can't miss out on Hateboer FOF.
FIFA 21 Hans Hateboer FOF SBC- How to complete
For this SBC, you'll need to exchange a total of one squad with the following requirements.
# of players from Netherlands: Min 1
Squad Rating: Min 86
Team Chemistry: Min 55
# of players in the Squad: 11
Cost: 119,000-145,000 Coins