James Maddison continues to go from strength-to-strength as a player, putting in impressive performances for Brendan Rodgers Leicester City side as the most attacking midfielder.
As a player, he posses a unique skill set. Great vision, a killer pass, impeccable technique, and that unteachable, at times unquantifiable trait, a great footballing brain.
It's attracted the attention of bigger clubs, Manchester United have been linked, but the way his career is going at Leicester and the team's performances in the league and Europe it would take a lot for him to move.
It's these performances in Europe, the Europa League specifically, that EA Sports have decided to honour giving the attacking mid a TOTGS card.
We break down his new stats, how to complete his SBC, and if he is worth it.
Note: All prices are courtesy of the database at FUTBIN and are subject to change.
FIFA 21's James Maddison TOTGS stats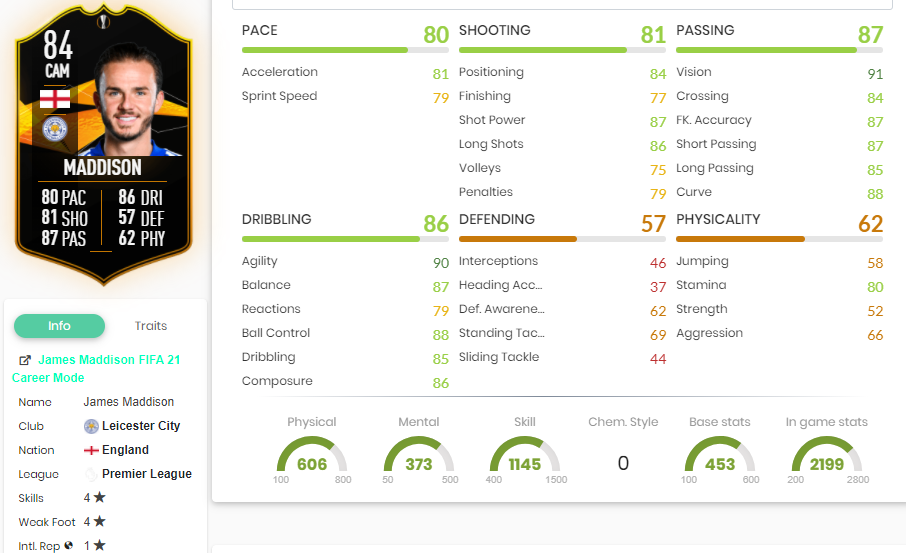 (Picture: FUTBIN)
His TOTGS card is given a +3 OVR boost taking him up to 84. The biggest beneficiaries of which are his Pace and Shooting.
On the all-important pace, he receives +5 on both Acceleration and Sprint Speed taking him to 81 and 79 respectively. So still not the fastest player on the pitch but definitely shifting him closer to a meta card.
It's +5 across the board on shooting too, with every stat associated receiving that boost bringing his Shot Power and Long Shots up to 87 and 86 respectively.
His passing and dribbling stats were already near world-class levels and those are further enhanced. Standouts include his 91 Vision, 87 Short Passing, 90 Agility and 88 Ball Control.
The one place he still falls short is in his physical stats still at a rather paltry 62, the only great figure here is the 80 Stamina he possesses. 52 Strength might just be too low for some.
James Maddison SBC cheap solutions and requirements
Completing the James Maddison SBC will cost between 60,950 (PS4) and 67,350 (Xbox One) coins depending on the platform.
The beauty of this is there is only the one SBC to complete so a relatively cheap card to obtain.
James Maddison SBC requirements
# of players from Leicester City: Min 1
IF Players: Min 1
Squad Rating: Min 84
Team Chemistry: Min 75
# of players in the Squad: 11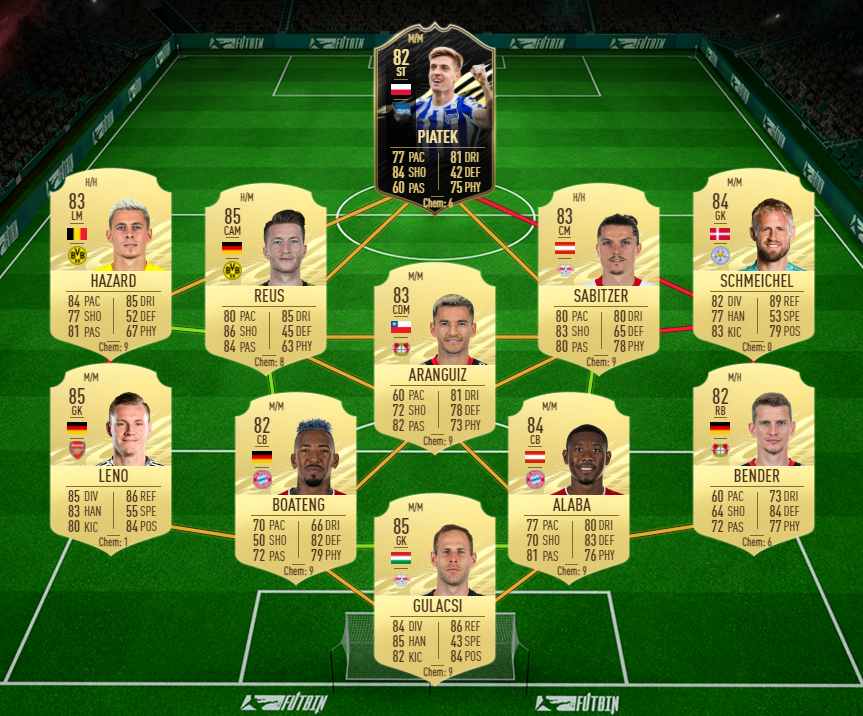 (Picture: FUTBIN)
Is the James Maddison TOTGS worth it?
The short answer here would be probably not. The longer one being, well of course depending on your team any player might be worth it.
If you have, for instance, a predominantly English or EPL team that there is a case for finding a space for James Maddison. However, he would is certainly only suited to certain playstyles and will probably come up short at the highest levels due to his lack of raw pace and physicality. He is a Scholes in a world of Casmerio's. For some that comparison will be enough.