The Ultimate Team season for FIFA 21 has been packed full of promotions both new and old. We've seen a myriad of new content, as well as flashbacks to FIFA titles of years past.
Now that most major world football leagues are winding down their season, it's time for FUT 21 to select the best of the best. It's always the culmination of all Ultimate Team promotions, as the best work of the latest campaign is highlighted with extremely powerful FUT TOTS cards.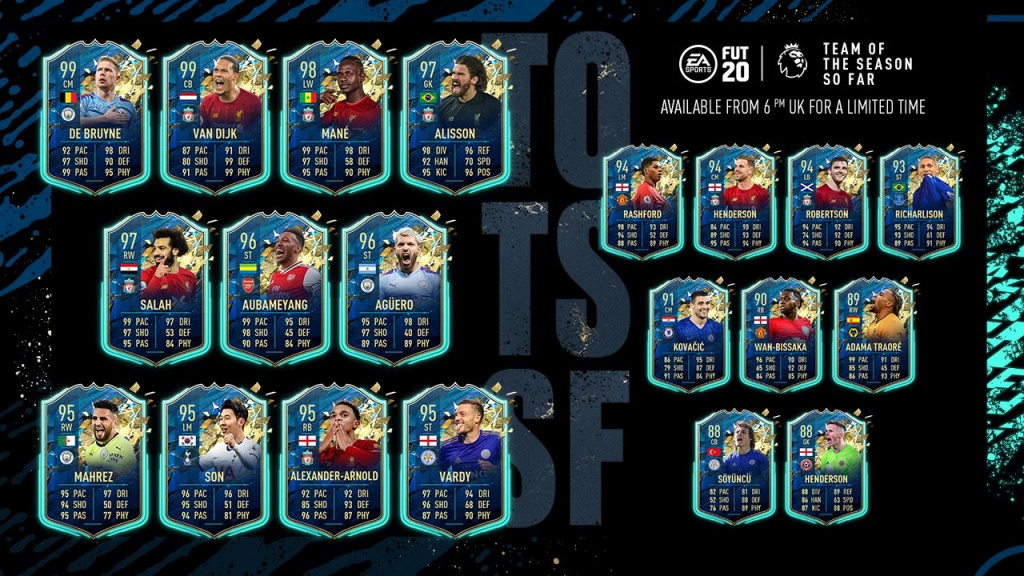 (Picture: EA Sports)
FIFA 21 TOTS Release Date
Past FIFA titles have always seen TOTS release in the later Spring and early Summer periods. With the pandemic affecting different European leagues in different ways, there could be a slight change to when we get our hands on FUT 21 TOTS cards.
Though there is news on the TOTS release date front, and popular FIFA 21 leaker FUTInvestLeaks has staked a claim. In a recently posted tweet, the account suggested the FUT 21 TOTS event would begin on 23rd, April 2021.
The account was correct in leaked predictions provided throughout the entire FUT Birthday period, so the date could certainly be correct. 23rd, April 2021 also falls on a Friday, which would sync up with patterns from previous FUT 21 events.
FUT 21 TOTS - what to watch for
As always, Team of the Season includes full squads of 11 supremely rated players. They'll showcase the new card design for TOTS 21, and will undoubtedly trade for astronomical prices.
Following the script from Team of the Year and other FUT 21 events, official squads should be accompanied by both SBC and Objectives challenges. Past FIFA TOTS promos have also featured the lauded Lightning Rounds for FUT packs.
There will also likely be an exclusive FUT 21 TOTS Kit which can be earned by completing a set of in-game challenges.
FIFA 21 Team of the Season voting
Team of the Season from last year featured a brief voting period for fans to cast their ballots. Voting was semi-outsourced as the EA Sports FIFA team set it up for fans to vote on popular community websites, FUTHead and FUWIZ.
Though we could see voting operate more similar to Player of the Month awards from FIFA 21. A more simple process, POTM is voted on through the normal FIFA website and is often supplied via links in tweets.
Going off the FIFA 20 TOTS schedule, as well as leaks suggesting a similar structure, TOTS squads should release in this timed and orderly fashion:
EFL Team of the Season
Premier League TOTS
Saudi Pro League TOTS
La Liga TOTS
Turkish Super Lig TOTS
Bundesliga TOTS
Liga NOS TOTS
Serie A Team of the Season
Chinese Super League TOTS
Eredivisie TOTS
Ligue 1 Team of the Season
Latin America TOTS
MLS Team of the Season
Ultimate Team TOTS
Rest of World Team of the Season
Be sure to keep our FIFA tab bookmarked for any and all of your Ultimate Team needs. We'll be sure to keep you in the loop for any new developments regarding Team of the Season as well as other new FUT content.