Football Manager has garnered an almost religion-like fanbase over the years. Players that sink their teeth for thousands upon thousands of hours eagerly await the next entry to start a brand-new save in search for glory.
With FM21, a fresh journey starts for plenty of newcomers and veterans alike, as the Sports Interactive franchise returns to platforms its been absent for a decade, as well as bringing a ton of features into the mix.
Without further ado, here's everything you need to know about Football Manager 2021.
Football Manager 2021 - Release date and platforms
Football Manager 2021 will be initially released on 24th November, with FM21 Touch coming 1st December in certain devices.
The standard version of the game will be playable on PC and Mac. If you decide to pre-purchase it via the Epic Games Store or Steam, you'll get free access to a beta version of FM21 on top of getting a 10% discount. You will also receive FM21 Touch for free by doing this.
Talking about FM21 Touch, the streamlined version of the desktop counterpart is set to release 1st for Apple and Android tablets, however, Nintendo Switch owners will have to wait for an unspecified date. Don't worry, SI claims this version will also come out by the end of 2020.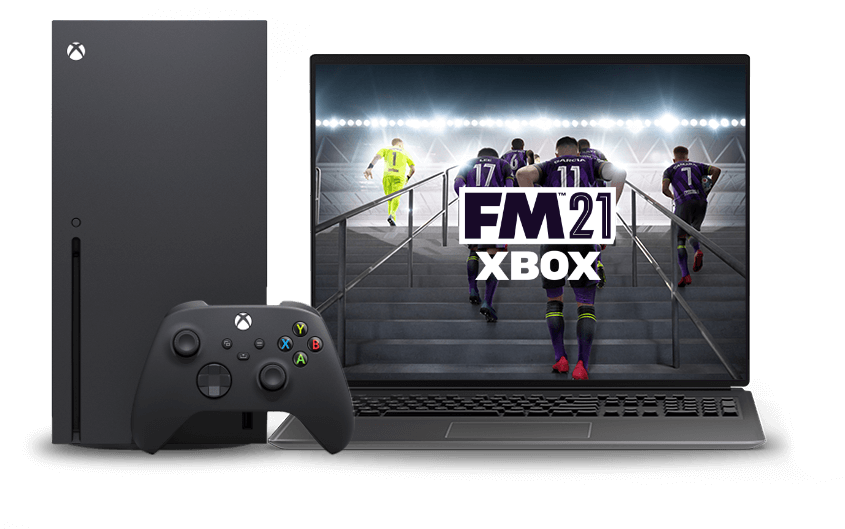 (Photo: Sports Interactive)
New to the Football Manager series is the dubbed Xbox version, a hybrid between the standard and Touch variants. This marks the return of FM to the Microsoft platform since FM08 was release.
The Xbox edition of FM will come out 1st December, here are some key details:
You'll be able to play across the entire family of Xbox One and Series X/S devices, and even PC. 
The leagues available will differ depending on your system.
The game will feature both Play Anywhere and Smart Delivery functionalities, meaning you can run a single save across every device in the Xbox family and PC.
The game will support network play among Xbox edition users.
Keep in mind in order to transfer saves from Xbox One systems to PC or Series X/S, you'll need to only select 5 playable leagues instead of 10.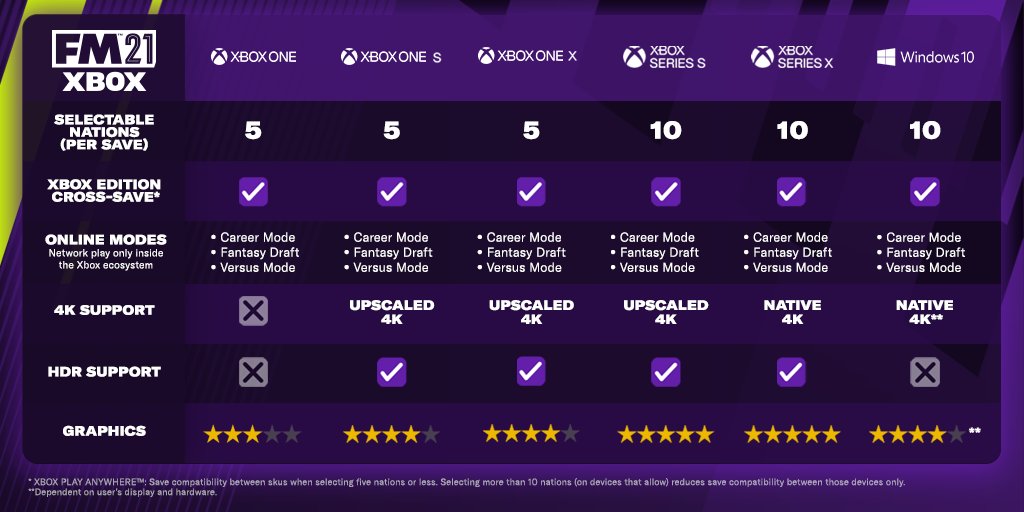 (Photo: Sports Interactive)

We'll have a more detailed breakdown of FM21 Xbox edition soon so stay tuned!
Finally, FM Mobile will also come out on 24th November for iOS and Android devices.
Football Manager 2021 - New features
The flagship version will include long-awaited features to make the experience even more immersive. Here's a quick rundown detailed by Sports Interactive:
Recruitment meetings

(Photo: Sports Interactive) 
In FM21 brand new Recruitment Meetings give you more control over the players that your backroom are looking at. Through this new interaction and meeting system, you'll now head into the transfer window with better focus on exactly what you need, ensuring the crucial synergy between manager, scouts, and the board.
Quick Chats
(Photo: Sports Interactive)

Quick Chats replicate the sort of short, informal interactions that don't need a full meeting or press conference. These might happen in person or remotely, in a modern, familiar chat popup, and can trigger in relation to a wide variety of topics.
In-match Presentation

(Photo: Sports Interactive)
The team line-up graphics have been refreshed, taking influence from modern broadcast media. Of course, you'll still see the starting XI laid out in formation but we've made it easier to see players on the subs bench as well as adding in the team's form and the manager's name. In a league game, you'll also see the league table with both teams' positions highlighted to add extra context.
Football Manager 2021 - System requirements
Here are the minimum requirements you'll need to run the game:
CPU: Intel Core 2 or AMD Athlon 64 1.8 GHz +
RAM: 4 GB
OS: Windows 7 (SP1), 8/8.1, 10 (Update 1903/May 2019 or later) 64-bit
VIDEO CARD: Intel GMA X4500, NVIDIA GeForce 9600M GT or AMD/ATI Mobility Radeon HD 3650 256 MB VRAM
PIXEL SHADER: 4.0
VERTEX SHADER: 4.0
FREE DISK SPACE: 7 GB
DEDICATED VIDEO RAM: 256 MB