FNCS Week 2 results have sent the Fortnite community ablaze, as the aim assist provided to controller players keeps giving them a huge handicap against mouse and keyboard users.
In certain regions, like North America East, the Top 10 is purely composed of controllers players.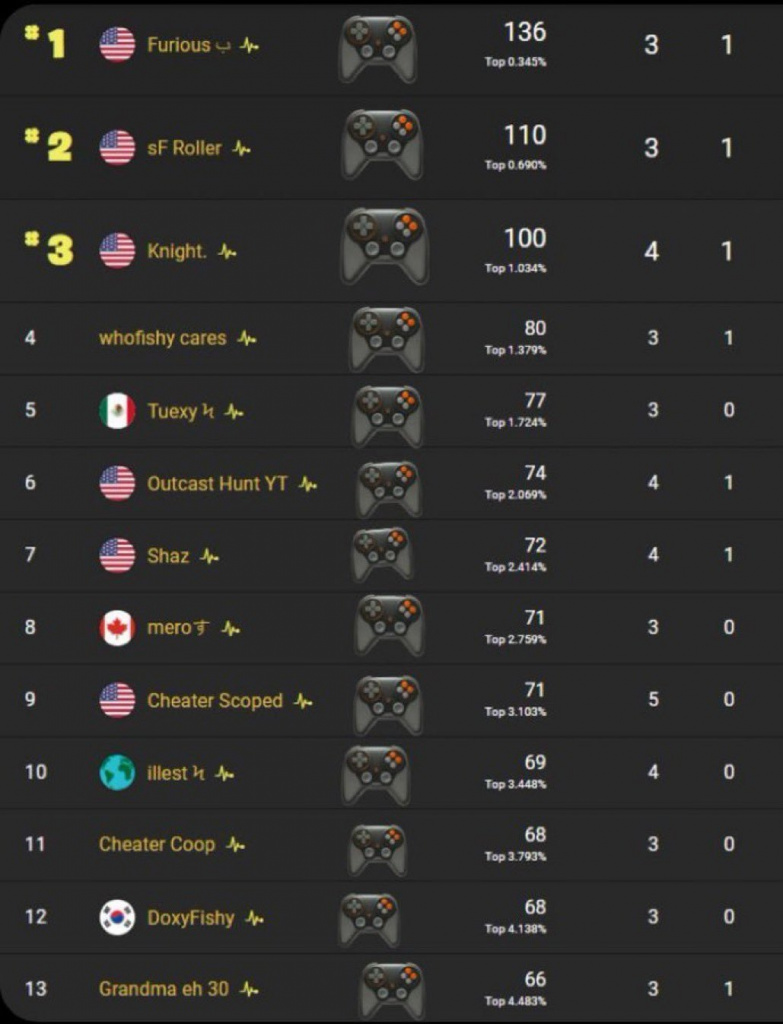 (Picture: Fortnite Tracker)
The power of aim assist has left prominent players like Turner "Tfue" Tenney out to dry, managing only 76 points in week two, landing a forgettable 261st place.
He, like many others, took to social media to express their continued unhappiness about the current Fornite situation.
Aim assist ruined Fortnite for M&K players looks like we need to find a new game unlucky

— Tfue (@TTfue) May 17, 2020
"Aim assist ruined Fortnite for M&K players looks like we need to find a new game unlucky," Tfue tweeted out.
According to a graphic by Twitter user ArcaneGG, it's clear that controller has an advantage in the current meta, as the overall percentage of controller players will increase heading into the finals. 41.25% of the participants in Week 3 will be using a controller, up 34.7% from Week 3.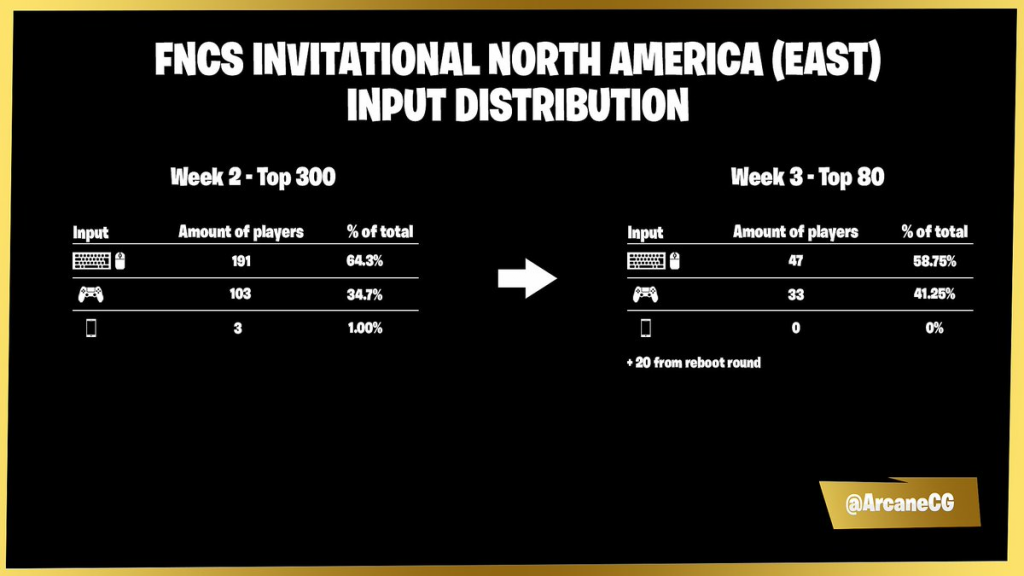 (Credit: @ArcaneGG)
Some players like Noah "Vivid" Wright and Kyle "Bugha" Giersdorf, shared clips of instances where aim assist kicks in.
The aim is insane don't get me wrong... but this shit is completely negating any need for reaction time. The dude jumps and aim assist just INSTANTLY follows.

That's a case of the game aiming FOR YOU not "assisting you." pic.twitter.com/wQzPvGEt2g

— Vivid (@VividFN) May 17, 2020
The Team Liquid rep claimed that he isn't trying to take anything away from the player, however, he insisted this is a "case of the game aiming FOR YOU not assisting you." 
Bugha posted a clip of the 1v1 that decided who got to keep the $25,000 prize money, with sF Roller edging out Furious thanks to the aim assist kicking in.
Fortnite icon Tyler "Ninja" Blevins chimed in as well, asking for players using controllers on PC to speak up and to "be honest" about this situation. 
Bunch of Fortnite gamers talking about controller aim assist (on pc not console), wanted to leave my 2 cents. Please watch the whole video before commenting or leaving hate. pic.twitter.com/MnuCAF4Ju9

— Ninja (@Ninja) May 18, 2020
"It's gonna be up to incredible, top competitive controller users who have a huge influence, to reach out to Epic, and be vocal about."
It's not only an aim assist issue on its own, as the current Fortnite meta at a pro-level gives an added benefit to controllers, with weapons like SMGs simply having little to no downside to them when the spray pattern becomes a nonfactor due to the auto-aim.
Epic Games has addressed the issue, first by removing Legacy Aim Assist from the game entirely, then, in a recent patch, they made it so aim assist on 240Hz monitors acted like it would on 60Hz ones, but it appears these changes just haven't been good enough.
Elsewhere in the FNCS, Benjy "benjyfishy" David Fish topped Europe again taking home $50,000 in the process while in NAW relative unknown Logan "scruopools" Vargas of Rise Nation, took the took spot.
Read more: FNCS Invitational: Schedule, Format, Prize Pool & How-To Watch
The FNCS returns next with the Season Finals, all eyes will be on the performance of the controller players with if one wins it outright, Epic's push for inclusivity will look more like greed than an attempt to create a level playing field.